About 50 community members demonstrated at Cobb County School District's Central Office on Glover Street Thursday afternoon, demanding the school board implement policies to address students' virtual return to school and systemic racism within the school district.
The School ROCS — Reopen Our Classrooms Safely — protest began in Larry Bell Park. Demonstrators then marched to the CCSD building across the street while chanting.
The protest had initially been scheduled because supporters wanted the school district to push the school start date back until it could develop a safe and realistic plan to return to school in-person next month, among five other demands.
Since then, on Thursday, July 16, Superintendent Chris Ragsdale announced that Cobb schools were pushing the starting date back to Monday, Aug. 17, and would be returning fully online.
Previously, Cobb schools were planning to provide the option of attending school in-person or virtually.
Protestors Thursday thanked Ragsdale for listening to some of their demands but said they were still demonstrating because they want the school board to implement their other demands.
School ROCS supporters' demands are:
Push back the school start date until a safe, realistic, comprehensive plan is developed to reopen schools.
Do away with the One Size Fits All approach and allow for Cluster-Specific phased reopening plans to be developed by local cluster principals.
Provide a comprehensive and descriptive plan for how schools will follow CDC guidelines for keeping staff and students safe during in-person learning. Support that plan with county-funded [personal protective equipment].
Provide a detailed contingency plan for any suspected exposure to COVID-19 while on school buses or grounds.
Provide a plan and resources to address technology access for low-income families who want to school themselves virtually.
Devote at least one full workday during pre-planning toward anti-racism and equity training at every school in the district. This training should be led by someone with a background in critical race theory who is not a CCSD employee.
At the demonstration, School ROCS supporter and Cobb teacher Gregory George told the crowd the second demand has not been implemented and it is important, as principals understand schools better than the county.
He also said that Ragsdale still had not come up with a concrete plan to address PPE for students, faculty and staff for January 2021, after the first semester.
"I think that's part of the reason why we went virtual, is because [the school district does not] have a plan yet," George said. "If you do not demand a plan we'll be back out here in December talking about the same thing. Now is the time to demand a plan from your school board and your superintendent."
George also said the school community does not have answers if a student, school bus driver or teacher exposes others to COVID-19.
Jennifer Susko, a school counselor who spoke as a community stakeholder before the demonstration said that Cobb elementary students were not able to access technological devices when the district closed in March.
Some devices went to middle schools and more to the high schools, she said.
Susko said elementary students were only able to get the devices they needed for virtual learning through donations from school employees and not the district.
"Forty percent of Cobb County is on free or reduced lunch," George said at the rally. " … there is a technology gap that still exists. I heard the superintendent say that he had plenty of laptops and technology ready to go. Are you going to hold him accountable for that?"
Demonstrators also stressed their demand the school district implement anti-racist training for all district employees.
Cobb teacher Sharifa Ned said before the demonstration the demand for anti-racist training was not something just tagged onto the protestor's other demands.
"It pains me to know that 60 percent of the population of Cobb County students are Black and brown, yet [Ragsdale] cannot address systemic racism," Ned said. "It ties together, just knowing that the disproportionate cases of COVID are amongst African-Americans, and so our students are probably dealing with a different level of stress."
After demonstrators marched to CCSD, Cobb educators, students and elected officials spoke on racism within the school district and their concerns about how district officials are handling the pandemic.
Cobb County Association of Educators President Connie Jackson said that Cobb schools are segregated. She said south Cobb schools are disenfranchised compared to east Cobb schools.
"Did anybody hear one word about making the bus drivers safe? Not one word," Jackson said. "Most of our elementary school buses in south Cobb have four students to a seat."
Jackson also said she assumes much of the technology students need for virtual learning will go to east Cobb schools. She said free or reduced lunch students should get technology first.
Georgia House Rep. David Wilkerson was a speaker and said that it should not be difficult for school board members to say "Black lives matter" and that the board can easily mandate that students wear masks if they wanted to.
"If you can take my kid out of class because they're not wearing a blue shirt and khaki shorts, you can tell that kid to put a mask on," Wilkerson said.
Valerie Testman, a Black woman and parent to a Black Cobb high school student, said the Cobb Board of Education could not speak in a united voice on racism and that concerned her.
"We do still have issues with implicit bias and systemic racism within our school district," Valerie Testman said. "I have experienced it, my children have experienced it."
Valerie Testman said her high school-aged daughter has only one infraction on her record throughout her entirety in school and that was because she was suspended for wearing a red shirt in a middle school where red shirts were not allowed.
Valerie Testman said that when she moved her daughter out of south Cobb schools she no longer faced discipline.
She also criticized Ragsdale, saying she personally reached out to Ragsdale and other school officials about the number of students who were given devices back in March, students who still need devices and what plans will look like next month to be told officials do not know.
Mayson Harris, a Cobb student, said that she used to drop her mother off at work at Pebblebrook High School then drive to school at Hillgrove High School.
Harris said the differences between the schools were stark and showed that Cobb school officials valued white and wealthier student's education more than that of Black, brown and poor students.
She said Hillgrove has nice, newer facilities while many bathrooms in Pebblebrook do not have doors and have a difficult time coming across toilet paper.
Pebblebrook students are predominantly Black whilemost Hillgrove students are white.
Former Pebblebrook student JJ Jordan spoke and supported what Harris said about Pebblebrook and south Cobb schools versus east Cobb schools.
She said fear of Blackness and poverty is what motivates Cobb school district officials. She also said Ragsdale should be fired.
"The only difference between east and south Cobb is the racial makeup," Jordan said. "Cobb County uses money and resources to make white families, like mine, feel more comfortable because everything in this county and in this country is built around and to cater to whiteness."
Sydney Testman, a Black student at a south Cobb high school and daughter of Valerie Testman, also spoke to the racism within the district.
Sydney Testman said she had worked on and continues to work on exposing racist students and faculty at her school.
She said a teacher pulled a Jamaican student out of class once and assumed because she was napping — during the teacher's designated nap time — and because she was Jamaican, she was under the influence of drugs.
Sydney Testman said she is also her school's class president and when speaking with another class president at a west Cobb school, that president said she being president at her school was not something to boast of.
"That's not something you should brag about, being queen of the ghetto," Sydney Testman said, recalling his words.
Sydney Testman called for racist students having their scholarships taken away and being kicked off sports teams or clubs.
Cobb teacher Anna Clay called the school board not allowing public comment in their meetings since March "unacceptable."
Clay also said there are many students in Cobb who do not have the resources they need to live a happy life.
She praised Marietta City Schools for using school buses to deliver food and Wi-Fi hotspots to students with no access to them and criticized Cobb, who has been providing meals to students at certain locations in the county.
Clay said one of the differences between Marietta schools and the district is that Cobb makes students' parents pick meals up at certain locations, making those meals inaccessible to students who have no transportation.
Cobb school board member-elect for Post 3 Leroy "Tre" Hutchins encouraged demonstrators to vote in November to flip the Republican seats on the board.
Randy Scamihorn, Brad Wheeler and David Banks are all up for re-election this fall. If one loses to their Democratic candidate, the school board would be majority Democrat.
Hutchins also suggested joining school councils as a way to accurately reflect the racial makeup of Cobb schools, which is made of about 60 percent students of color.
Demonstrators also criticized Cobb Board of Commission Chairman Mike Boyce, who voted to approve Ragsdale's request to put $8.1 million of coronavirus aid money toward an online learning site for the district Tuesday, July 14.
Protestors said the aid money could go toward providing all students with Wi-Fi hotspots and devices to do their schoolwork.
George told demonstrators Ragsdale's position as superintendent is hired and fired by board members. He said to hold Boyce, Scamihorn, Wheeler and Banks accountable in November and vote them out.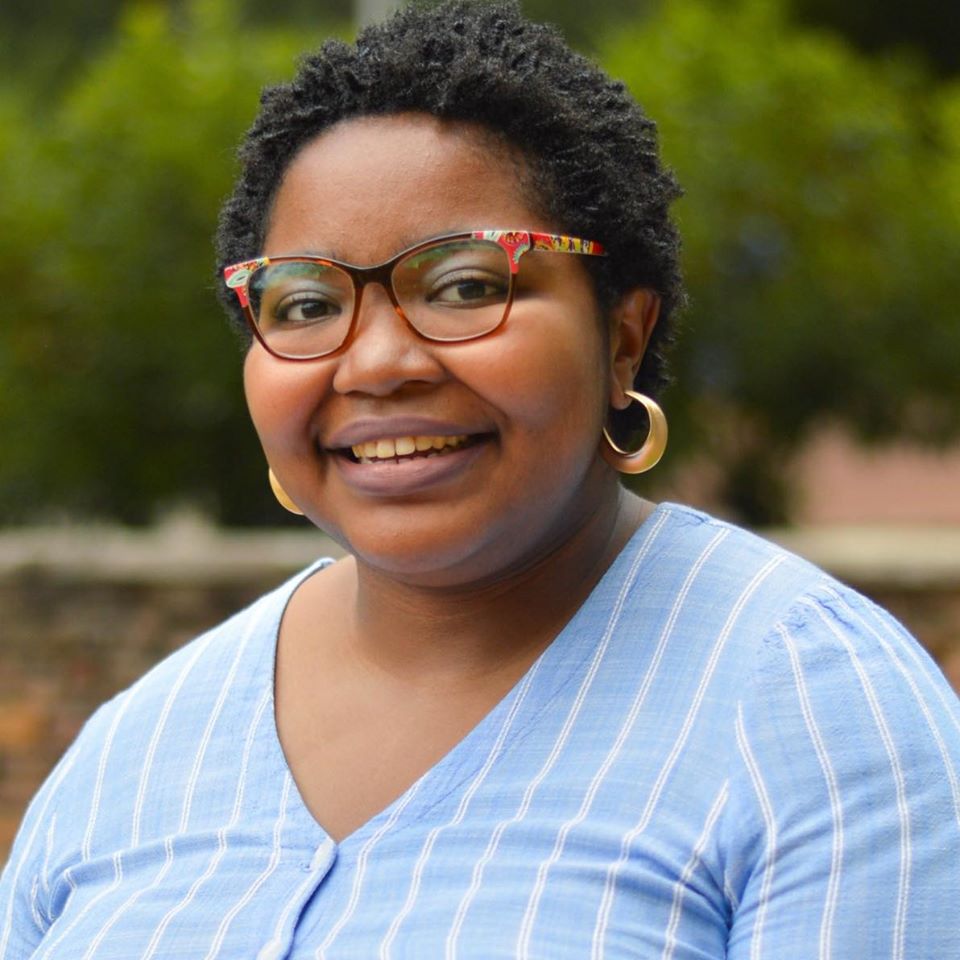 Arielle Robinson is a student at Kennesaw State University. She is the current president of the university's chapter of the Society of Professional Journalists and former editor at the KSU Sentinel.  She enjoys music, reading poetry and non-fiction books and collecting books and records. She enjoys all kinds of music and reading poetry and non-fiction books.