Five students from four high schools in Cobb County: Kell, Lassiter,  Marietta, and Walton, will participate in a prestigious concert next Sunday.
On April 30 at 3 p.m., Franklin Pond Chamber Music and the Atlanta Symphony Youth Orchestra Chamber Players will perform a selection of chamber music works at the Woodruff Arts Center's Rich Theatre.
The Fall into Spring Finale, is free and open to the public, and tickets are not required. 
The performance celebrates the collaboration between two of Atlanta's most acclaimed music education institutions, and features 26 talented high school musicians, eight graduating seniors, and will include the U.S. premiere of Sibelius' Piano Quartet, JS 157.
Franklin Pond Chamber Music
The Courier spoke with Ronda Respess, the founder and music director of Franklin Pond Chamber Music, about her organization and about the upcoming concert. Respess was a violinist with the Atlanta Symphony Orchestra for over 50 years before her retirement.
She told the Courier about the origins of the program.
"It started in the summers only at first, 22 years ago," she said. "And I was still playing with the orchestra … with the Atlanta Symphony."
"There was a big need for some kind of small group program here in the summer," Respess said. "There was nothing available for any of our good kids to come to stay in town. They had to pay thousands of dollars to go to music camps out of town."
"So I taught and I had several students that were interested in doing something in the summer here," she said. "So I started Franklin Pond, and I named it after the street that I live on."
She said that early in the group's history, a donor approached her and told her that if Franklin Pond Chamber Music became a nonprofit, the donor would arrange a $5,000 grant immediately, and a $10,000 grant later.
Respess said that the students accepted into the program are intensively coached by musicians with the Atlanta Symphony and the Atlanta Opera, along with master classes taught by well-known musicians from around the world.
The students are divided into small ensembles and do regular formal performances.
"And that's what we have the concert for on April 30," she said.
"It evolved into collaborating with the Atlanta Symphony," she said. "It's a natural collaboration because many of our coaches are from the Atlanta Symphony."
Respess stressed that the program is intended to train leaders.
"The kids that we get are some of the best kids in the city," she said. "They're very, very serious and very good."
She said the students wanting to participate submit video auditions.  26 students, divided into seven groups, were chosen this year, and the plan for next year is for five groups with around 20 students.
Respess said that a star among the students this year is a young cellist named Brandon Leonard, of Chamblee High School, who won first place in the 2023 Sphinx competition (Junior Division Laureates), a national competition for Black and Hispanic musicians.
According to Respess, Leonard has been accepted to every prestigious music school, but hasn't yet decided where he'll attend college.
Respess talked about the difference between performing in an orchestra and playing chamber music.
She said an advantage of chamber music is that it allows each individual instrumentalist to shine.
She said that in a full orchestra, "as a string player, you're sort of lost, because there are ten other people playing your part, so you kind of hear yourself, but just sort of don't."
"When you get into a chamber music group, you're the only one on the part," Respess said.
The Cobb County performers
Erin Li, a pianist from Kell High School will perform in a group called the Varro Quartet, which will introduce the premiere of a recently discovered work by the Finnish composer Jean Sibelius entitled, the Piano Quartet, JS 157.  The Varro Quartet will also perform Bagatelles by Antonin Dvořák.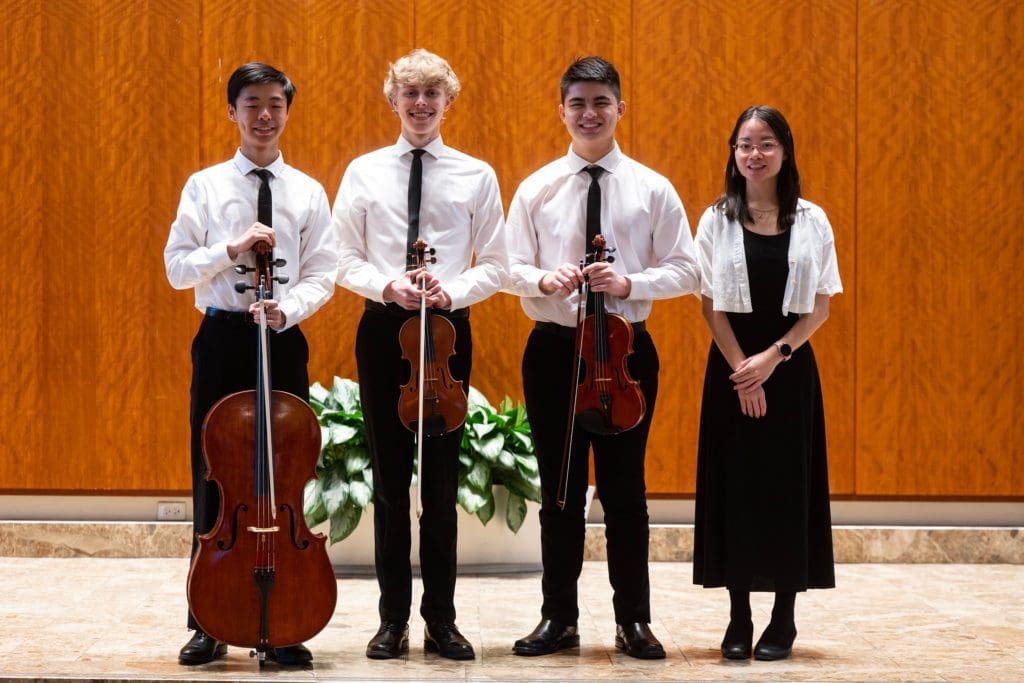 Colin Marbutt is a bassist from Walton High School, who will perform Prokofiev's Quintet in G Minor with the Cirque Quintet.
Mia Motley, a violinist from Lassiter High School, will perform Smetana's String Quartet No. 1 in E Minor, "From My Life" with the Soleil Quartet.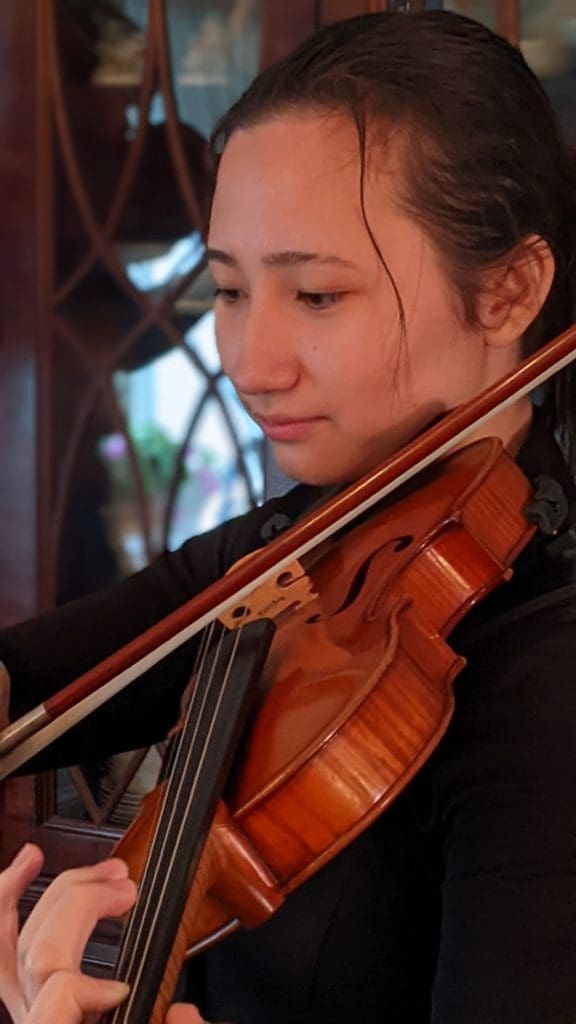 Ethan Lo, a cellist from Walton High School, will perform Dvořák's Piano Trio No. 4 in E Minor with the Spitzenreiter Piano Trio.
And Ethan Cook, a violist from Marietta High School will perform Mozart's String Quartet No. 17, "The Hunt," with the Juniper Quartet.
[For a complete list of all the performers see below]
Groups and Repertoire
Magnolia Trio
BRAHMS: Piano Trio No. 1 in B Major
Katherine Chong, violin – Johns Creek High School
Brandon Leonard, cello – Chamblee High School
Hailey Culp, piano – The Westminster Schools
Varro Quartet
SIBELIUS: Piano Quartet, JS 157 (U.S. Premiere)
DVOŘÁK: Bagatelles
Didi Stone, violin – Starr's Mill High School
Lucas Nyman violin – Starr's Mill High School
Richard Wang, cello – Starr's Mill High School
Erin Li, piano – Kell High School
Cirque Quintet
PROKOFIEV: Quintet in G Minor
Lela Stair, violin – Duluth High School
Anastasia Waid, viola – The Westminster Schools
Benjamin Lee, oboe – Johns Creek High School
Nicholas Wandrick, clarinet – Cambridge High School
Colin Marbutt, bass – Walton High School
Seahorse Trio
GOOSSENS: Suite for Violin, Flute, and Harp
IBERT: Two Interludes
Faith Meshida, violin – Central Gwinnett High School
Ashan Galhena, flute – Lambert High School
Tej Panchal, harp – South Forsyth High School
Soleil Quartet
SMETANA: String Quartet No. 1 in E Minor, "From My Life"
Mia Motley, violin – Lassiter High School
Jeffrey Xu, violin – Johns Creek High School
Hannah Smallwood, viola – Milton High School
Jaia Alli, cello – The Westminster Schools
Spitzenreiter Piano Trio
DVOŘÁK: Piano Trio No. 4 in E Minor
Lucas Liu, violin – The Westminster Schools
Ethan Lo, cello – Walton High School
Ethan Nie, piano – Johns Creek
Juniper Quartet
MOZART: String Quartet No. 17, "The Hunt"
Dominic Hantula, violin – Pace Academy
Connor Holloway, violin – The Mt. Vernon School
Ethan Cook, viola – Marietta High School
Maggie Liu, cello – The Westminster Schools