By Rebecca Gaunt
The Cobb Board of Ethics dismissed a complaint against Transit Advisory Board (TAB) member Matthew Stigall Monday on the grounds that his advocacy is permissible according to the Cobb Code of Ethics and he did not stand to benefit financially from his actions.
Lance Lamberton filed the ethics complaint against Stigall alleging he violated the Code of Ethics by not recusing himself from the Oct. 24, 2022 vote in which he voted favorably on a resolution supporting a mass transit tax referendum to be placed on the November 2024 ballot.
Georgia House Bill 930, passed in 2018, allows Cobb to enact a 1% 30-year sales tax for transit.
Lamberton is the founder of the Cobb Taxpayer Association and a vocal opponent of mass transit.
He stated in his complaint that because Stigall founded Cobb 4 Transit, a nonprofit that lobbies for better public transit options and in favor of the referendum, Stigall's vote represented a conflict of interest.
"My complaint has nothing to do with establishment of his pro advocacy organization. But to do that, and also use his position on a governmental body to help him achieve the same end is where I believe the board should draw the line and put a recommendation that he recuse himself from any future votes on the TAB related to mass transit and other issues that may be supported by his group," Lamberton said.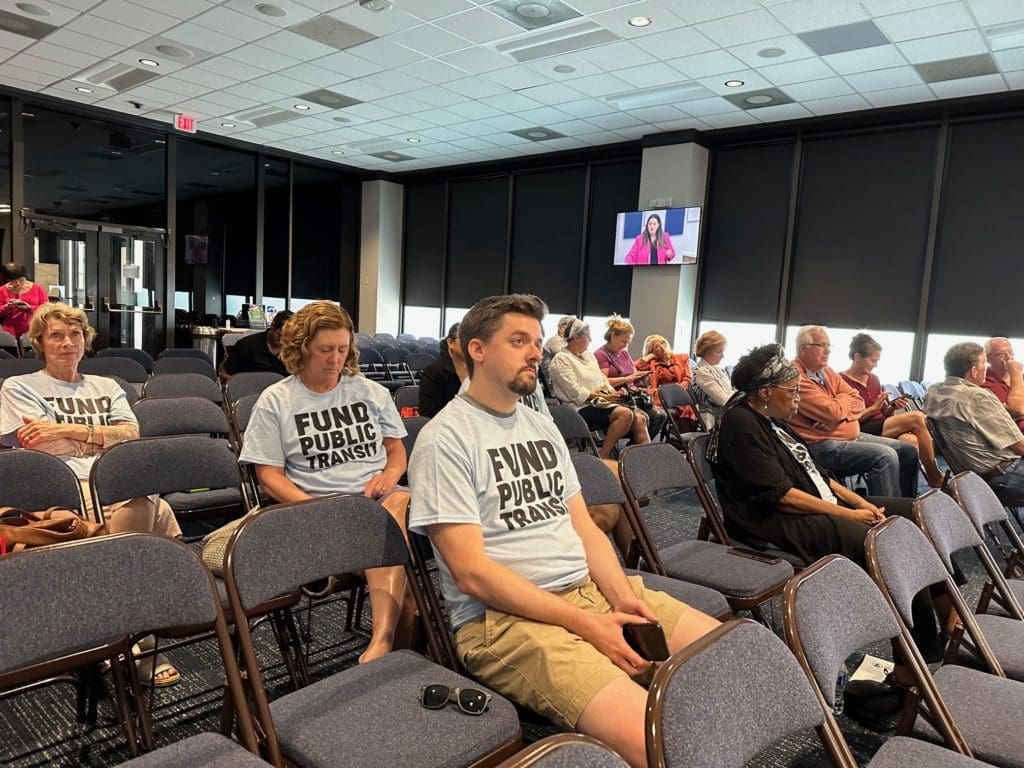 Stigall's attorney, Kimberly DeCarrera compared the complaint against Stigall to the complaint against Commissioner Jerica Richardson that was dismissed in March. Richardson also formed an advocacy nonprofit group, For Which It Stance, which advocates for matters related to the Cobb Board of Commissioners. While the complainant in that case, East Cobb resident Debbie Fisher, argued Richardson was benefiting financially (Richardson and the ethics board disagreed), in the case of Stigall, Lamberton acknowledged he did not think Stigall was receiving monetary gain.
"Unlike Commissioner Richardson, Mr. Stigall is a volunteer. The Transit Advisory Board has no authority to bind the county to any official action or contracts of any sort. All that the Transit Advisory Board can do is make recommendations to the Board of Commissioners who then use their own independent judgment to make a decision," DeCarrera said.
"He never tried to hide his affiliation with this organization. It's because of this advocacy that he was appointed to the transit advisory board."
DeCarrera asked why Lamberton hadn't filed a complaint when Stigall was first appointed or after previous votes on mass transit issues.
"Lance Lamberton filed this complaint because he is against the transit tax, and when he didn't get his way, this complaint followed," she said.
Lamberton told the Courier afterward that he wasn't following TAB at the time of Stigall's appointment and earlier votes, calling DeCarrera's comments "a distraction.".
In his April 10 affidavit, Stigall testified that both the filed complaint and an article in the Marietta Daily Journal with the headline "Ethics complaint filed against Lisa Cupid's transit board appointee" that included a picture of his 5-year-old son were a "continuation of a pattern of harassment due to my public advocacy and support for matters I find important to me."
Though Lamberton directed attention to section 2-46 of the Code of Ethics on impartiality, ethics board member Rabbi Larry Sernovitz pointed out a provision in section 2-74 that allows involvement in referendums.
"By appointing people who care about certain things or have expertise in certain areas, we really enhance our county. Expertise shouldn't eliminate somebody and cause a conflict of interest," Sernovitz said.
After the hearing, Lamberton said, "Well obviously I'm disappointed in what they decided to do. My complaint was very narrowly focused…I do think there was a conflict of interest and he should have recused himself."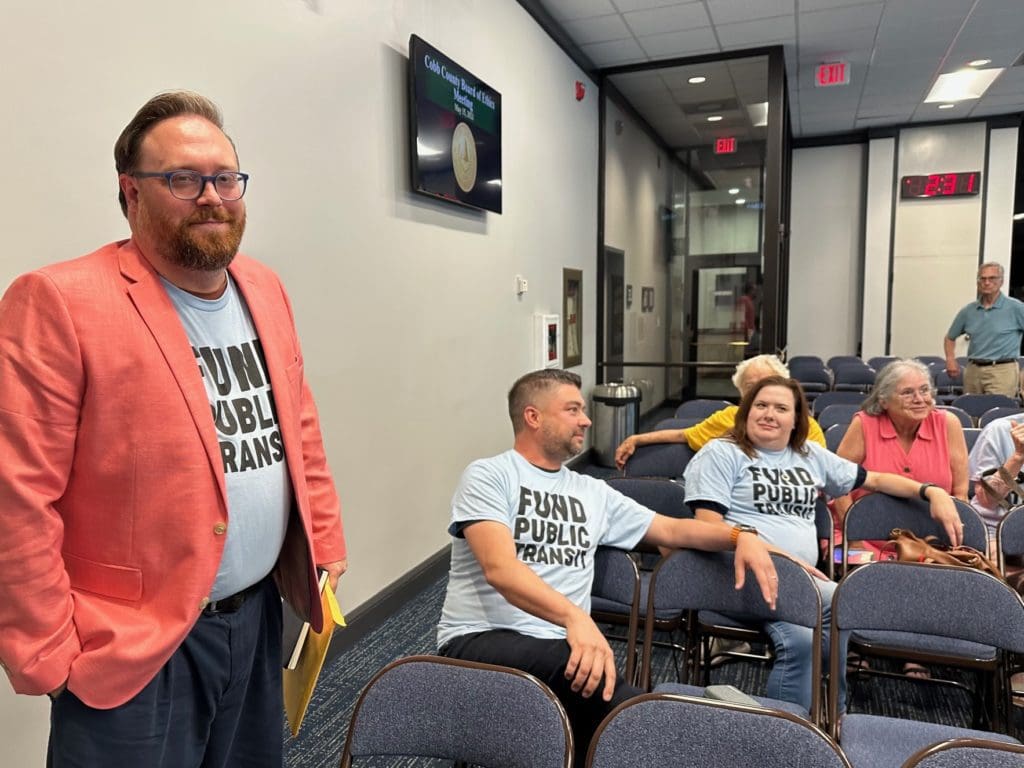 A visibly relieved Stigall joined friends in the audience wearing matching blue Fund Public Transit shirts.
"I put a lot of my energy, money, and sweat into advocating for public transit and these are just other things I guess I got to put up with," Stigall said.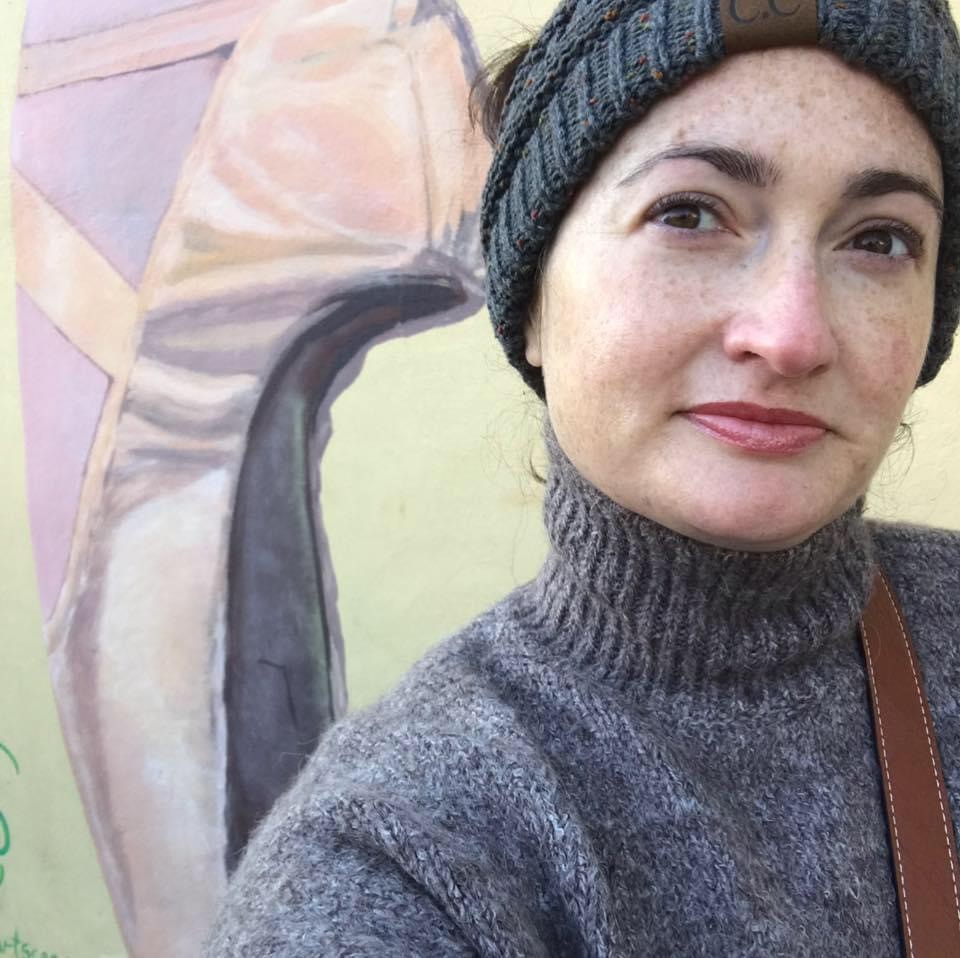 Rebecca Gaunt earned a degree in journalism from the University of Georgia and a master's degree in education from Oglethorpe University. After teaching elementary school for several years, she returned to writing. She lives in Marietta with her husband, son, two cats, and a dog. In her spare time, she loves to read, binge Netflix and travel.