On Thursday June 9 Cobb County's planning department held a meeting to get citizen input to guide the development of the 2040 Cobb County comprehensive plan.  The plan will apply to unincorporated portions of the county, and will be in effect from the time of its expected adoption sometime next year, until 2040, with periodic reviews and adjustments.
The meeting featured displays outlining the components of the plan, including community facilities, housing, transportation, land use, urban design, natural and historic resources, economic development, human services, military compatibility, disaster resilience, public safety and intergovernmental coordination.  As the size and scope of this list makes obvious, the plan will have far-reaching and decades-long impact on the quality of life in Cobb County.
Other stations set up at the event allowed Cobb citizens to write in suggestions and to vote on priorities.
After the input phase of the plan is completed, it will go to the Atlanta Regional Commission and the Cobb County Board of Commissioners for review and approval, and then to the state's Department of Community Affairs for the final approval and certification.  These plans are mandated by the state.
Members of Cobb County's planning staff who specialize in different aspects of Cobb's future growth needs were there to answer questions.
I spoke with a number of people involved in creating the plan, including Jason Gaines, the county's Planning Division manager.  He said his division consists of planners, economic development coordinator Sabrina Young, and the department's GIS specialists.  The GIS group does mapping of the county, and provides services to other departments like police and fire and assigns street addresses for new developments.
He said,
"Once we get all this feedback together we start putting together the core components of the comprehensive plan document.  We'll probably give the Board of Commissioners an update sometime later this year but we're still about a year away from the comp document being complete.  And at that time it'll go to the Atlanta Regional Commission for review. And once they approve it it can go on to the (state) Department of Community Affairs for final approval.

It's a long road, but considering everything we've got going on here we needed to start early and get people engaged in the process.  I've been here for seven months … I've been back for seven months.  I worked for the county previously, and I came back.  This is my second tour of duty with Cobb, if you will, and when I came back in November of last year, they had already been working on the initial pieces of the comp plan, gathering information and data, they'd been working on that probably since March or April of 2015.  So they had been working on it for quite a while before I got back.  They had a two-and-a-half year head start, which is a testament to how much work and effort is put into what we're doing and the product we're trying to put out. Also we're doing this entirely in house with our own staff. Most cities and counties go out and get a consultant. Most jurisdictions … go with a consultant because they don't have staff capacity to handle it along with their day-to-day responsibilities."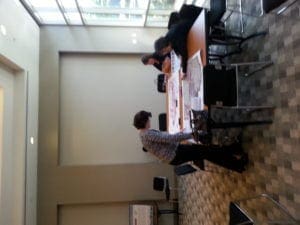 Sabrina Young, the economic development coordinator for the county, said that south Cobb is a particular area of focus for her and the county.
"Well, we've had numerous studies over the years about redevelopment and what the needs are, what could potentially be done in south Cobb to improve the area economically.  And all of those studies have led to the redevelopment of a specific site within south Cobb … that site is currently occupied by an apartment complex, an apartment community on Six Flags Drive.  Six Flags Drive is a corridor in south Cobb that consists of about eight or nine apartment communities along that corridor.  The crime in that area is a little bit higher than throughout the rest of Cobb County when you compare the rates of crime and the number of calls, whether it be fire or police, and a lot of transiency in the schools, a  lot of county resources dedicated to that area: public safety, county schools, and all that sort of thing.  So that site was identified numerous times through our area studies. In 2014 or early 15, the Cobb County Board of Commissioners and the South Cobb Redevelopment authority (established in 2011 to make visible changes in south Cobb)  created a Special Services District, and that's somewhat similar to a CID in that the non-owner-occupied properties within that area agree to tax themselves a little bit extra, to pay an additional millage.  And those additional proceeds will go to redevelopment in that area. "
Young said that her area of focus was from the Six Flags area to the southern tip of the county, along the borders with Fulton and Douglas counties.
Speaking further about the Magnolia Crossing redevelopment, she said,
"In October of 2015 the South Cobb Redevelopment Authority purchased that catalytic redevelopment site, the Magnolia Crossing Apartments, for $3.7 million dollars, which was below the assessment value at that time.  The apartment complex wasn't full by any means.  I think there are 146 units in there. There were 90 occupied units at the time of purchase.  The previous owner purchased the property out of foreclosure, as an investor just to flip it.  There were no background checks on the tenants who lived there, whether it be criminal or credit, so you had anybody living there pretty much.  Rents there were as low as $199 a month. That apartment complex was purchased in October of last year, the residents have all moved out.  The South Cobb Redevelopment Authority and commissioner Cupid pushed to have some financial incentives offered to residents in that community to assist them with their move out, with their transition.  And also for safety reasons, the financial incentives were increased due to some safety concerns initially on the site.  The last resident moved out of there at the end of March, and one great success story from that project was an elderly woman, I believe she was about 83 years old.  She moved out.  She was paying $540 a month, had living there for eight years, and the conditions there were not great. And she's now moved over to the Retreat at Dorsey Manor, just off the Marietta Square, which was a newly built facility for seniors  in 2011, a very  nice facility right off the square where you have all those great amenities, but she's now paying $85 a month for rent, and her son is allowed to live with her there."
She said that an invoice had been written for the demolition of the apartments, and that after that private companies would be approached about purchasing and redeveloping the property for the benefit of the surrounding community.
She also said that part of the plan includes changing the names of roads in the Six Flags area to reduce confusion.  Two unconnected roads are called Six Flags Parkway, and there are several other roads with "Six Flags" included in the name.  Two roads have already been changed, and the others will be coordinated with upcoming road improvement work, so that road signs don't have to be changed twice.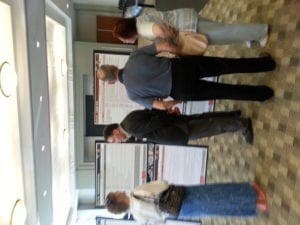 Another important component of the comprehensive plan will be historic preservation and greenspace.  Mandy Elliott is the historical coordinator for the plan, and works on the parts of the plan related to historical, archaeological, and cultural issues.
She said, "We do have an element called community facilities, which covers parks, recreation, and water, and a few other things. So yes, we do include parks in the plan, and they are in return going to do their own master plan for Parks and Recreation."  She said that for a feature to be considered historic, it generally had to be 50-years-old or older, but that it depends on what a community within the county is interested in preserving.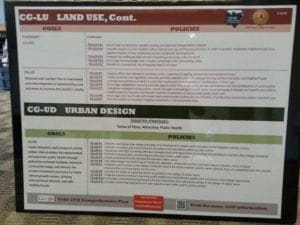 Jay Northrup is the intergovernmental coordinator for the plan, and said, "The Atlanta Regional Commission will review it for consistency with the other plans throughout the region, before the state certifies it."  He is also in charge of ensuring that the plan is compatible  with the plans for adjacent counties and cities, and with the plans of the cities within Cobb County.
This plan will have enormous impact on the future shape of Cobb County.  If you are interested in giving input, there will be another opportunity to ask questions and give feedback on Tuesday, June 14 from 3-7 p.m. at the West Cobb Regional Library, 1750 Dennis Kemp Lane, Kennesaw.
You can also get more detailed information on the plan by visiting the Cobb County Community Development Agency website.