Corey Lewis, 27, made national news on October 7 when he live-streamed the incident in which a woman called the police, saying she was concerned about the welfare of the two white children he was babysitting. She first approached him in the parking lot of a Cobb County Walmart wanting to speak to the kids. When he said no, she followed him, against the advice of a 911 operator, to a gas station and his home. Cobb County Police responded and called the parents to confirm Lewis' identity.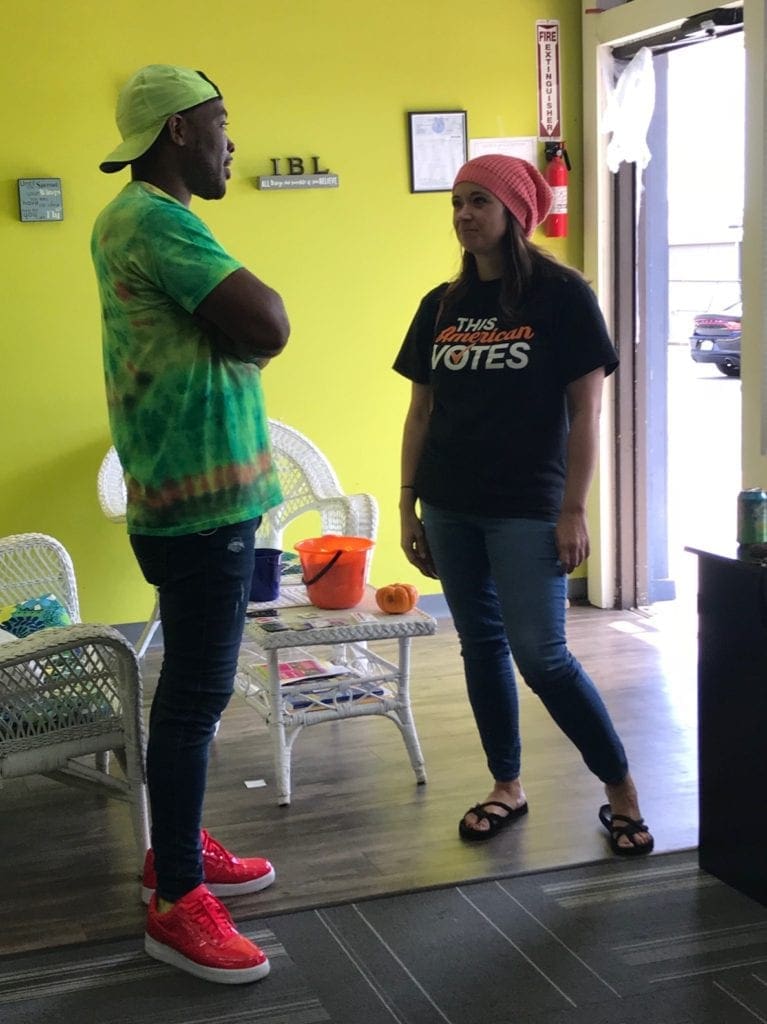 Corey Lewis speaks with a community member who dropped by to offer encouragement.
(photo by Rebecca Gaunt)
Jennifer Buck, a friend of Lewis, reached out to Caroline Holko, candidate for County Commissioner, District 3, for help making a negative event into a positive. The community was invited to meet and show support for Lewis on Sunday afternoon at the headquarters for his youth mentoring program called Inspired By Lewis during an event called "Inspired to Do Better."
Lewis was motivated by his time as a special needs paraprofessional to create a program where parents didn't have to worry that their children with behavioral issues would be kicked out. He focuses on social skills.
"I noticed that there was something missing," Lewis said. "Parents were crying, constantly back and forth with the school, their students are getting suspended. I wanted to create a place where parents didn't have to worry about that phone call to come pick up their kid."
Lewis said he has not spoken with the woman who called 911.
"I would like to speak to her. I would like to have a conversation and see where her head is on everything and how we can come together to collaborate to turn this incident from a negative to a positive," he said.
Abby Rittberg brought her family to the event to show support. Her seven-year-old son has autism and attends Lewis' camps.
"It's just great. I know that Corey takes all the kids out and gets them to socialize, which is really important. I would highly suggest it to anybody that has a kid that has special needs or needs mentoring," Rittberg said.
Inspired by Lewis is located in the Sandy Plains Shopping Center at 2692 Sandy Plains Road, Suite 2300.