Last Thursday audience of Cobb County seniors heard from members of Cobb County's state legislative delegation, and were given a legislative report from the Georgia Council on Aging.
The event was organized by the Coalition of Advocates for Georgia's Elderly (CO-AGE) and the Senior Citizen Council of Cobb County.
Georgia Council on Aging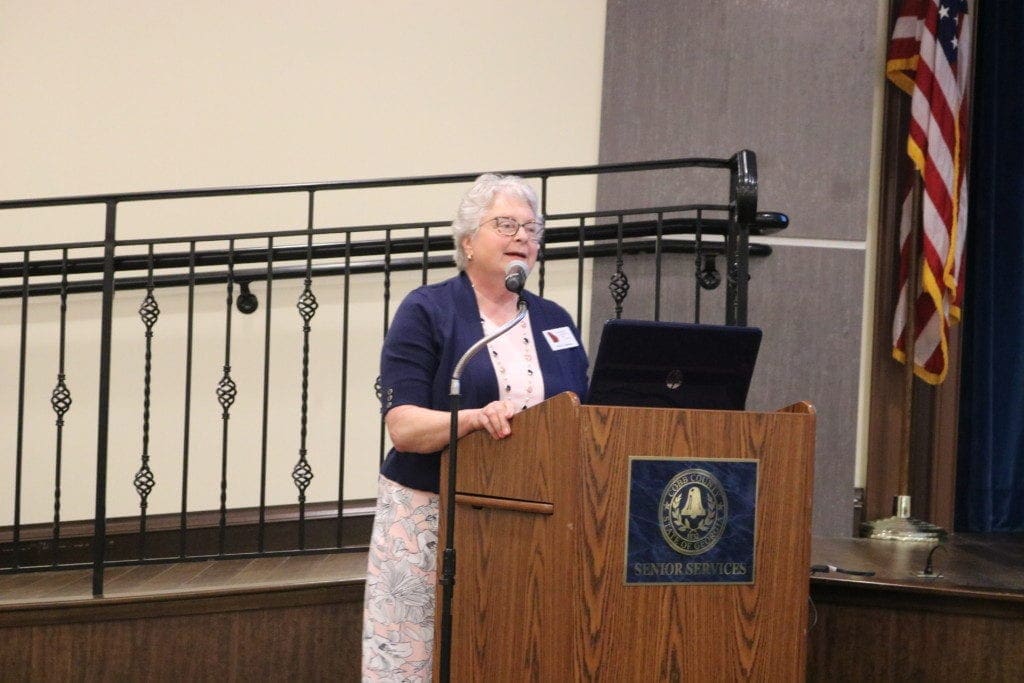 Vicki Johnson, chair of the Georgia Council on Aging, described the council, and presented a summary of legislation.
She said, "We are a creation of the legislature as a result of the Older Americans Act. And we are an agency of the state, but we are an independent agency, and our job is to look out for older adults. And to do that we advise all departments of government, we work with the governor and his staff."
"We work with the legislators. We work with the state agencies and departments. And we work with nonprofit agencies in the aging network of Georgia," she said.
"There are twenty of us, we come from all over the state, all regions of the state, we are all appointed by either the governor, the lieutenant governor, the speaker of the house, or the commissioner of the Department of Human Services.
CO-AGE
Johnson said, "We know that twenty people, no matter how well-intended we are, do not understand all of the important issues for seniors. And so years ago, Georgia Council on Aging formed a grassroots organization known as CO-AGE. This is the ;Coalition of Advocates for Georgia's Elderly.' This organization includes individuals and also includes organizations."
She said CO-AGE meets twice a year, and has about 1,000 members.
"But more importantly," she said, "we keep our members informed about issues of importance to them through social media, and through mailings, and through public announcements."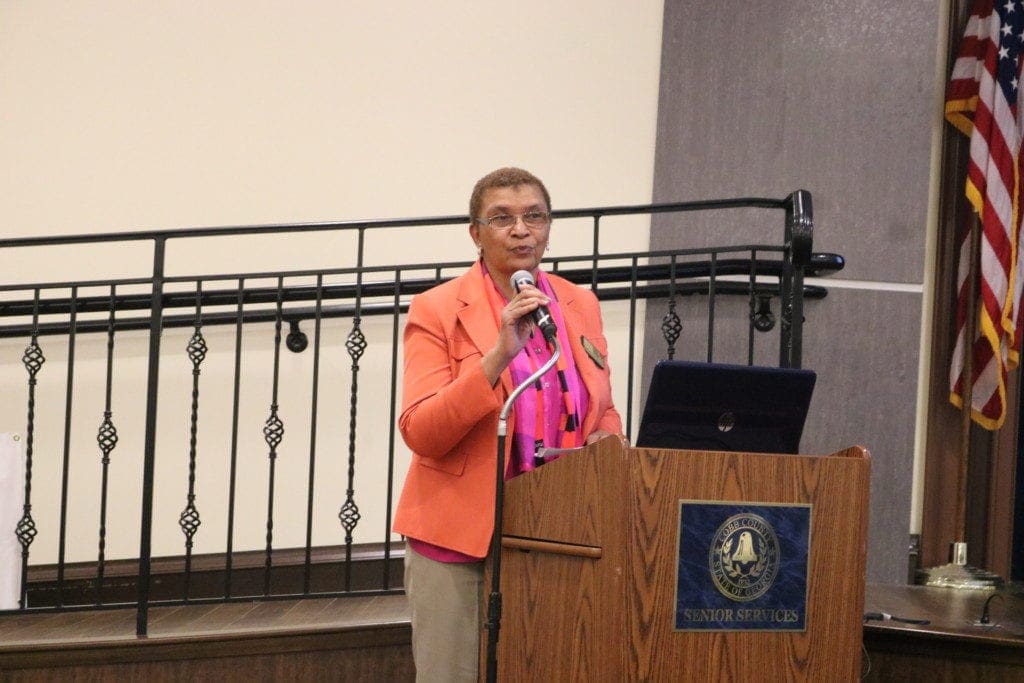 CO-AGE priorities this year
Johnson presented a slide show with the CO-AGE priorities for this year. They included funding for Home and Community Based Services (HCBS), Aging and Disability Resource Connection (ADRC) funding, senior housing options, help with health care, and personal care home requirements.
Home and Community Based Services
"We always, for one of our budget priorities, select funding for Home and Community Based Services," Johnson said. "These are the services like those that you receive here at the senior center."

She said the services include things like meal preparation, respite care for caregivers, where someone will come in for a short time and relieve the caregiver so they can take care of personal matters, and transportation.
"These are the types of things we bundle together as Home and Community Based Services," Johnson said.
Affordable senior housing
"One of our important legislative issues was something that was developed two years ago," Johnson said. "The problem we identified is that there is a lack of affordable supportive housing for seniors in Georgia. We're talking about seniors of low and middle income. If you have a large income, there are many beautiful and wonderful assisted living facilities available to you.
If you have an extremely low income, then you would qualify for Medicaid services."
"But if you're in the middle," she said, "it's very hard now to find housing within your own community, that would be supportive as your needs change."

CO-AGE recommended that a study committee be set up by the legislature to consider options for tax credits and state and local funding to provide support to seniors seeking affordable supportive living options.
Personal care home requirements
Johnson said that CO-AGE has been working legislation increasing the fines and sanctions on personal care homes for violations that result in the injury of residents.
"The rules can impose fines and sanctions on the facilities, but these fines and sanctions have not been changed in twenty years. They are out of date," she said.

She said that CO-AGE has been advocating raising the fines and sanctions so that senior facilities would be encouraged to comply with regulations
Help with health care expenses
Johnson said that many people who qualify for Medicare cannot afford to use their benefits because of co-payments and deductibles.
"So we took this to the legislators, and we tried to find some solution to help people with these medical expenses."
Results in this session
Several successes were reported in legislation supported by CO-AGE.
The Home and Community Based Services got $2 million in funding, and a program for meals for seniors got $450,000 in additional funding to take people off the waiting list. New money was added to provide assistive technology.
The resolution to set up a study committee on affordable housing for seniors (HR 533) passed, and meetings will be scheduled for later this year.
A bill proposed by Rep. Deborah Silcox to increase the penalties for elder abuse and to allow law enforcement officers to inspect unlicensed personal care homes when regulators are not present passed the House and Senate.
Two bills, HB 246 and HB 247 were passed in the House. They will strengthen the investigation and prosecution of elder abuse incidents.
Cobb's state legislators at forum
The legislators on the panel included two state senators, Kay Kirkpatrick from SD-32 and Michael Rhett of SD-33.
The state representatives on the panel were Erick Allen, HD-40, Teri Anulewicz, HD-42, Sharon Cooper, HD-43, Albert Reeves, HD-34, and David Wilkerson, HD-38.
Question about home repair resources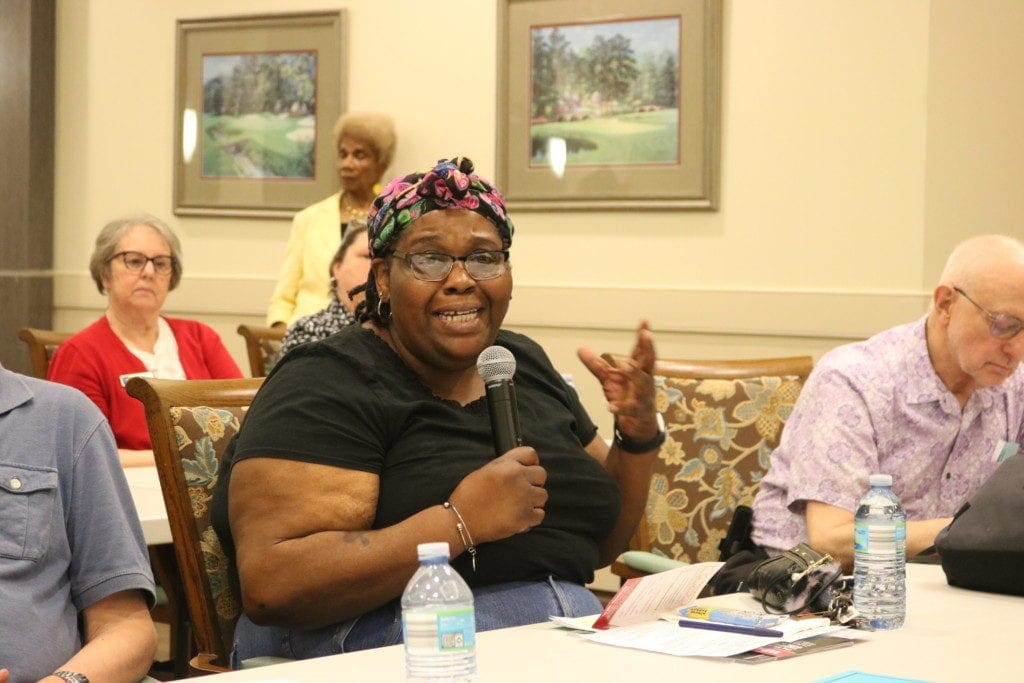 The first question directed to the legislators was from Rosa Smith of Mableton.
Smith of Mableton said she is on a fixed income and can't afford needed home repairs. She asked if the legislators knew of any resources to help her.
Allen said he had recently spoken with the new CEO of Northwest Atlanta Habitat for Humanity.
"And one of the things that they're looking to do is shift their model into helping with situations such as yourself. So it's not all about new construction, but it's also about rehab and retrofitting current existing homes," he said.
Rhett said the City of Marietta has a program to help low income seniors in need of repairs, and said that if she contacts them, they can refer her to similar program for unincorporated Cobb County.
Veterans health care
An audience member raised concerns about the care at VA hospitals.
Reeves said that because the VA is a federal agency he refers constituents with issues involving the VA hospital to Sen. Johnny Isakson's office.
Cooper and Kirkpatrick suggested that veterans in need of constituent services get in touch with the Georgia's Department of Veterans Affairs, and said that even if the issue isn't within the state's control, the department can refer the caller to the appropriate resource.
Rhett said that it's important when dealing with the VA to keep every bit of documentation regarding the case.
"I don't care how insignificant you think it might be, you need to maintain that paperwork, because if you want to challenge them, or work with people who advocate for you, the first thing they're going to look for is your paperwork."
He described his own experience as an Air Force veteran in which he successfully received knee replacement after the VA had initially denied the claim, because he was able to produce paperwork documenting the claim.

Transportation
An audience member asked what can be done to provide better transportation options for seniors.
Anulewicz said, "In your packet in front of you, you will see a flyer for Cobb Forward. That is the comprehensive transportation plan. There are four meetings left."
She said the meetings are interactive and collaborative, and that residents give input on what the transportation needs are in their part of the county.
"This is a meeting where you're sitting at a table, working in a group of other residents and stakeholders to figure out 'how can we best serve our community by improving transit?;"
She said in some parts of the county it might be bus rapid transit, and in others it might be micro transit like the flex bus service, or rail or managed lanes.

Access to information
An audience member turned in the following written question: "Access to digital information is difficult for seniors. Do you know of any effort to bridge the gap between seniors and access to information that is often only available online?"

Wilkerson said that it's important that seniors give feedback on the issue of online-only access and how it affects seniors, because in an effort to cut costs the state often puts materials online. He suggested that seniors work with the Council on Aging to come up with recommendations to present to legislators on how to overcome that barrier.
Conditions in personal care homes
An audience member asked how many of the legislators had spent time visiting a nursing how over the past twelve months. Most of the panelist raised their hands.
He then asked what was being done to address the substandard conditions in many nursing homes.
Reeves said, "Let me take off my legislator hat and put on my lawyer hat right now … I'm currently about to commence litigation against a nursing home where (due to) what I consider gross negligence a sore … developed, and ultimately several stages later did cause the death of a Georgian. And so that's something I've seen through a different lens … and you are right. There are a lot of care facilities, nursing homes … that are providing a very much lack of quality in care, and it is resulting in deaths."
He said that a bill introduced by Sharon Cooper would address part of the issue by increasing sanctions on negligent nursing homes, and that it's the state's responsibility to regulate personal care facilities and "weed out the bad ones."
"One of the other areas where we have to do a better job of regulating is in our residential addiction recovery homes," he said. "Instead of flipping houses these days to make money, you take a house and convert it to a residential addiction recovery place, and you bring in people for thirty days and bilk their insurance company and move them along, and they're getting no help to actually address addiction issues, or very limited help."
He said it is a new industry, and the state has to figure out how to regulate it.
Cooper, referring to nursing home conditions, said, "We've been working on this issue. I wish I could say it's further along."
She said one of the problems is that with near full employment nursing homes were finding it difficult to hire and retain staff.
She said another issue is that when a death occurs in a nursing home in Georgia, it isn't reported to the coroner.
"The feeling is, 'oh, it's just an old person.' And when we try to do something the nursing homes fight it, because they say 'if every death's reported that has nothing suspicious, then that's more paperwork for us to fill out' …," she said.

She said that a bill has been introduced that will require a federal background check for all nursing home employees. The state, after two years of negotiation, reached an agreement with the federal government to give the nursing homes access to an easy-to-use federal website for screening prospective employees.
Watch slideshow of CO-AGE forum