[This is the latest installment of "Cobb Cuisine, Culture and Community" by Brian Benefield]
This festival holds a special place in my heart because it's how my wife and I found our house in 2018, which was the inaugural year of this unique and creative event that is the brainchild of the Marietta Arts Council. In order to give back, we joined up with the self-proclaimed merry band of misfits at MAC to help activate and create more interest in our neighborhood, Lewis Park. While attending meetings to assist in the festival planning, I have never met a more dedicated, creative, friendly, and intelligent group of folks. These people know that art inherently, in all forms, enriches a community spiritually as well as economically.
The M2R trail acronym stands for Mountain to River, meaning that it runs from Kennesaw Mountain all the way down to the Chattahoochee River and right through our backyard along the way. An all-day community mural painting will take place at 26 Powder Springs St, next door to our friends at Marietta Wine Market. You can pick up a brush and be a part of the art with local artist Donna Barnhart while she creates the mural Our Town. Opening ceremonies will occur in Atherton Square, behind Cool Beans coffee shop and Marietta Welcome Center. Justin Patton will do a spoken word act, and there will be performances by Georgia Metro Dance Theatre, just to name a few. Another stage area will be at 125 Church St., where North GA aerials will mesmerize everyone by swinging from silks and bending their bodies in beautiful, almost unrealistic ways. Numerous artists will be doing their thing at both locations throughout the day.
Be sure to check out the pedestrian bridges at the North and South 120 loop, adorned with prismatic, vividly colored panels that make you feel like you're walking through a kaleidoscope as the sunlight reflects through and makes funky designs on the walkway. As you cross Kennesaw Ave going Southward, you will come upon the student section of the fence gallery, and based on the talent displayed here, we could have another Picasso or Monet in the making. If you continue walking toward Marietta Square, you will see several hundred more inventive and original artwork panels submitted by amateurs and professional artists alike that continue down the trail and end at Brown Park. This traveling gallery will be seen here for several months and then move to various parks around Cobb County throughout the year for all to enjoy.
Heading towards the Lewis Park area on Campbell Hill St, many fun things will occur for kids of all ages, including older kids like myself. The first annual Fur Folly Pet costume parade will take place at the Lewis Park dog park at 11 am; get there a bit early to get your pup or frog, or hamster donned in their best outfit to participate in this walk that will travel the trail past Sessions Stand bakery and end at Marietta Square. After the event, prizes will be awarded for the best costumes in an online competition. Some young entrepreneurs will be selling homemade dog treats on the parade route, with the proceeds going to the Atlanta Humane Society. Live music will be heard from several areas during the day on porches of houses, including the infamous Watermelon house featuring The Lost Cove String band playing bluegrass, gospel, and some melodic covers of 60s and 70s tunes.
We have some very skilled neighbors who have painted a myriad of wooden pallets and have them on display at a multitude of locations along the walkway, and there will be a rock painting station for the kids to show off their creative flair. Other activities at the Lewis Park playground include a craft station where the young folks can make and take crafts, a perfect Mother's Day gift. Bubble machines will be lofting the fun, sticky spheres all around the park, and there will be sidewalk chalk and more bubbles for the kids to blow and join in the merriment. Buttons the Entertainer will be juggling, doing magic tricks, and Three Stooges-style comedy to keep everyone laughing all day long.
Check out the full schedule of events at www.m2rtrailfest.com Art means something different to everyone, and that's what makes it so great. To me, it means seeing something different in ordinary things that lift your spirit and give a sense of hope and wonder that puts the unity in community.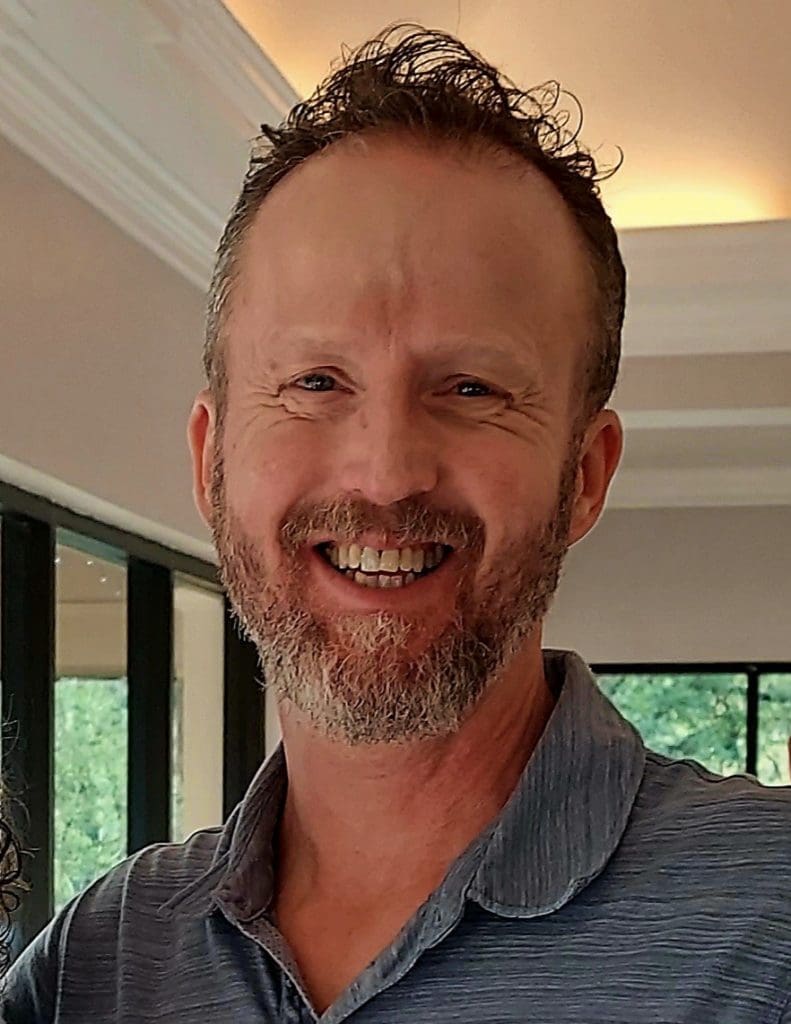 Brian Benefield is an Atlanta native born in Dekalb County, who has lived in Cobb since 2003. He has worked in Hospitality, Marketing, Real Estate, and most recently Food Tourism. Married to Cecilie Benefield for 12 blissful years. They have a dog, Miss Pickles. Hobbies are mountain biking, running, gardening, and trying new recipes in the kitchen. Member of Les Marmitions cooking club since 2016, where we cook 5-course meals with local Atlanta chefs.