The Mableton Parkway Trail is an important component of Cobb County's Greenways and Trails Master Plan for a couple of reasons.
First, it will serve as one of the connectors between the Chattahoochee RiverLands project, and the regionally important Silver Comet Trail once it is extended northward to connect to the existing Floyd Road Trail at Veterans Memorial Highway.
"The idea is that cyclists on the Silver Comet Trail will be able to ride down Mableton Parkway onto the Chattahoochee RiverLands trailhead," said Ray Thomas, president of the Mableton Improvement Coalition. "The county started on that a few years ago so that's gonna be completed here in the next year or two."
The second thing adding to the importance of the trail is that it will provide cycling and pedestrian access between the southern part of the City of Mableton and its most intense center of activity, the stretch of Floyd Road that includes shopping destinations (Kroger, Lidl, Publix), the South Cobb Regional Library, U.S. Post Office, the Mable House complex, and the Silver Comet Trail. Likewise, it will connect the residential areas in the northern part of the Mableton with the Chattahoochee River and the Six Flags area.
View Larger Map
The trail has been in the works since 2015, when Requests for Proposals were issued to design Phase 1 of the two parallel trails.
The first phase of the Mableton Parkway trail includes a ten-foot-wide multi-use trail for cyclists and pedestrians on the west side of Mableton Parkway and a five-foot-wide sidewalk on the east side of the road.  The total distance is 2.39 miles between Discovery Boulevard (at the upcoming Mableton trailhead of the Chattahoochee RiverLands) and Factory Shoals Road.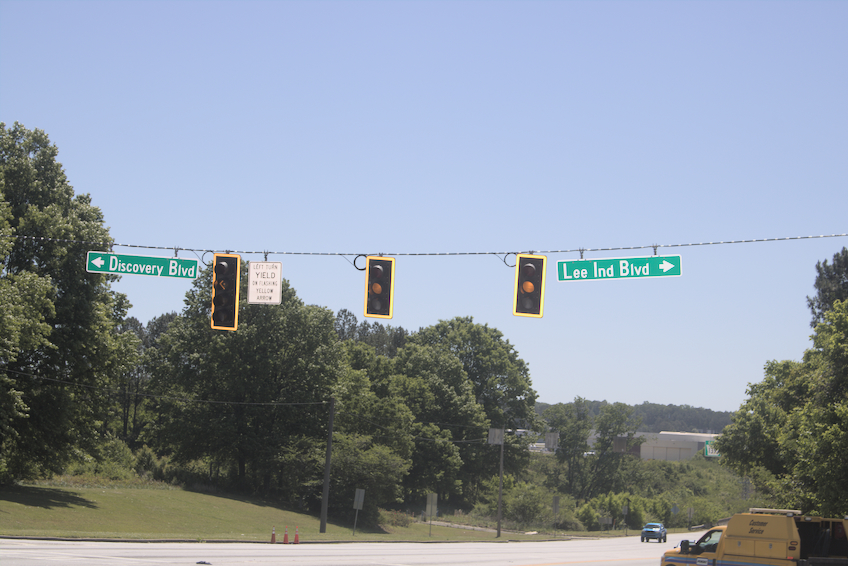 The multi-use trail portion of Phase 1 on the west side of the road has been completed. The sidewalk on the east side is in progress but has a lot of gaps and incomplete sections as it navigates a complicated and numerous series of curb cuts for driveways.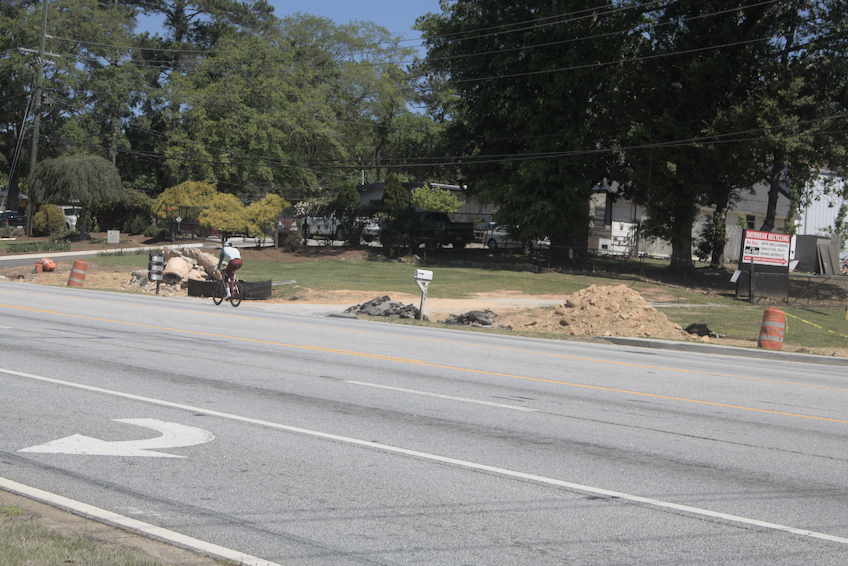 When will the trail be extended to connect with the Floyd Road Trail
The Courier spoke with Cobb DOT Project Manager Karyn Matthews at the groundbreaking ceremony for the Chattahoochee RiverLands Mableton trailhead.
"We're gonna get our construction bids on it this summer, and the part that's coming up is Phase 2," she said.
Matthews said that Phase 2 will take the Mableton Parkway Trail from Factory Shoals Road to Veterans Memorial Highway, connecting it to the Floyd Road Trail, and completing the path between the Mableton trailhead at Discovery Blvd. and the Silver Comet Trail.