Cobb County residents, non-profit organization leaders, public officials, and Georgia's U.S. Senator Jon Ossoff gathered at Discovery Park in Mableton last Monday for the groundbreaking ceremony for the Chattahoochee RiverLands' Mableton trailhead.
The Mableton trailhead, expected to be completed in 2026, is the first of 25 regional trailheads planned along the river.
The Chattahoochee RiverLands is a planned 100-mile-long network of parks and trails running from Buford Dam on the north to the Chattahoochee Bend State Park in Coweta County on the southern end.
The project vision page on the Chattahoochee RiverLands website describes the project as follows:
"The Chattahoochee RiverLands will reunite the River with the Metro Atlanta Region, and link suburban, urban, and rural communities into a continuous 100-mile public realm.
"More than a trail, the RiverLands is a linear network of Greenways, Blueways, parks, and the destinations they create, that will bring people to the water's edge, promote stewardship and conservation of the river, and reveal the subtle magic of the Chattahoochee to all."
The Mableton trailhead, on 8.6 acres of land purchased by the Trust for Public Land, will connect the Mableton Parkway Trail, Discovery Park, and the Chattahoochee River Trail once all three components are complete.
The groundbreaking ceremony
Cobb DOT Director Drew Raessler introduced speakers, under a tent set up at the entrance to Discovery Park.
The Cobb DOT manages the Greenways and Trails Master Plan. Two trails in the master plan will feed directly into the Mableton trailhead of the Chattahoochee RiverLands: the Mableton Parkway Trail, which when completed will provide a southern link between the Silver Comet Trail and the Chattahoochee River, and the Chattahoochee River Trail, which will run parallel to the river between Mableton Parkway and the I-285 bridge near Smyrna.
"The Atlanta Regional Commission, Trust for Public Lands, City of Atlanta and Cobb County recognize the shared vision of connecting and preserving more than 100 miles of river between Buford Dam and Chattahoochee Bend State Park in Coweta Count," Raessler said. "I'm excited that we break ground on that project and that vision today."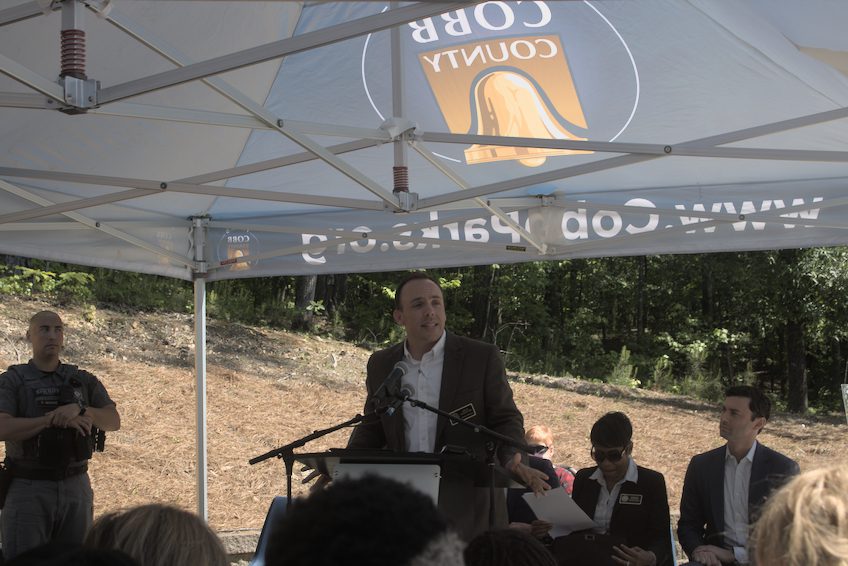 Raesslar recognized the elected officials present in the crowd, including the recently elected mayor and city council of the newly formed City of Mableton, and Sheriff Craig Owens.
He then introduced Cobb County District 4 Commissioner Monique Sheffield, who represents the county commission district surrounding the upcoming trailhead.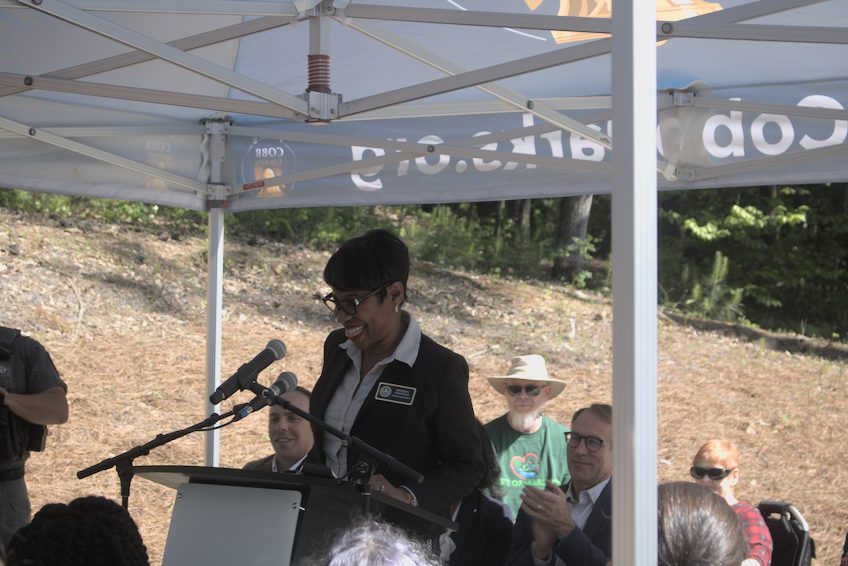 "Quality of Life has been one of my top priorities when I ran for office," Sheffield said. "And this project will improve our quality of life by providing access to one of Georgia's greatest natural resources."
"Connecting with nature will have a positive impact on the physical and mental health of residents and visitors," she said. "I am especially excited that the RiverLands project will bolster economic development in the area."
"Commercial and residential developers tend to gravitate toward communities that offer external amenities such as parks, trails, and in this case the river," Sheffield said. "It would also attract visitors to other area amenities: Six Flags Park, our Discovery Park, and our neighboring restaurants and businesses."
George Dusenbury, the Georgia Director of the Trust for Public Land spoke next and gave a history of the TPL's involvement with raising funds for preservation and development projects along the river.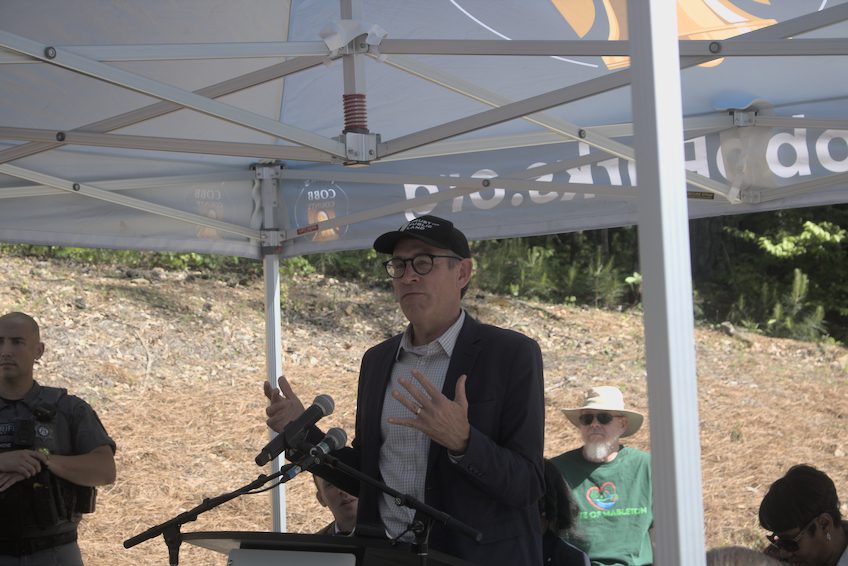 Dusenbury outlined a few of the approximately 200 projects for which the TPL had acquired funding and land, including the Martin Luther King Historic Site, Cumberland Island National Seashore, and the Atlanta BeltLine.
He said that Eric Meyer, who at that time was Cobb DOT's planning engineer, phoned him and said, "You know, George, we're really good at building trails but are not as good at the stuff that's around trails. Let's have a conversation about how we can work together on this project."
Dusenbury said he suggested to Meyer that they "think a little bigger."
"That turned into a $1.5 million study, largely with the Atlanta Regional Commission helping to support it," Dusenbury said.
He said that the Woodruff Foundation donated $9 million dollars early in the project and that another $9 million is being raised.
"But at the same time, we're seeing investment from the county. We're seeing investment from the state. We're seeing investment from the federal government to help make that happen," Dusenbury said. "That's what's so wonderful about this."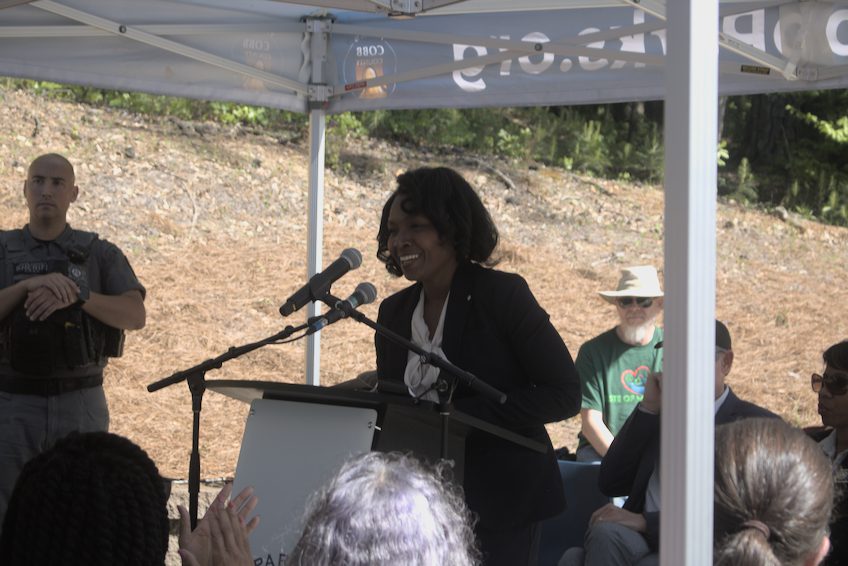 Raessler next introduced Cobb County Board of Commissioners Chairwoman Lisa Cupid. Cupid thanked various people and organizations in the audience, including the Mableton Improvement Coalition, The Chattahoochee Riverkeeper, and Cobb DOT engineers.
She also recognized the newly elected mayor and city council of Mableton, all of whom were at the groundbreaking.
"As was stated before, a chief visionary for this project was our former DOT planning engineer, Eric Meyer," she said.
"Many of you remember he encouraged me to set aside some money from our trail and sidewalk fund for this project because he believed it could be transformative for the area," said Cupid. "He and members of the Trust for Public Land along with the Woodruff Foundation."
Raessler then introduced U.S. Senator Jon Ossoff. Ossoff began by thanking the Trust for Public Land and asked their board members to stand.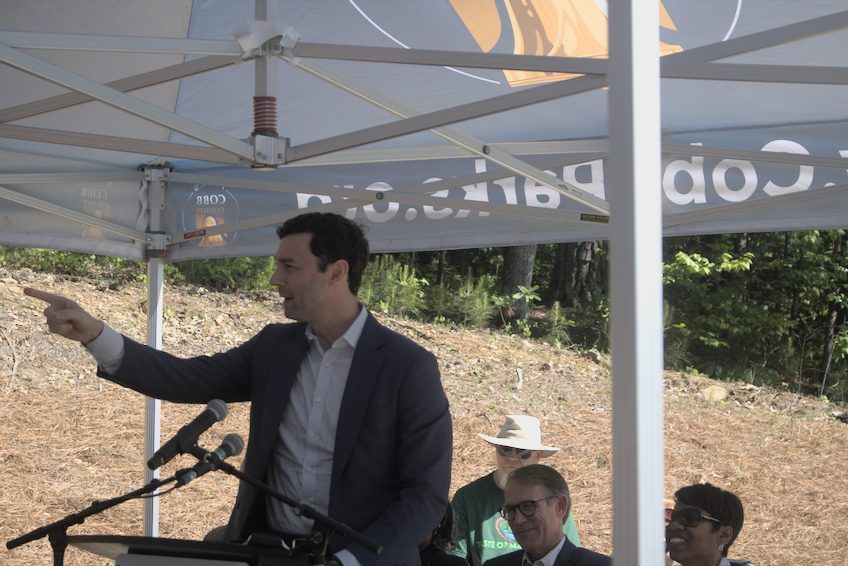 "It has taken many partners to bring this project now to a point we're ready to begin construction," Ossoff said. "The Woodruff Foundation, so many local officials, local elected officials and advocates as well as visionary planners and experts who recognize the value that we could deliver to this generation and future generations.
"I think about my little 16-month-old baby daughter and being able to bring her to enjoy these trails with diverse children and families from across our communities who can take maximum advantage when this is complete, of this extraordinary natural resource the Chattahoochee River.
"I want to take a moment as well and thank Sheriff Owens for keeping us safe today. Thank you, sheriff," Ossoff said.
"I have been working hard to advance the interest to protect and preserve the Chattahoochee River while we expand access to its natural beauty," he said.
"Drew just mentioned the passage of the Chattahoochee River Act last year, which establishes a new $40 million fund to the Army Corps of Engineers for water quality and ecological restoration projects up and down the river," Ossoff said. "That's now law. And building upon the extraordinary work of all of those who brought this project along over the years, we were able to deliver the bipartisan support in the Senate necessary to pass the additional appropriation that will help with phase two of the Chattahoochee RiverLands construction.
"Ultimately, this is about ensuring that families across the metro region can take advantage of this extraordinary natural resource. And you heard earlier and it's so true to what George mentioned that just a few decades ago this river was a tremendously distressed place," he said, "Because it has taken decades of teamwork without regard for politics and every level of government with a sustained vision to bring it back to where it is.
"We've still got so many opportunities to reach higher and higher heights to sustain the upper set ecological restoration and protection with this visionary project, and all of the opportunities for recreation and access that it offers to allow the Chattahoochee River to come into its own as a natural resource that is cherished and experienced by children and by families. For folks seeking recreation, peace and solitude and the great outdoors, opportunities for physical fitness and to enjoy George's beautiful natural environment."
The Courier spoke with a few of the officials present after the ceremony ended.
"This event was fantastic, said Mableton Mayor-elect Michael Owens. "Having our United States senator here, who has championed sustainability, the river, the ecology that we have here in South Cobb, in our nation's capital."
"For him to come here amongst our other dignitaries, is huge," he said. "This is the area I've lived in for a long time. It is in Mableton."
"So I think it's important that we do have access to the river and more people have access to the Chattahoochee, to work to clean up the Chattahoochee, but also make it a walkable destination place for everybody," said Owens.
"I think it's a wonderful event," said Ron Davis, Councilman-elect from Mableton District 1. "I think it's a perfect example of bipartisan cooperation together to get something really done in the county, so I think it's a great event and I think it's a great opportunity for people to come together to make a difference."
"I'm really excited about it. We have a young son that we go to the park with a lot, and this is going to be amazing," said Dami Oladapo, newly elected Mableton City Councilwoman for District 2. "And we are five minutes away. So I'm really looking forward to the great work that is going to happen here and just hoping everything comes together very wonderfully. And I trust the team that's working on this, that that's going to happen."
"It's really exciting that it's coming here to South Cobb and to utilize one of our natural resources," said Patricia Auch, Councilwoman-elect from District 4. "I know when the Discovery Park first came here they had mentioned expanding it."
She said it was enjoyable watching the park grow from its inception to its expansion.
T.J. Ferguson, Mableton Councilman-elect from District 5 said, "I'm just so ecstatic that we have this that we're starting this that all this is we're breaking ground here."
"This is going to be amazing for Mableton and surrounding Cobb County," he said. "This is just awesome."
"This has been a very anticipated moment for the community," said Cobb District 4 Commissioner Monique Sheffield. "I'm really excited."
"Anytime we have external amenities such as a trail, greenway, walkway, it really bolsters economic development in the community," Sheffield said. "So I'm really excited. I'm looking forward to the changes that it's going to bring to South Cobb."
"This is an exciting project for Cobb County and most certainly the southern part of the county to be able to have access to a natural amenity that really demonstrates the forward momentum that this part of the county's experiencing," said Chairwoman Lisa Cupid. "All the partners that are part of this show how many people working together (led) up to this moment today"
"I'm hoping that the energy of today continues as Mableton moves forward, not just with this asset, but with being a new city," Cupid said. "We've got to continue to come together."