The dining area of Super Pizza Bros., a recently opened restaurant in Kennesaw. Photo by Evan Bursinger.
by Evan Bursinger
The retro beeps of classic arcade games play as the freshly made New York-style pizza is placed in front of Joshuah Griggs, a student at Kennesaw State University. The pizza fills the room of the dimly lit dining area with the smells of its unique leopard crust and the light spice of the fresh pepperoni, ham, and sausage.
After Griggs finishes a few slices of his large pizza, he leaves with a smile, satisfied with his decision to have his dinner surrounded by the retro arcade cabinets of Super Pizza Bros., a recently opened local pizza place. "The atmosphere was great," he said, holding a box of leftover pizza and calzone. "I would definitely go back sometime."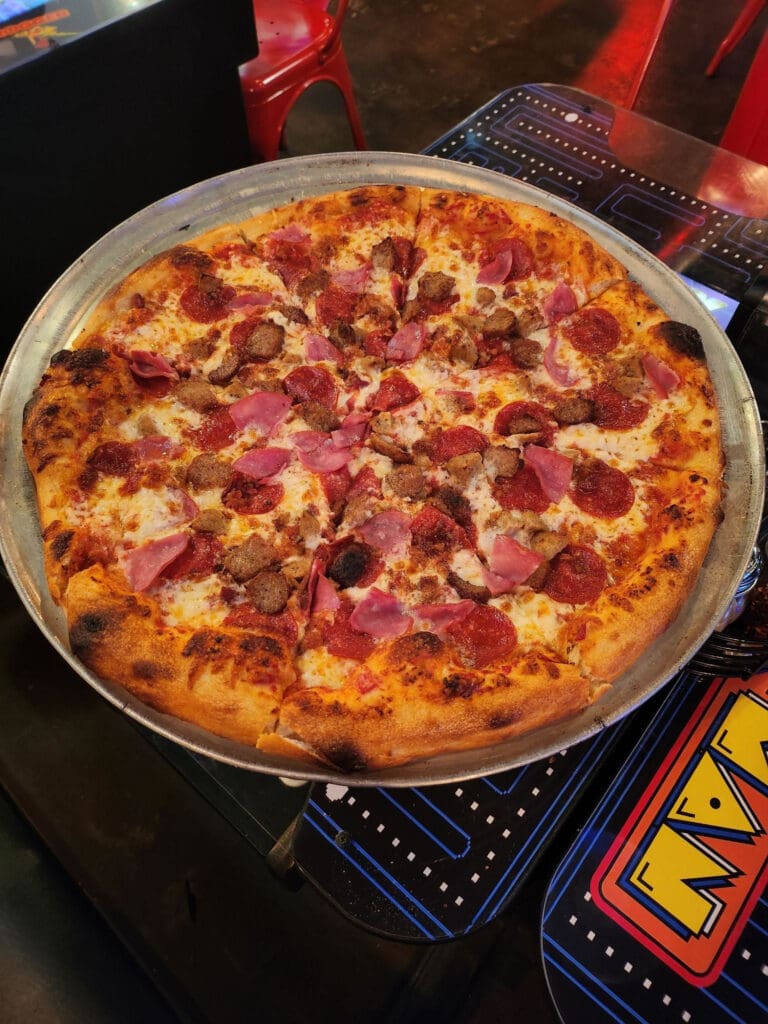 Super Pizza Bros. is one of several restaurants in the Kennesaw area that offer the uniquely fun experience of dining alongside arcade games. While American arcades have shown dwindling levels of popularity since their golden age in the retro era they come from, arcade restaurants have brought a new way of playing to a market that dines off its nostalgia.
Irving Mejia-Hilario said in a Dallas Morning News article on August 9, 2023, "Though arcades saw their sunset over the entertainment empire four decades ago, the industry has been granted a new lease on life as arcade bars have introduced food, drinks, and other entertainment options to appeal to nostalgia-hungry Gen-Xers and millennials."
These arcade restaurants bring new life to the once-popular source of entertainment arcade games served. Luckily enough, a number of these fresh restaurant fusions call the city of Kennesaw home.
For those intrigued by this idea, whether it be for a Friday night outing with some friends, or a weekend activity for the kids, here are a few local recommendations worth a try.
Super Pizza Bros
In what was formerly Pescatore's Pizzeria, a fusion Italian/Latin restaurant, Super Pizza Bros is a recently opened restaurant only a mile from KSU's Kennesaw campus.
Their walls are lined with several retro arcade cabinets, Namco arcade tables, and a digital pinball machine right by the front door to boot.
Heath Bertram, manager of the restaurant, said each cabinet has around 20 to 25 options available on every page, with around 265 pages of games in total between them all. This excludes the digital pinball machine by the front door. He said it has so many that he doesn't know how many different games are available.
"I grew up with these games," said Bertram about the arcade games offered in Super Pizza Bros. "My favorite is Galaga."
While their unique presentation leans into the games offered, their food is still a number-one priority.
"We started out with a simple idea to make amazing food combined with arcade games," says the "about us" page on Super Pizza Bros' website. "Then we asked ourselves what is everyone's favorite food? Pizza and tacos! So we sought the best chefs to help us create the most authentic NY pizza and tacos."
Bertram said the restaurant works with a pizza specialist from Rochester, N.Y., named Pete. He helped them develop a unique way of making the pizza involving a special kind of dough.
Pete sometimes makes the pizzas they serve in Super Pizza Bros. from beginning to end, "leoparding the crust" on the ends, Bertram said. Pizza made by Pete is humorously tagged by the people working there as "Pete-za."
"I could tell that a lot of care was put into the pizza just from the chewiness and texture," said Griggs, who came for dinner. "They had a Local Flavor coupon out, and the place seemed fun, so I thought I would check it out. The atmosphere was great. I'll definitely go back sometime."
Local Flavor coupons for Super Pizza Bros. are available on the Local Flavor website. Bertram said coupons also get distributed through local mailers.
Bertram also said for the first time publicly that Super Pizza Bros. is soon to have a Mexican pizza on its menu.
Bertram said they are also currently working on a chicken parmesan pizza for their menu.
Retro arcade games seem to be getting harder to come across in the wild as the years go on. Whether you're itching for a good slice of pizza, some retro arcade games, or both, Super Pizza Bros might be just the place to fill that craving.
Super Pizza Bros is located at 2950 George Busbee Parkway. They are open Sunday through Thursday from 11 a.m. to 11 p.m., and Fridays and Saturdays from 11 a.m. to 4 a.m.
They also offer delivery and takeout, with more info, including their full menu and contact information available on their website.
Bowlero
Kennesaw also houses a location for the bowling alley chain Bowlero. While Bowlero is mostly known for being a bowling alley, it has much more than just its lanes.
Inside, there is also a sports bar, billiards tables, a lounge area, a laser tag arena, and an arcade with plenty of cabinets available.
Its wide selection of activities means anyone of any age can visit and have a good time. Google reviews reflect this, with Bowlero Kennesaw having 2,452 reviews, and an average of 4.3 stars.
Bowlero is a regular location for parties as well, offering many different packages listed on their site depending on the event.
"I planned my son's 11th birthday party for twelve plus kids and I was so impressed with the turnout," said Brittney April in her Google review for Bowlero. "What made the experience even more special is all of the staff had smiles on their faces and were just as enthused about the party as I was."
Bowlero is a staple for many in the area looking for a fun and reliable spot for an outing. Their Kennesaw location's address is 775 Cobb Pl Blvd NW.
The Blue Ghost Arcade
Located a bit further than the other two places on this list, but just as worth checking out is The Blue Ghost Arcade in Woodstock.
The Blue Ghost Arcade is another retro-focused arcade, with cabinets featuring many classics such as Donkey Kong, Asteroids, Galaga, and more. The best part is that every game in the arcade can be accessed all day for only $15.
For those over 21, the place has a bar with a wide selection of beers, wine, and spirits available as well. Among the drinks offered, they even have their own selection of exclusive cocktails, all with names referencing fan-favorite games of old.
The arcade offers more than just retro cabinets. The Blue Ghost also has pinball cabinets, a large selection of board games, and many different consoles both new and old for anyone to have a go at playing.
Unlike the others on this list, one of The Blue Ghost's main focuses isn't its food, but they do offer snacks and also welcome anyone attending to bring in their own food if they so please.
The Blue Ghost's official website also shows a fair share of events the arcade regularly hosts. They routinely host Mario Kart and Super Smash Bros. tournaments, RPG nights, trivia nights, and chess club nights, all of which are listed on their "events" page.
The Blue Ghost is located at 164 Towne Lake Pkwy and is open every day at 1 p.m. They close Monday through Thursday at 12 a.m., Friday and Saturday at 2 a.m., and Sunday at 10 p.m.
For those looking for a fun spot to have a nice drink and meet some new people at a fun, geeky event, The Blue Ghost might be just what you're looking for.
Chuck E. Cheese's
For those looking for a fun time for younger kids, Kennesaw is home to its own Chuck E. Cheese just off of Earnest W Barrett Parkway.
The popular kid-friendly chain has locations all across the country, and according to Google, is known for its arcade games, various play zones, pizza parties, and of course, its mouse mascot Chuck E. Cheese.
The restaurant serves as a reliable outlet for any young group seeking a place for a party, or even just a simple weekend outing for the family.
For smaller groups like a family of four, their Kennesaw location's website offers various coupon deals, such as two large one-topping pizzas and four fountain drinks for $46.49, expiring November 15, 2023.
For larger groups, Chuck E. Cheese is regarded as a great spot to host parties and get-togethers, free of worry for parents and guardians in charge of making the plans.
"We took my son there for his 7th birthday party and it was wonderful," said Ryan Fletcher in a Google review for Chuck E. Cheese's Kennesaw location. "The staff was very friendly and helpful. It was one of the easier birthday parties we've ever had to put together since we really didn't have to do anything."
Package pricing for events hosted at Chuck E Cheese is available on their website. Their Kennesaw location's address is 824 Earnest, Ernest W Barrett Pkwy NW.
For those seeking a fun, well-known, and reliable spot to take a group of young ones, Chuck E. Cheese may be the perfect fit.
Kennesaw's Arcade Restaurants
Whether it's good food, a nice drink, or simply a fun environment, it's hard to argue that anything can truly match the unique appeal of Kennesaw's arcade restaurants. For those interested in this fun little niche, from Super Pizza Bros., to Bowlero, The Blue Ghost Arcade, or Chuck E. Cheese's, Kennesaw has plenty of options for the hungry, nostalgic fan of the retro era.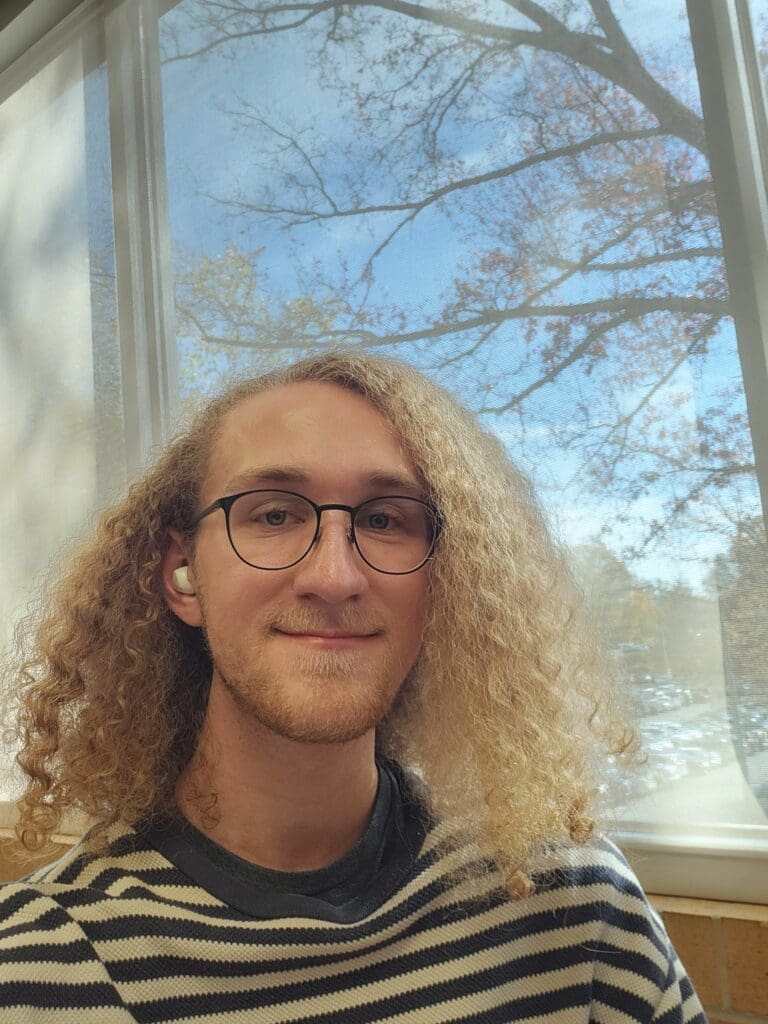 Evan Bursinger is a 4th year undergraduate student at Kennesaw State University, majoring in journalism and emerging media, and minoring in music and entertainment business. Evan enjoys spending his limited free time with his friends in the school's marching band, studying Japanese, and blogging about any form of art that catches his attention.