Rain beat down on the windshield of 18-year-old Morgan Lavigne's Nissan Pathfinder. It was a stormy summer day in 2012; a day most high school seniors would be curled up on their parents' couch with reality TV blaring, and a nearly empty Doritos bag at their feet. But Morgan had never been one of those kids. So, when she realized she had forgotten to save her club volleyball coach's phone number on her new phone, and would, therefore, be unable to confirm that practice was canceled, she went anyway.
She pulled onto KSU campus where Coach Sung hosted his grass volleyball clinics. There she found Coach Sung, who, despite his practice being ruined by the lightning threat, was smiling.
"Is anyone else here?" Sung asked, knowing the answer. No one else would have braved this storm.  "Well, I knew you were going to show up. Have you ever played beach volleyball?"
She hadn't. But, intrigued, she followed her coach.
"I was freaking out because the road it was on was really sketchy, and my dad had just had a conversation with me about being careful," Lavigne said. "So, I was driving and thinking 'ok, I'm going to die'. Then we turn the corner and there's semi-trucks…and two sand courts."
Watch the Slideshow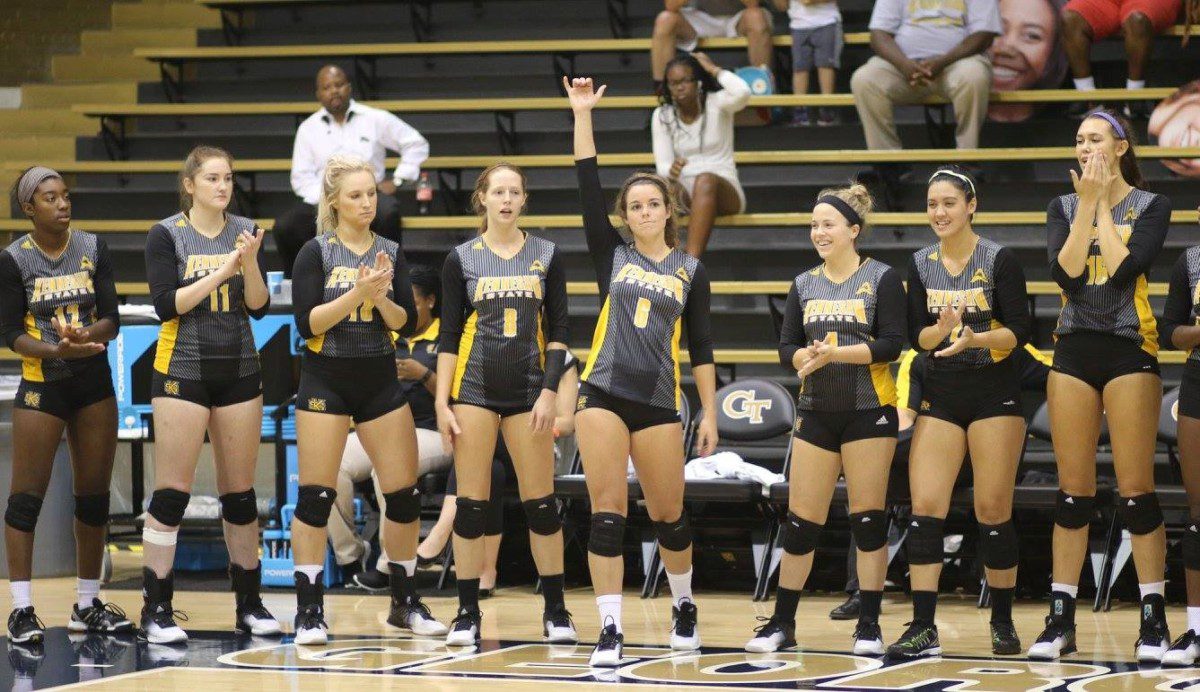 Morgan Lavigne cheers from the sidelines with her team at Georgia Tech's O'Keefe Gym in September of 2016 (Photo by Ebb Dudley)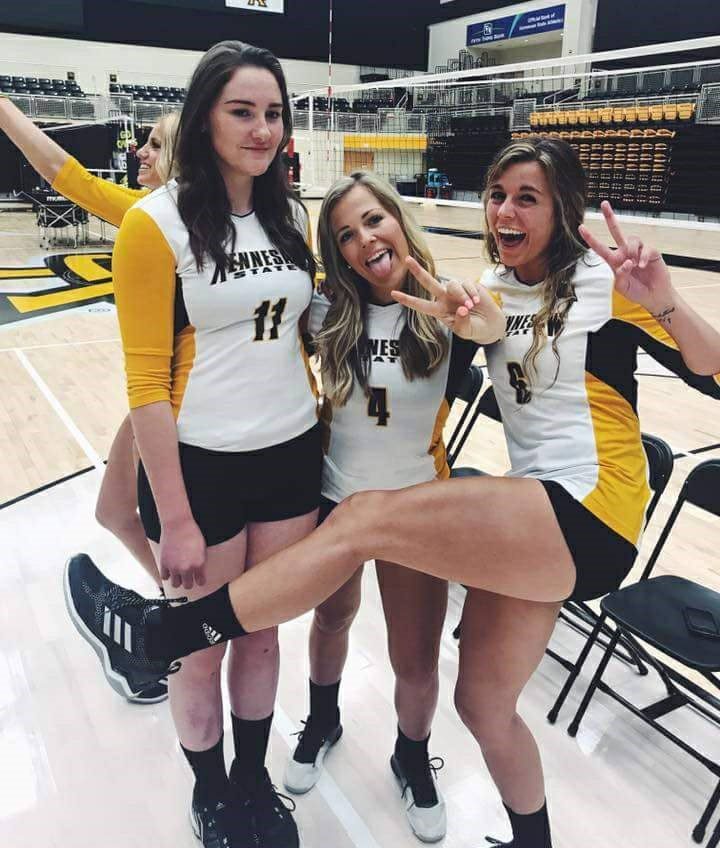 Morgan Lavigne goofs off with teammates, Amy Prall (left) and Rachel Taylor (right) at the KSU Convocation Center -- Photo by Alex Huber)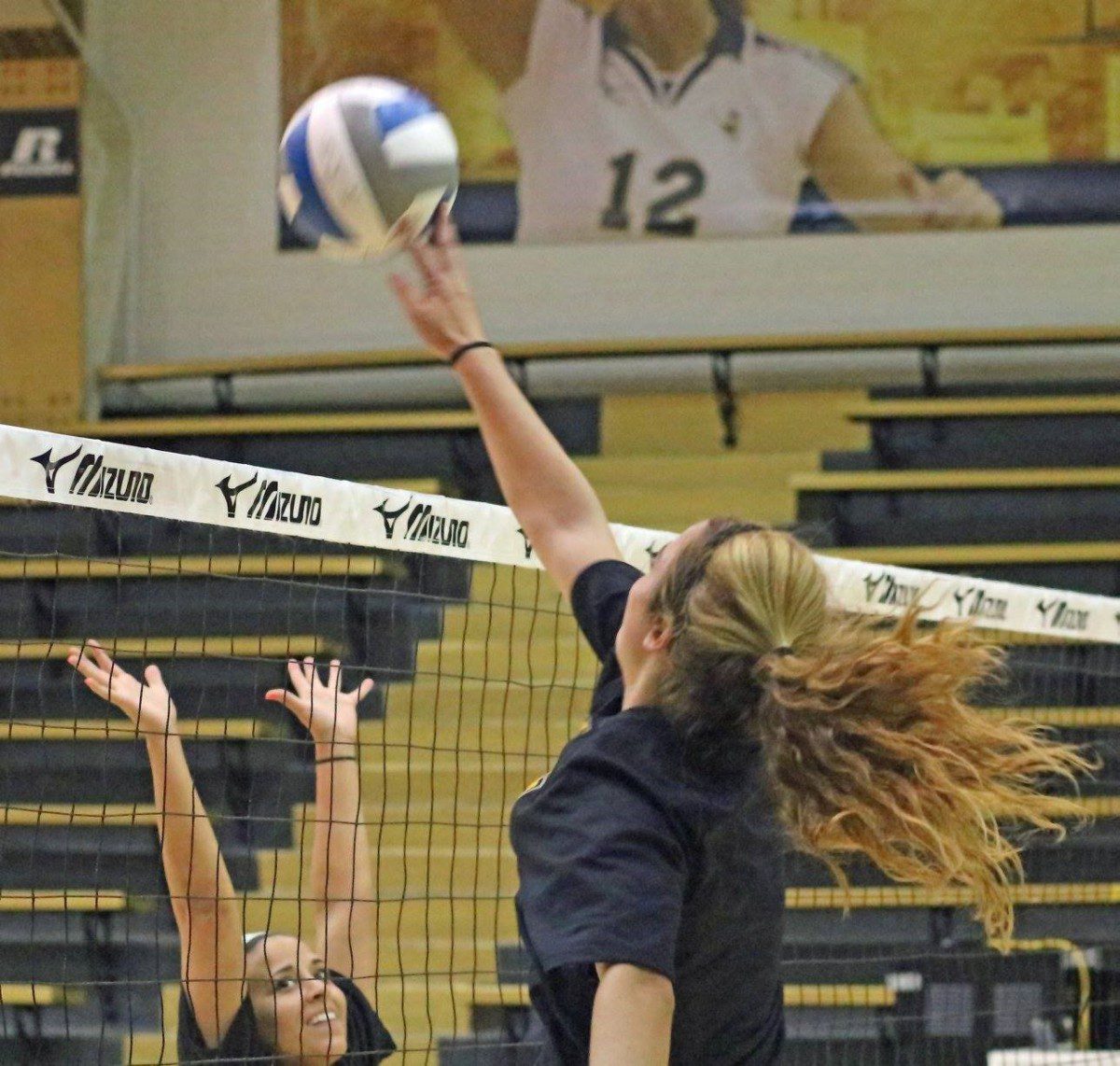 Morgan Lavigne makes a jump for the ball at Georgia Tech's O'Keefe Gym in September of 2016 -- photo by Ebb Dudley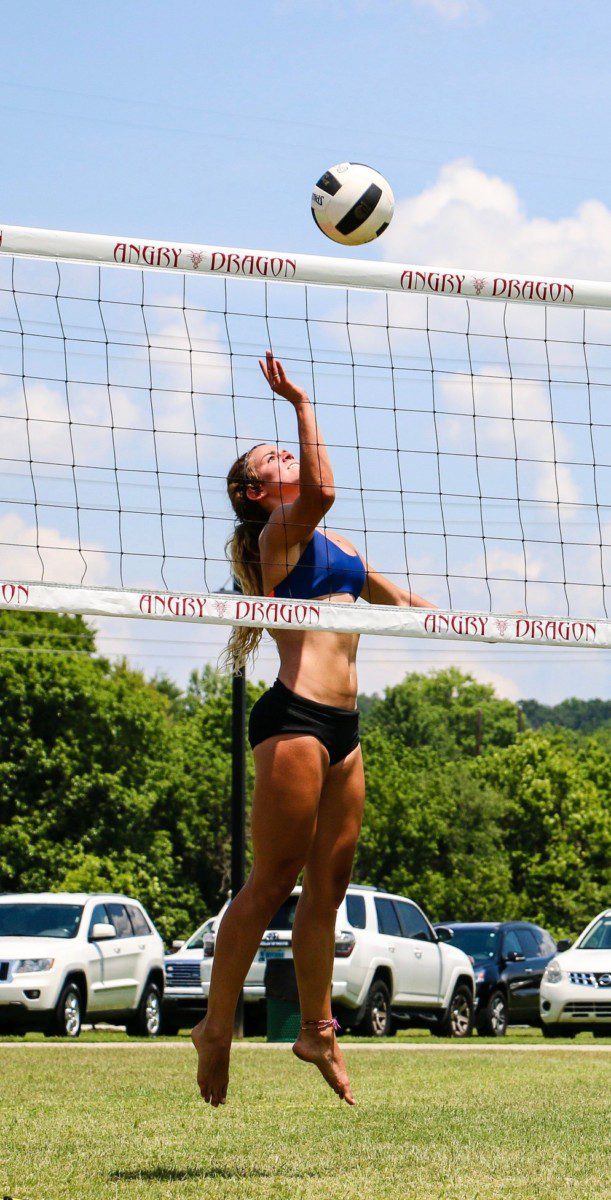 Morgan Lavigne plays outdoor in the sun at Boling Park in Canton, Georgia in June of 2017 -- photo by Daniel Heramb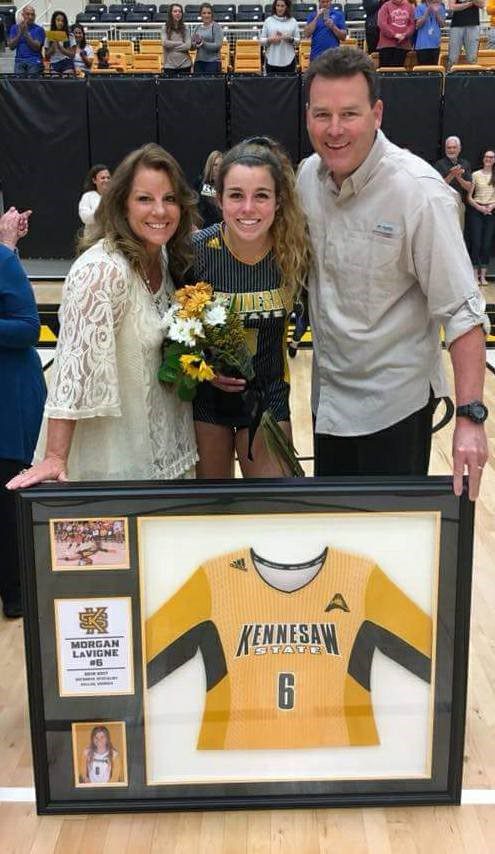 Morgan Lavigne poses with parents Sherry Lavigne (left) and Bryan Lavigne (right) at senior night in the KSU Convocation Center in November of 2017 -- photo by KSU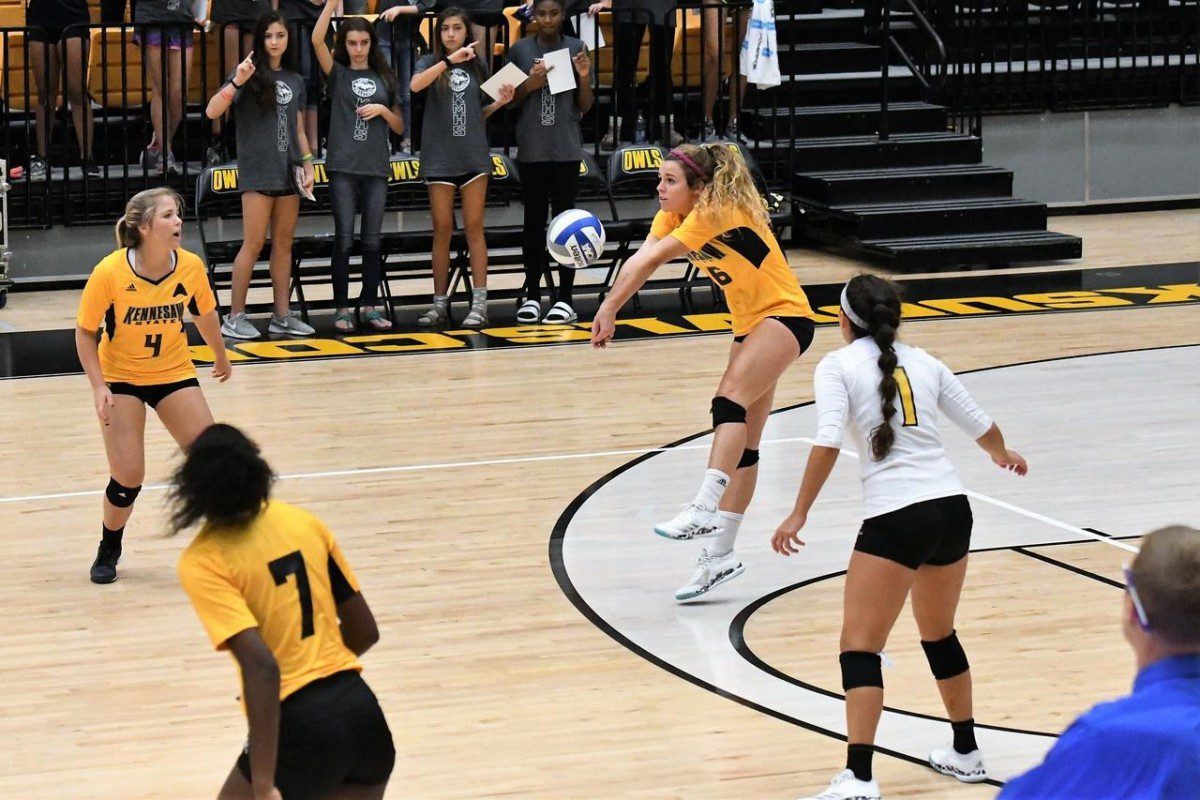 Morgan Lavigne focuses on her shot at the KSU Convocation Center in October of 2017 --photo by Kelly Taylor
A Young Player Grows up
"I had a really bad experience playing at a club in high school," Lavigne said.  "It was with the coach. My confidence was pretty low. I was told multiple times throughout my life that I would never make it to play division one ball."
Luckily, she came from a strong family who would always be there for support.
"My parents were always realistic with me, but they've never shot down my dreams," Lavigne said. "Anytime I had people telling me I couldn't do something, they'd always be like, 'Well, are you doing everything you can? Keep working.'"
College Ball
Lavigne began her college career at The University of South Carolina, playing on their beach volleyball team.
"I absolutely loved it," Lavigne said, smiling. "I got to be barefoot, listening to reggae music every day after class. It wasn't even practice, it was like a stress reliever."
The fun didn't last long. It seemed someone had other plans for Lavigne's future.
"I'm a strong Christian," Lavigne said. "I really felt God leading me to transfer. At first, I was like 'no way. This was my dream to play college ball.' People said I wouldn't do it. I did it. I don't understand. I remember arguing with him on my apartment floor."
Despite her initial misgivings, she began considering other universities. Something seemed to be leading her to Kennesaw State. In the beginning of the summer of 2015, Kennesaw State was considering a beach volleyball team. This consideration never made it off the ground. Something told her that her place was back on an indoor team.
And just like that, Lavigne found herself packing up her USC dorm and heading to Kennesaw State to play for the KSU Owls Volleyball.
 When you get knocked down, you stand back up
That camaraderie the team has built seems to be paying off. This year alone, the KSU Volleyball Owls beat Clemson and UGA. They swept UGA in a 3-0 victory.
Lavigne's teammate Maddie Johnson feels that, as a teammate, Lavigne has always supported that camaraderie.
"She is so dedicated to the sport and has such a great passion for the game," Johnson said. "If someone on our team was seemingly off one practice, Morgan would be the first person to notice and check to see how the person was doing."
Despite turning a team into a family, and working together to achieve success, those successes still don't come easily. The 2015 season ended on a horrible note with an earth-shattering loss to Lipscomb University in the Semi-Finals.
"Going into the locker room after that was just heartbreaking," Lavigne remembers. "Just seeing the two seniors on the team in tears because that was the end of their careers. One of them kneeled as soon as the final ball dropped, and the game was over, and we realized we'd lost. She just fell to the floor, and it broke my heart. Because as an athlete you put so much in, so much into your career as a collegiate athlete. So much dedication, so many tears, so much sweat, so many joys, and down times, and there's so many emotions that encompass the four years that you are a part of the program. And when it's over, it's just over. You can't get it back."
When many teams would have fallen, would have taken years to regain that confidence, this team was determined not to let the loss define them. They rallied together and somehow did what they never knew was possible, worked even harder.
"They even put Lipscomb's championship photo on the cover of our binders for workouts," Lavigne said. "I remember we were all so pissed off, that was like the worst, running on the treadmill and seeing that other team, oh that's awful."
Summer marks the time that students head home to spend the warm months lounging by the pool or vacationing with their families. But not this team — not this summer. Most of the team stayed to work out, practice together, and continue to build interpersonal team relationships.
The Owls came back that fall and had one of the best seasons in program history. They finished 12 and 2. But once again, their dreams came crashing to a halt. They made it to the conference tournament and lost to a team they had already beaten in the semi's the year before. This time though, they knew what to do. And in the same spirit of perseverance and dedication, they once again rallied.
They beat Georgia Tech in the Spring. Then went on to beat Saint Louis University, Illinois State, and UGA in season. These wins solidified the record for the strongest season start in program history. Later that season, they broke into the RPI rankings and were ranked number 55 in the country, another program first.
The most exciting victory of the season— on October 20th they swept Lipscomb during the season for the first time in school history.
On November 10, 2017, the KSU Owls swept the Stetson Hatters in Florida. This provided the volleyball Owls their first ASUN (Atlantic Sun Tournament) championship win in program history. They finished that tournament 12 and 1 in the ASUN. This win also propelled them forward into the NCAA (National Collegiate Athletic Association) tournament. The NCAA tournament begins on November 30, 2017.
Staying Focused on What Matters
 Despite the exciting victories and game-winning points, Lavigne's favorite game memories don't even involve her own personal successes.
Griffin's Game was started by Coach Schunzel and his wife Briana Schunzel, whose son was diagnosed with acute lymphoblastic leukemia in March of 2015.  You can understand the personal nature of this topic when Lavigne makes a telling slip-up in her description of the event.
"With our son having leukemia, I mean our coach's son had leukemia," Lavigne corrects herself. "It's something that they had battled through, and now they take the money, and the proceeds from the game, and donate it to a family whose child is fighting childhood cancer."
Those are the wins that will always be sweetest. Those are the wins that will always make the fact that the women standing beside her crossed over from friends to family long ago, ever more apparent. Whether she goes on to play pro or club, or just in her own backyard, she will never forget those wins.
"Being able to see that family on the court and then us winning," Lavigne says, a look of pure contentment spreading across her face. "It's almost like, we won Griffin's game, but we are also helping to win childhood cancer. We are also helping to beat that."