On Tuesday, Cobb County Police Chief Tim Cox held a press conference about former police officer Andres Martinez Alcaraz, of Acworth, who has been charged with sexual assault.
The alleged incident happened during a suspicious persons call Alcaraz received in May while he was on duty and in uniform.
He resigned from the police department on June 30 after he was put on administrative leave during the investigation, and turned himself in the next day after a warrant for his arrest was issued.
Alcaraz was booked into the Cobb County Adult Detention Center July 1 on charges of "Sexual Assault by Law Enforcement Employee or Agent who Engages in Sexual Contact with Individual in the Custody of Law," and "Violation of Oath by Public Officer," both felonies.
Cox began the conference with a prepared statement, then fielded questions from the press (see the Courier's transcription of his prepared statement at the bottom of this article).
During the question and answer session, Cox gave the general timelines of the investigation.
He said the investigation began when the Smyrna Police Department contacted the Cobb County Police Department.
"The victim had an encounter with the Smyrna Police Department several days before the Cobb County Police Department became aware," he said. "Smyrna reached out to us, and relayed some information from her."
"The victim at that point refused to be interviewed by a Cobb County detective about the matter," he said. "And then she for all practical purposes disappeared. This individual does not have a specific local address. So our detectives were unable to follow up."
He said that she later approached two Precinct 4 officers during a traffic stop.
"She was not related in any way to that traffic stop and she approached our officers at that point and then explained a little bit of her situation," Cox said.
"Our officers saw the importance of the matter, and they reached out and tried to facilitate a meeting between her and our detectives."
Cox said she refused again, and asked to leave.
"And there was no criminal reason to prevent her from leaving so we allowed her to leave," he said.
He said the department took the information she provided during her encounter at the traffic stop, and began an initial investigation.
Police were able to confirm some of the things she told the officers.
After a discussion with command staff and with Major Ferrell, who heads the Crimes Against Persons Unit, Cox decided that a search should be done for the alleged victim.
"So officers were specifically sent out to search the area where she had last been seen. We were fortunate enough to find her within a pretty short period of time, within 24 hours," he said. "At that point I believe she felt like we were serious about her complaint, and she agreed to come in and talk to our detectives, and that began the investigation."
The investigation was two-pronged, he said. The Crimes Against Persons Unit handled the criminal investigation, and there was an Internal Affairs investigation commanded by Captain Cebula.
He said the statements by the alleged victim were very credible, and led to further evidence, but since the investigation is active, he was not at liberty to reveal what other evidence had been gathered.
Alcaraz had been with the department approximately four years. For the past few months before his resignation and arrest he had been assigned to the DUI Task Force.
The Courier's transcript of Cox's prepared statement
Good afternoon. My name is Tim Cox, I'm the Chief of Police for the Cobb County Police Department. Thank you very much for coming to this conference this afternoon.

Like Sgt. Delk said, we'll make a brief statement, and then we'll open it up for questions.

But before I do that let me introduce some of the people that are up here with me.

Directly to my right is Director [Mike] Register. I think y'all are very familiar with him. He's the director of the Cobb County Department of Public Safety, Deputy Chief [Stuart] VanHoozer, Deputy Chief [Jeff] Adcock, Major [Scott] Hamilton … Major Hamilton will be our third Deputy Chief in about two weeks, so I've asked him to be here.

To my left is Dr. [Ben] Williams [President of Cobb County SCLC].

Major [Dan] Ferrell: Major Ferrell is the commander of the Crimes Against Persons Unit. He's the one that commanded the criminal investigation. Next to him is Captain [Everett] Cebula. Captain Cebula is the commander of the Internal Affairs Unit. He commanded the Internal Affairs investigation.

And then we have some more of our community partners that have graciously agreed to be here today. We're going to open it up with a brief statement and then we'll move on to the questions:

The Cobb County Police Department is dedicated to the safety of the citizens and visitors that we serve, striving for professionalism in the execution of our duties is not something that we take lightly.

It is this sense of professionalism that is disrupted the most when an unlawful act is found within our midst.

We are extremely disturbed by the actions we were made aware of recently concerning a now former employee.

Recently a citizen provided information that resulted in investigation of a Cobb County officer for inappropriate behavior.

The police department began a two-prong investigation. The two prongs were a criminal investigation, and an administrative internal affairs investigation.

Within hours of interviewing the complainant in this matter, the involved officer was placed on administrative leave.

During that administrative leave time, the investigation continued while more evidence was collected.

This past Sunday, which I believe was June 30, that officer chose to resign while the investigation was continuing, and I accepted his resignation.

Public trust, a solid reputation of professionalism, and objective transparency, these things remain crucial to our continued relationship with the public we serve in the community in which we are a part.

It is important for the public to not only to trust those that have been called to serve in law enforcement, but also the public must know that we will root out any criminal behavior that may be conducted by members of our profession.

This Cobb County Police Department has four tenets of conduct, and I'm going to briefly go over those conducts and explain why they're important.

The first one is treat each other and the community with respect.

The second tenet: think of a problem as just an opportunity to find a solution.

The third: be a positive representation of the department, the community, and the law enforcement profession, both on and off duty.

And the fourth: service the community as you would want a family member to be serviced.

I think it's clear from what we all know at this point in the investigation, that the actions of this individual failed on at least three of those tenets of conduct of this police department.

Please understand that the actions of this one person does not represent what this police department stands for.

The men and women of this department that work and serve in this community across Cobb County, are appalled by this person's actions.

I, as a chief of police, am appalled at this person's actions.

The actions that have been displayed are not what this police department stands for or is made up of.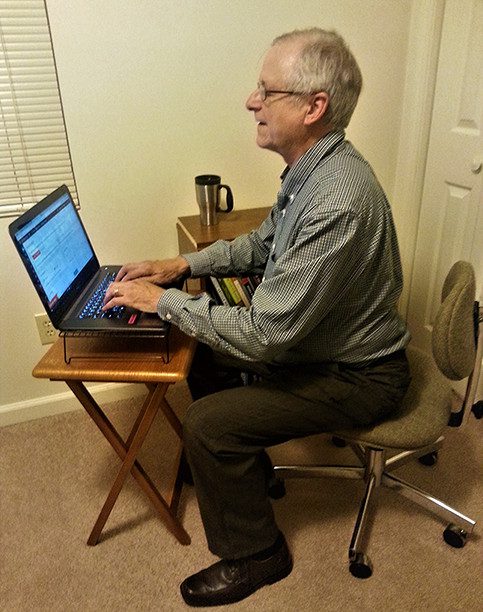 Larry Felton Johnson is the Editor and Publisher of the Cobb County Courier. He holds a degree in Journalism from Georgia State University. He lives in Mableton-surrounded-by-Smyrna with his wife and their cat.