By Rebecca Gaunt
Despite representation from opposing viewpoints on Superintendent Chris Ragsdale's leadership, a Thursday afternoon rally outside the Cobb County school district's headquarters stayed peaceful. It was when the district abruptly changed public comment procedure that chaos erupted.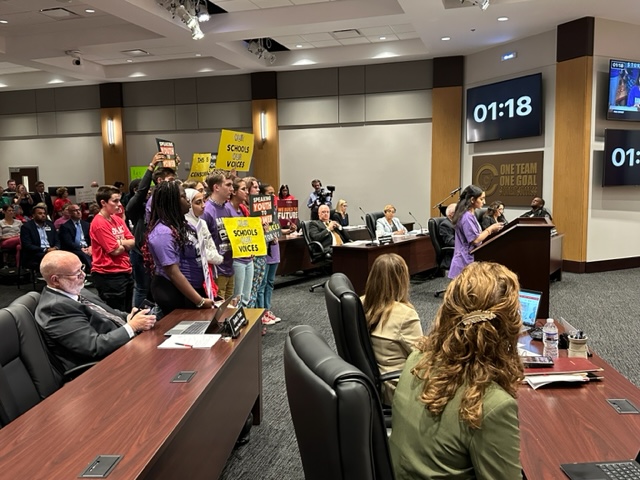 As policy, the district opens the signup for a limited number of public comment spots 30 minutes prior to the meeting. The longstanding practice has been that those interested in speaking line up by the desk in the district lobby. The lines often form early when controversial issues arise.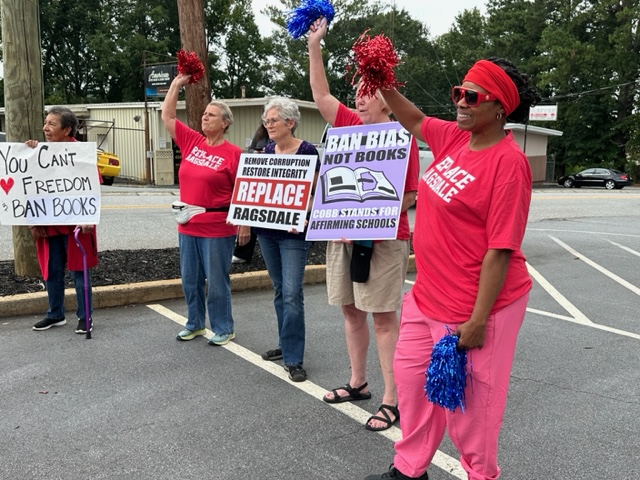 The line for public comment began to build shortly after 4 p.m., dominated by people wearing red "Replace Ragsdale" shirts. When signup opened, after people had stood in line for two or more hours, the process was suddenly moved to an outside table manned by CCSD marketing manager Daniel Vehar and another employee.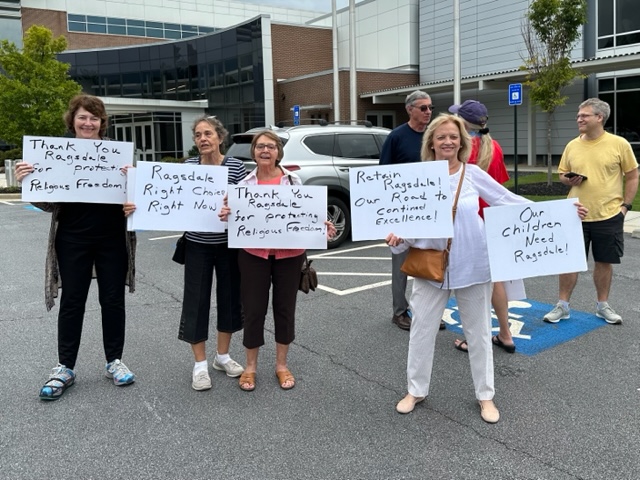 The mad rush to the new location led to yelling and shoving. Several people who were not in line inside attempted to jump in at the front. A high school student exited the line crying saying he'd been shoved by a man who had jumped in the line. Several others accused the same man of shoving them as well. He claimed he was the one being pushed, telling an intervening CCSD officer he was standing his ground. Jennifer Susko, who had been in line inside, reported being injured by the unidentified man who shoved her and had developed a bruise on her arm by the end of the evening.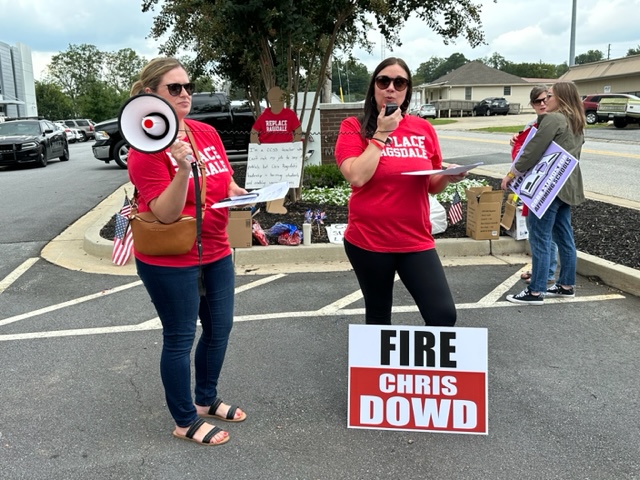 She said she pushed back in self defense because she was being pushed into the table.
Cobb County Association of Educators President Jeff Hubbard also got caught up in the melee.
"Individuals, including myself, have been here for hours on end, and without warning, the county staff took the computers and sign up table outside," he told the media after he secured a speaking spot. "And instead of first come, first serve as it has been for years, it became a free for all. Pushing. Shoving. If they thought that they had a problem in this county before, this is an even greater stain. This should not have happened. The citizens came here as they were supposed to, and with one fell swoop, the county has once again made something significantly worse."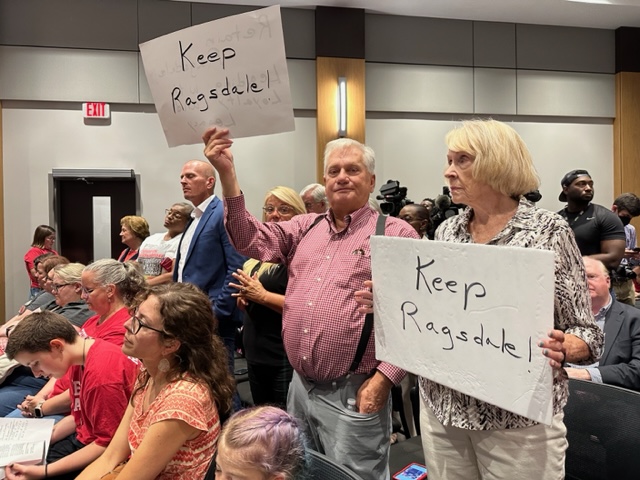 At least two people reported being threatened with arrest for disorderly conduct, but no arrests were made.
Those tensions followed into the boardroom, with loud cheering and sounds of derision from both sides depending on who was speaking.
Susko and Melissa Marten, two of the organizers of Thursday's "Replace Ragsdale" rally used public comment to present Ragsdale with a giant pink slip that listed several reasons for termination, including violation of civil rights, disparaging educators and wasteful spending. Susko left it at the desk of John Floresta, the district's chief of strategy and accountability.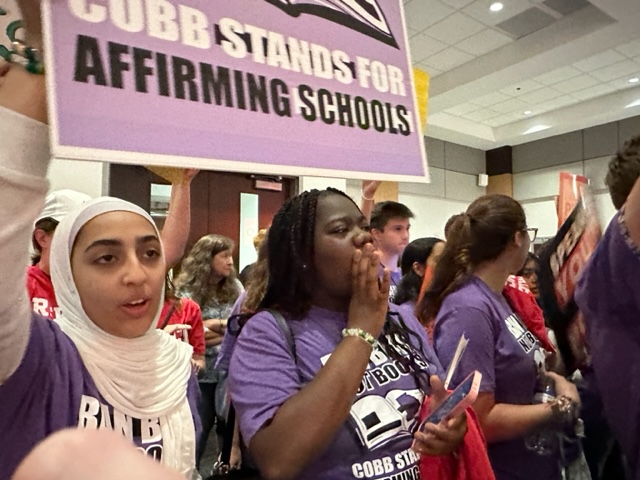 Gabriel Sanchez, a graduate of Walton High School, told the board, "There is indoctrination in the school district and it's coming from extremist right-wing ideology, from politicians and the elites who want to ruin our education and privatize it, and make sure that only what right wingers approve of is taught in our schools. When I went to Walton, I was taught that the Civil War was brought on by states' rights and not by slavery, which is factually incorrect."
Lesley Litt approached the podium to audience jeers accusing him of cutting in the line outside.
"Today we see a steward of education for over 100,000 students with his team, whose ouster is being called for, in part for following the law. For those who disagree with any government laws being upheld, don't target the messenger. Go to those at the state level. A senator or local representatives, perhaps," he said.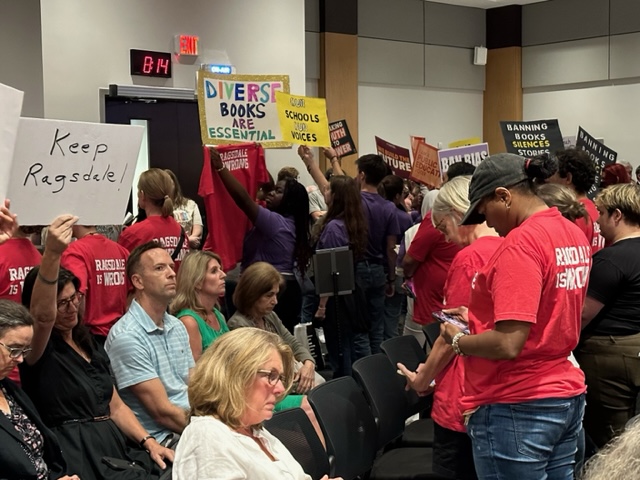 Ragsdale used his superintendent remarks portion of the meeting to hit back at his critics.
"There are those who believe Cobb schools are nothing more than a convenient battlefield for whatever their political cause, and that is what we are currently experiencing," he said. "And unfortunately, one of the first casualties is common sense."
Ragsdale accused radical organizations and politicians of using fear mongering tactics on social media to scare and mislead the public for the purpose of fundraising.
He also said the Helen Ruffin Reading Bowl was never canceled by the district, nor was any employee threatened with losing their job, in reference to ongoing reports that the volunteers who run it have dropped out.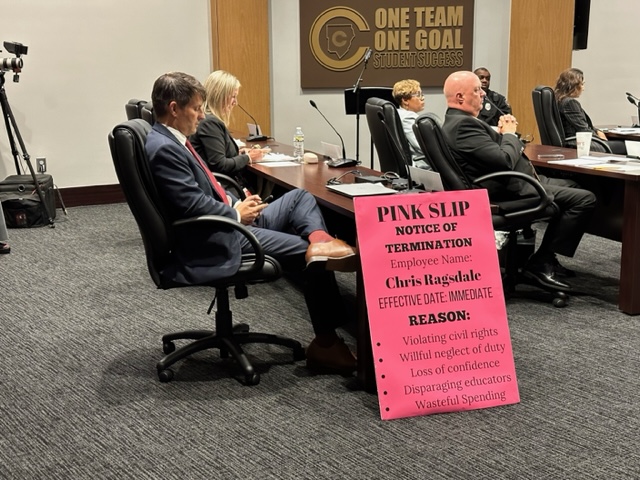 CCAE president Hubbard has been very vocal about the concerns of teachers and media specialists who are worried for their jobs in light of recent book-related controversies. He has provided the media with copies of his correspondence with the district while unsuccessfully trying to get assurances of job safety for staff, an issue he addressed in a fiery public comment. District spokesperson Nan Kiel recently denied that he had contacted the district about the matter.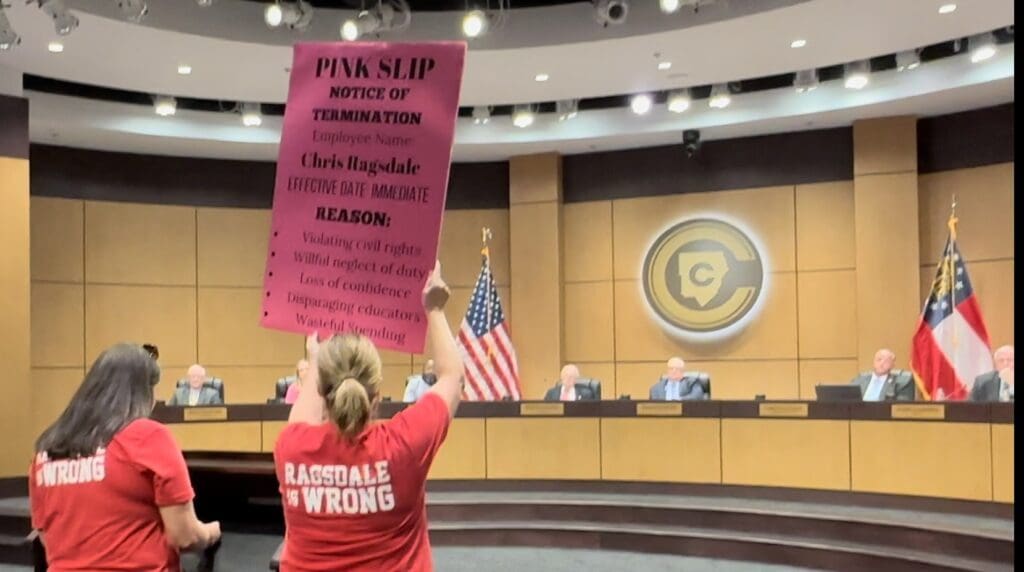 Ragsdale also responded to reports that book fairs were being canceled, saying it's up to individual schools to choose to hold them. However, there will be a vetting process for the books and companies going forward.
Citing his moral obligation to protect Cobb students from being exposed to vulgar, lewd, sexually explicit, obscene and pornographic material Ragsdale said, "So if you need someone to blame for deciding to remove the books 'Flamer' and 'Me and Earl and the Dying Girl,' you can blame me."
The district has come under fire for removing those two titles since it was revealed that they were pulled at the behest of the extreme rightwing social media account Libs of Tik Tok within a two-day span falling over a weekend.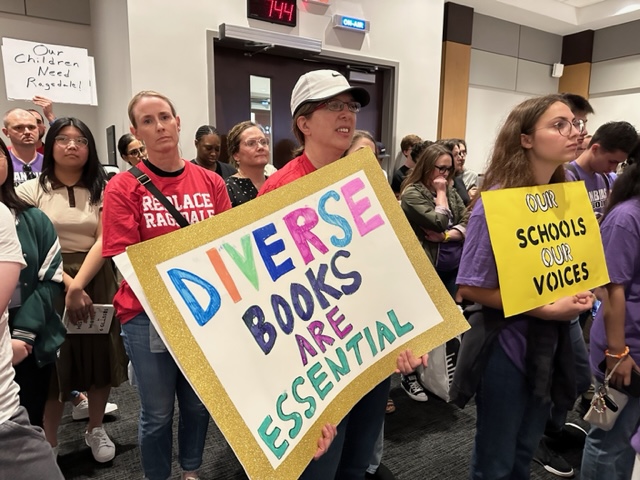 Ragsdale said his decision to remove the books was within his purview as superintendent, separate from the established parent/guardian complaint process.
"We are also not prohibiting educators from incorporating non-district provided materials in their instruction. Educators who follow well-established CCSD board policy will continue to have the ability to introduce supplemental materials to the district's classrooms. However, that ability must be balanced against our responsibility to ensure a reasonable educator would find them useful, aligned to our instructional standards, and appropriate for both the child and the lesson," he said.
He closed with, "This situation is not over…this situation is about right and wrong. Good and evil. The sexualization of children can never be defended nor allowed in any context, especially education. There is no middle ground in this situation. There is no room to flip flop on where you stand. You are either in favor of providing inappropriate material to children or you are against it. And I assure you I am against it and I will not be moved."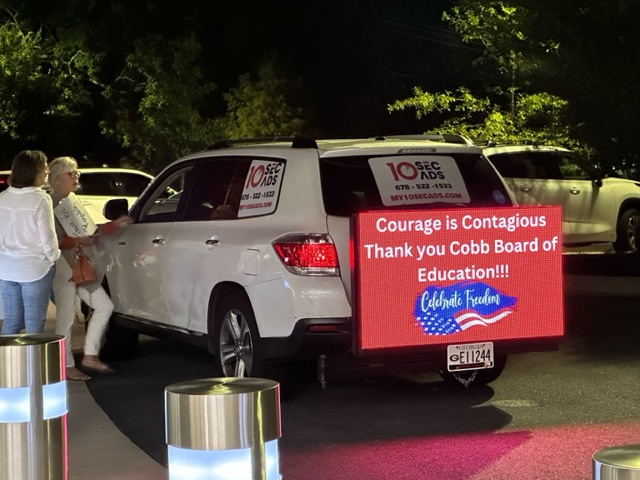 Cobb student George Moore spoke to the Courier after the meeting. He also spoke during public comment in defense of the book "Flamer."
"As somebody who is gay and is also transgender, that is extremely upsetting to me because if I can't see myself in some of the books that I know we have, can I see myself in schools anymore? Am I safe to be there?" he asked. "Because I'm already called vulgar things constantly when people find out who I am."
Moore was also the student who left the line earlier after being pushed.
"I went outside and saw George in tears and I saw a grown man, who was a full head taller than my child, shoulder check my child out of line," mom Jennifer Moore said. "I put my hands on that man and a police officer said to me, 'you need to let go of him.' So I did."
An officer advised her to cool down and come back the next day if they wish to pursue charges.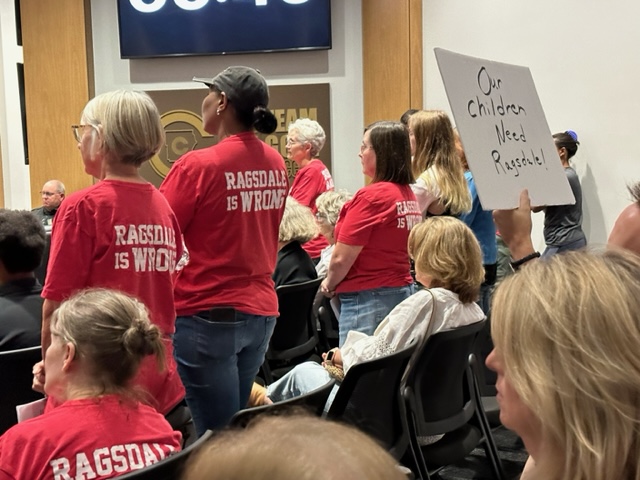 Earlier in the day
Participants in the "Replace Ragsdale" rally, put on by Cobb Community Care Coalition, had opposition from attendees who came to speak in support of Superintendent Chris Ragsdale's leadership. Salleigh Grubbs, the Cobb GOP chair, and other conservative leaders actively called for a response to the planned event on social media.
CCSD police officers were present to direct "Replace Ragsdale" protesters to a portion of the parking lot blocked off by orange cones. When counter-protesters approached, the officers divided the area.
Additionally, members of the Georgia Youth Coalition held a press conference to discuss censorship in the classroom and the need for more funding in their schools.
Wheeler High School senior Haya Fatmi told the Courier that the bookshelf in her AP literature class is taped off. When her book group chose a book for study, they selected the 1993 novel "The Virgin Suicides" by Jeffrey Eugenides. Her teacher told them that they could not read it in the classroom.
"My teacher came up to us and he was like, that book is something that the Cobb County Board of Education would not be approving," she said.
"We're five girls reading these books, and so we kind of identify with how these girls are sexualized or overly deemed as beautiful and innocent…it's also from the point of view of teenage boys, so you can see how they are objectified and sexualized, so we're just discussing how we felt that connection in this society, this day and age. This is how boys talk about us and judge us."
The novel "The Virgin Suicides" is set in the 1970s and is told from the perspective of a group of boys trying to make sense of the deaths of five sisters who live in their neighborhood. It was turned into a movie in 1999 starring Kirsten Dunst.
The class did study the Bible's Book of Genesis, though she said her teacher stressed that they were not studying it in a religious context.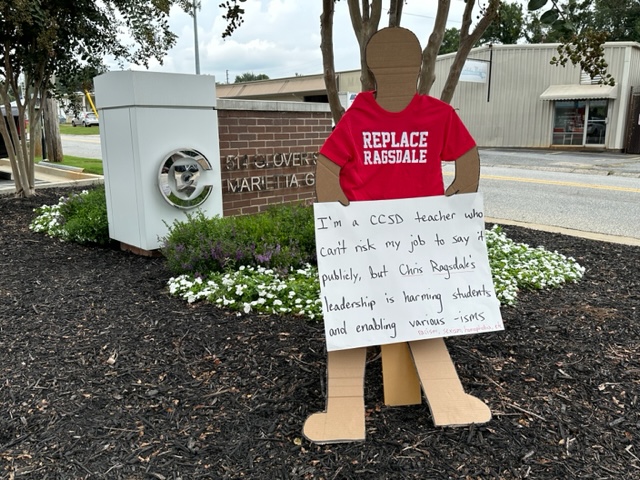 Campbell High School senior Maariya Sheikh spoke about underfunded schools during the press conference.
"I have seen overworked, underpaid teachers forced to pay for school supplies out of their own pockets," she said. "In my school, sewage has exploded due to our faulty decades-old pipes. Our classrooms have overheated from the lack of funding allocated to our public schools, specifically, our most diverse ones."
The afternoon work session public comment slots were dominated by speakers who used the time to thank Ragsdale and show support to the district.
"Thank you for supporting parents' rights," said John McLean. "You're obviously aware that the indoctrination of our children on controversial subject matter by the school system and faculty is wrong and I truly appreciate it. To the faculty of Cobb County school district, I've read that some of you are afraid to teach and read controversial books to the classroom and are supposedly job-scared. As far as I'm concerned, I'm glad you're job-scared."
He continued, "Do not dare read anything to my children or grandchildren, anything at all like the books in question. If you do, you will not only lose your job, but you might also hear from me. Perhaps legally."
The Courier spoke with a group of pro-Ragsdale counter protesters and people who had attended the work session in support of the superintendent.
"It's impossible to avoid because of the way that schools teach everyone in the educational track a set of ideologies, and they're true believers," one of the men responded when asked if he believed CCSD was pushing left-wing ideology in the classroom.
"Just us old retired people believing in the old system," one of the women added.
All declined to give their names.
The Cobb Community Care Coalition issued a list of demands to the district earlier in the week that included the firing of Chris Dowd, the head of employee relations and evaluations. His previous employment in the Atlanta Police Department's controversial Red Dog unit, and involvement in the 2009 raid on the Atlanta Eagle, a Midtown gay bar, during which he was accused of using slurs, resurfaced during the tribunal for Katie Rinderle. He was also named in the lawsuit brought by patrons, for which the city of Atlanta paid out over $1 million, and he received a reprimand for unlawful search and seizure.
Rinderle is the teacher who was fired for reading a gender-themed book, "My Shadow is Purple," in her Due West Elementary classroom after parents complained. Her attorney, Craig Goodmark, suggested Dowd's behavior during the raid indicated bias against LGBTQ+ people.
The full meetings are available for viewing on the district website.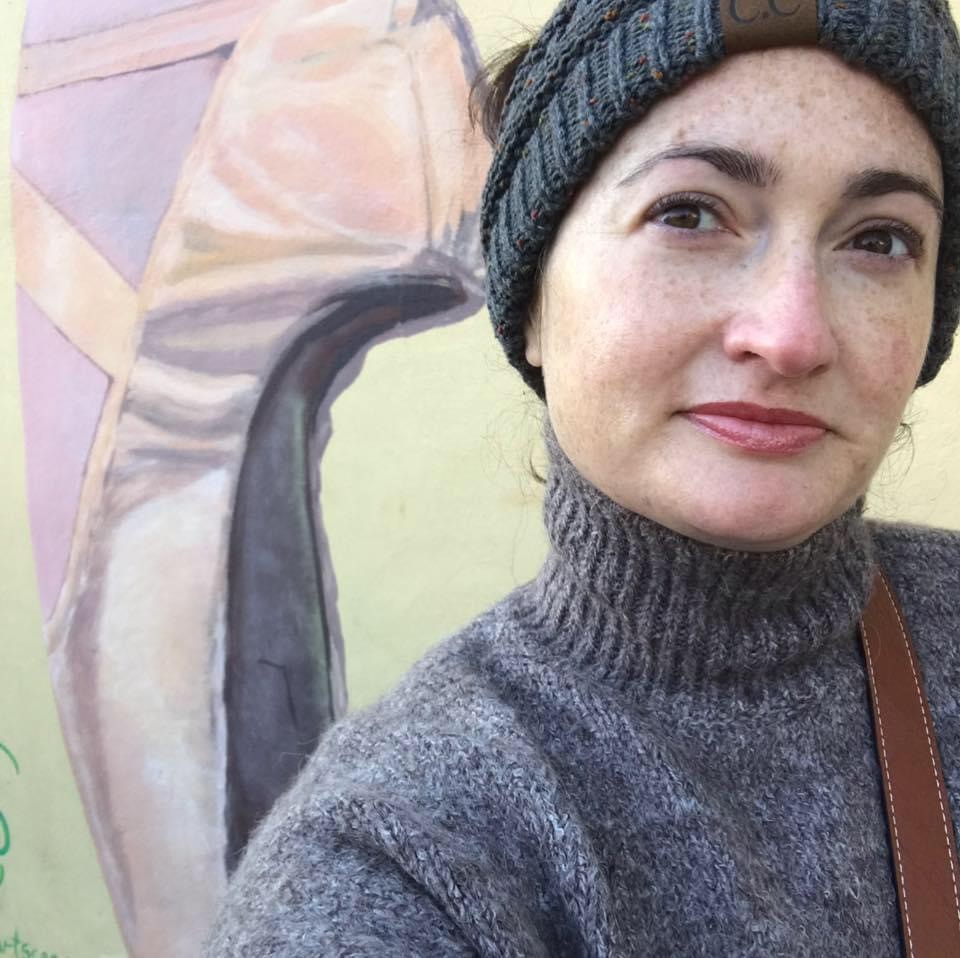 Rebecca Gaunt earned a degree in journalism from the University of Georgia and a master's degree in education from Oglethorpe University. After teaching elementary school for several years, she returned to writing. She lives in Marietta with her husband, son, two cats, and a dog. In her spare time, she loves to read, binge Netflix and travel.