MARIETTA, Ga. — The passing of state Senate Bill 85 late last year opened up the local brewing market for exponential growth, and brewers are responding with more creative innovation than ever. Riding the coattails of the expanding local craft beer movement is a community of trailblazing brewers enthusiastically championing the Western revival of an ancient alcoholic beverage called mead.
Mead is a light, notably sweet, beverage made by fermenting honey with water. The oldest records of honey fermentation date back to 7,000 BC China, but in the West, mead is primarily revered as the beverage of choice for the heroic Scandinavian and Celtic warriors of the early Medieval period. The drink is comparable to wine in its presentation and drinkability, but the mead community is more related to craft beer producers in its highly-experimental approach to flavoring and variation. Robin Kosoris is the owner of Marietta's Viking Alchemist Meadery, the first full-scale meadery in the Cobb County area and one of the most successful in the state.
"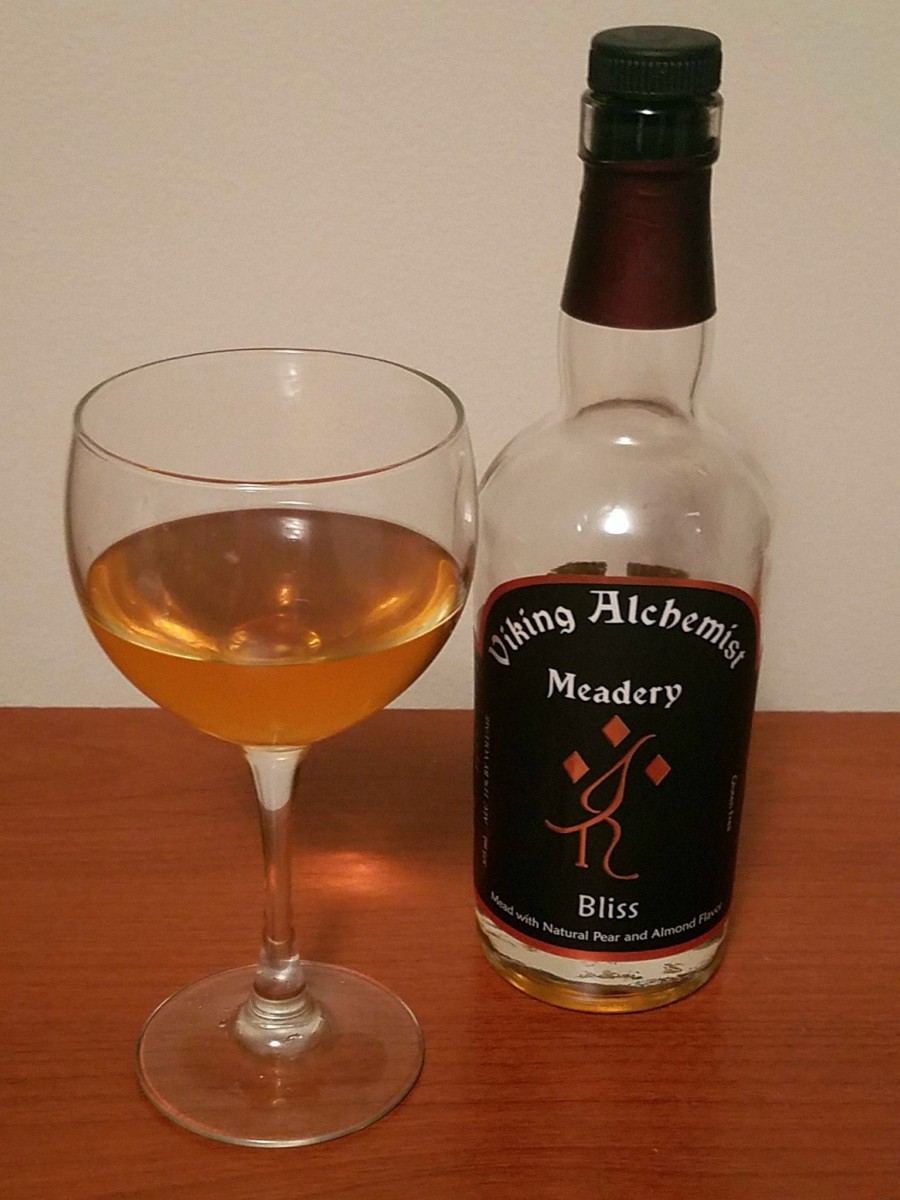 "Bliss," one of The Viking Alchemist Meadery's most popular meads, is flavored with pear and almonds. (photo by Alex Patton)
"The vast majority of people who come in here have never heard of mead," Kosoris said. "Our goal as part of this business is to bring mead into the mainstream. We're not in danger of flooding the mead market quite yet, in fact we're just the opposite."
Kosoris and his son discovered a love for mead through their involvement in a medieval reenactment group, after a friendly encampment shared their home brewed mead with them. As Kosoris tells it, sweet mead is notorious for its ability to mask the taste of strong alcohol, leading to an accidental burst of drunken ambition to begin brewing the drink themselves. Kosoris opened The Viking Alchemist Meadery in 2016, named for mead's most famous champions and their talent for experimentation. Following the resurgence of mead as a niche product, other meaderies and homebrewers are beginning to emerge, but Kosoris doesn't mind the friendly competition.
"Right now, the more the better for us," Kosoris said. "I think we're all different enough that, just like the beer guys, we'll start to bring about that knowledge and variety when there are more of us."
 The success of commercial mead-brewers like Kosoris has inspired a new generation of small-time homebrewers to try their hand in the mead game. Woodstock resident and homebrewer Randall Dolan also discovered his passion for mead by accident, while stationed in Belgium with the Marine Corps.
"That pretty much set the wheels going because it was like, man this stuff is really good but it's so hard to find," Dolan said. "I decided to see if I could try my hand at it, and it came out well. I got a lot good feedback and that was encouraging, so that's what's kept me going."
Dolan's passion for homebrewing spread by word of mouth and support from the brewing Atlanta community. He attended craft beer trade meetings, where he would often trade his mead or give it away for feedback. Dolan dubbed his home-brewed mead project Leprechauno Meadery, after his Irish-Mexican heritage, and began planning for commercial production.
"The Atlanta beer community is a lot of good people," Dolan said. "If I ever have any questions, they are usually more than willing to help out however they can. Craftsmen in the industry have a competitive spirit but collaborative nature."
Leprechauno Meadery is still in the early stages of funding and production, but Dolan is hoping to open a commercial brewery some time in 2019. He will have a sampling event this summer for email subscribers to give him feedback and let him know if it's something that would interest them.
The Viking Alchemist Meadery is celebrating its 2nd anniversary Saturday, March 31, and Kosoris is throwing a party at the Meadery with a food truck and tastings of a new Richland Rum barrel-aged mead in commemorative glasses. Kosoris is also working to open a honey-based beer brewery in Cobb County some time this year, which will be called Mandatory Fun Brewing Company.