The apartment managers at three apartment complexes on Riverside Parkway held a meeting Monday morning to report on their efforts to address concerns of tenants and county officials.
All three complexes are owned by the same Canadian-based investment company.
The complexes, which had been in the news for multiple code violations and complaints by tenants of unlivable conditions, are Parkview, Hunters Grove, and Kingsley Village. All of them are close to I-20 on Riverside Parkway.
In addition to tenants and apartment management, the meeting included representatives of the Cobb County Police Department, county elected officials, and Monica Delancy, the founder of the We Thrive in Riverside Renters Association. Delancy organized the meeting and introduced the speakers.
Cobb County BOC chairman Michael Boyce and District 4 BOC Commissioner Lisa Cupid spoke, along with Cobb County Police Chief Tim Cox.
Cupid addressed the group of tenants, and said, "I think it's a testimony to (the apartment managers') willingness and desire to work with you to address the issues that you have. So I appreciate you being here today, and I appreciate all the staff being here today to continue to listen to your concerns and to make sure we get this right for everyone."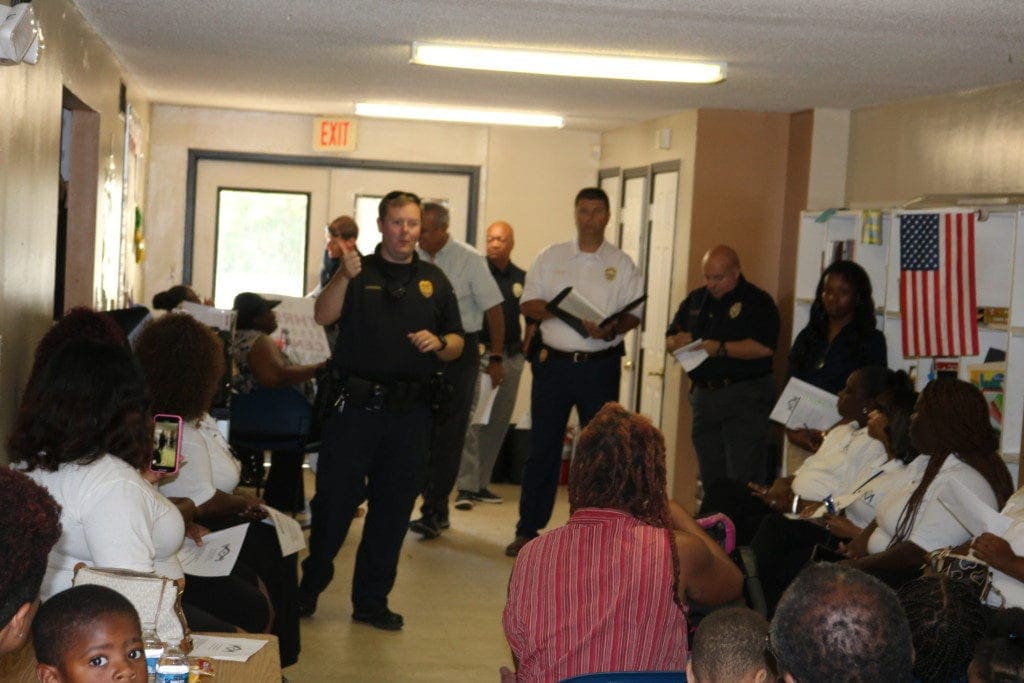 Officer Jack Conwell, who works in the Cobb County Police Department's Community Affairs Unit, assigned to Precinct 2, described the abatement process that the three complexes are under. 
He described the process as nuisance abatement, and outlined the requirements for a property entering the process.
The abatement process for the Riverside Parkway apartments began about a year ago, he said.
"What that means is we pulled crime statistics for the three properties: Kingsley, Parkview, and Hunters Grove," he said. "And according to county ordinance, there has to be three instances of either weapons offenses, underage alcohol sales prostitution or human trafficking, illegal gambling …there has to be three instances in a year for any one property to qualify for this process."
"So when we pulled the crime statistics there were forty instances in a year across all three properties," he said. "So last month when I pulled the  crime stats, we were down to, on average, there would be about fifteen in a year. That's a significant improvement.  Still not where we want it to be.  It's a year-long process."
"But we've got a very good management team in place right now," he said. "They're working hand in hand with us, hand in hand with code enforcement, hand in hand with community development who does the interior inspections, to work with everyone."
He said under the process there are certain public safety requirements that have to be met, and some of them like camera systems are expensive, so the police are working with apartment management to phase them in.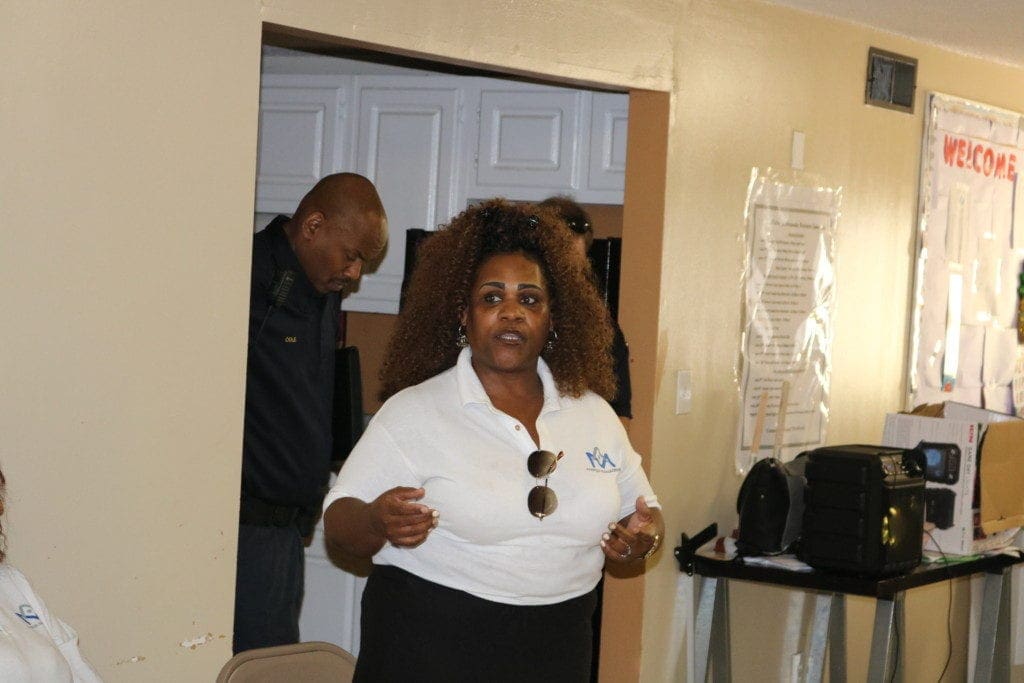 Tushanda Daniels, apartment manager at Hunters Grove, who spoke for the managers at the meeting, said, "We decided that we want to talk to you (the tenants) directly and give a clear understanding of what we're doing and what we have done because I know a lot of people think that everything was going to change overnight."
"However," she said, "this is a work in progress, we're still working, and (not) where we want to be. Whatever concerns you may have, we want to deal with them diligently. We want every resident that really wants to make a change to come around, and help us make the change necessary to make these properties great again. That's what we want to do."
During the meeting there was a sharp exchange between Daniels, and resident Stephanie Burris, who has registered long-standing complaints about mold and rodents in her apartment.
"I've been to all the board meetings with you guys and I spoke with you, and Mr. Boyce. Last week we had a stove and toilet put into our unit, but there's mold in our apartment. And we stressed that. We stressed that to the maintenance, we stressed that to the man that's over the maintenance, we stressed that to everybody. They were supposed to move us in April. OK, then they changed management companies. And once they changed management companies, all that went out the window. The money that we paid, everything that we did, it went out the window. Nobody has a file on us. They said that (previous management) took everything. So they didn't have anything on us."
"We paid in March for them to move us in April. They did not move us in April."
She said her niece was sick from the chronic mold problem in her building.
Daniels and Burris disputed the communication between them about Burris' request to move.  Burris said she had visited the office with and without Monica Delancy present, and that no action was taken on the conditions in her apartment until she contacted BOC Chairman Mike Boyce.
Daniels said that Burris had not followed up after their initial conversations.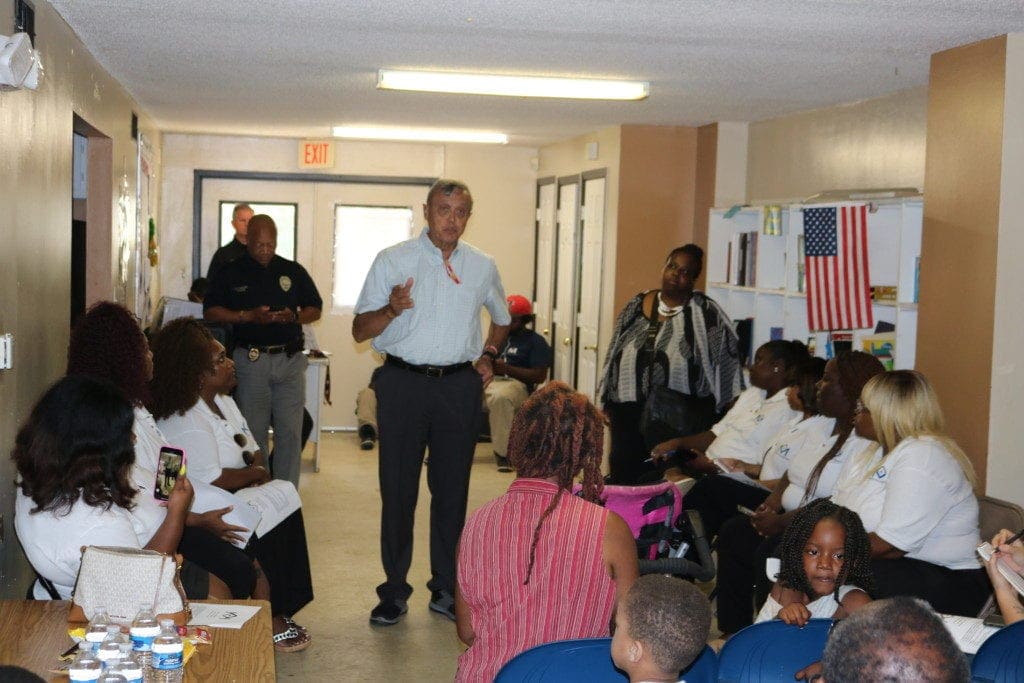 Boyce took the floor and said, "A couple of things.  It's a mess.  It's been a mess a long time.  I always like for the glass can be half empty and half full."
"So first of all let's talk about the glass being half full. I've worked with these ladies for the last two months, and tried to let them know that it doesn't do us any good if the county comes in here and enforces the law, and in the process of enforcing the law, we end up getting you evicted," he said.
"That's my number one concern. As bad as it is, it would be much worse if they came in here and just unilaterally decided 'What the heck, we'll just get rid of you'.  I don't want that to happen."
"And the reason I say that, is that on Memorial Day weekend I was out here with my team, and it was hot. And my main concern was getting the air conditioners fixed because of all the kids."
"I wish people could see what I see, that there are decent human beings who live here with families, and they simply want to have the right thing done," he said. "What I've been trying to focus on is the things that can make you feel healthy and safe. But we have a long road to go."
He said the challenge the women on the management team have is that they are not the owners. He said that he had only seen the owners twice in the past six months, and that one was an accidental encounter.
He encouraged residents to stay in regular touch with Commissioner Cupid.
"She's down here all the time," he said. "This is her area. I would encourage you to be open to her, to let her get engaged in the process to help you out, because the resources are there. We have a joint task force down here now. We have a sub-precinct down here now. We have a lot of things down here to help … something that we should have been doing a long time ago, but at least they're here now."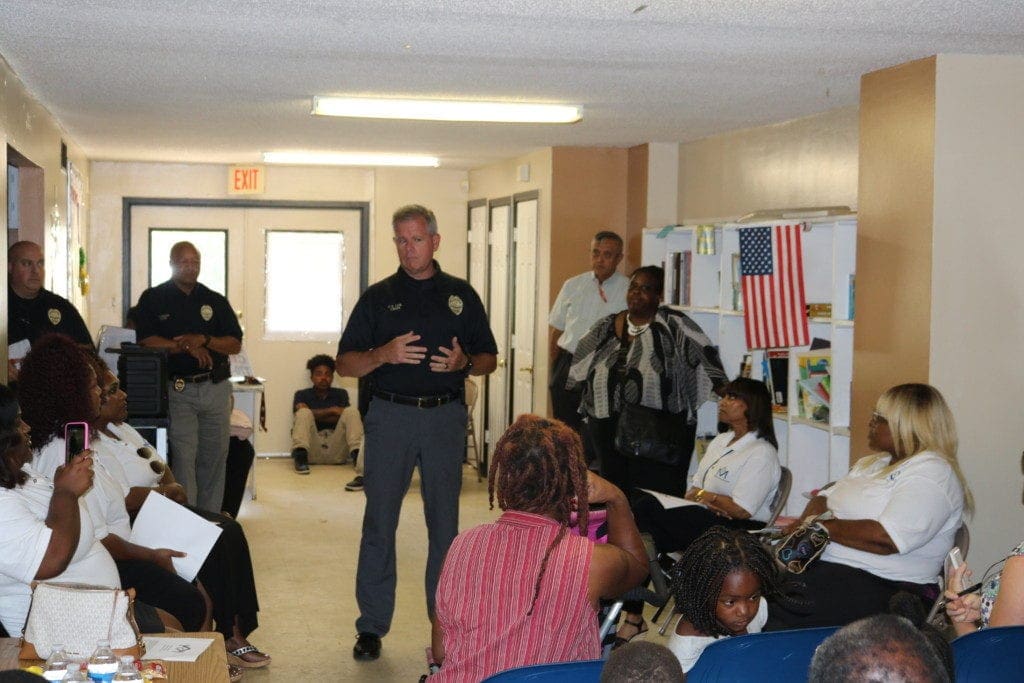 Delancy then introduced Cobb County Police Chief Tim Cox.
"I  want to thank Monica for putting these meetings together," he said.

He said the police department had been involved in the nuisance abatement process in a number of locations across the county, and that there had been successes, and he hoped to see success in South Cobb.

"I think as the chairman indicated, it's a slow process.  Sometimes it's so slow that we feel frustrated. And if I feel frustrated, then I know you feel frustrated, because you're living here. And I'm open to suggestions if you have some suggestions of things  from the police department's standpoint that we can do."
Cox left the phone number for his office, and  encouraged apartment residents to call if they wanted to talk directly to him.
Monica Delancy told the Courier after the meeting, "I think the meeting went well. Everybody was honest, and like the management company said, it is a work in process, and we need everybody committed to the mission of getting this done. And it's not overnight. It is a marathon. "