A group of Smyrna-area residents held a protest of the Sterigenics plant Friday morning.
Organized by Stop Sterigenics – Georgia, the group took spots along Plant Atkinson Road and South Atlanta Road visible to commuters and held signs, many of them called for the facility to be shut down.
The Sterigenics plant became a focus of community concern after an article jointly published by Georgia Health News and WebMD reported that three census tracts, two in the Smyrna area and one in Covington, had unacceptable levels of cancer risk by EPA standards, due to elevated amounts of ethylene oxide in the air.
In press releases and during a public meeting held at Campbell Middle School, Sterigenics denied that their operations are a threat to community health.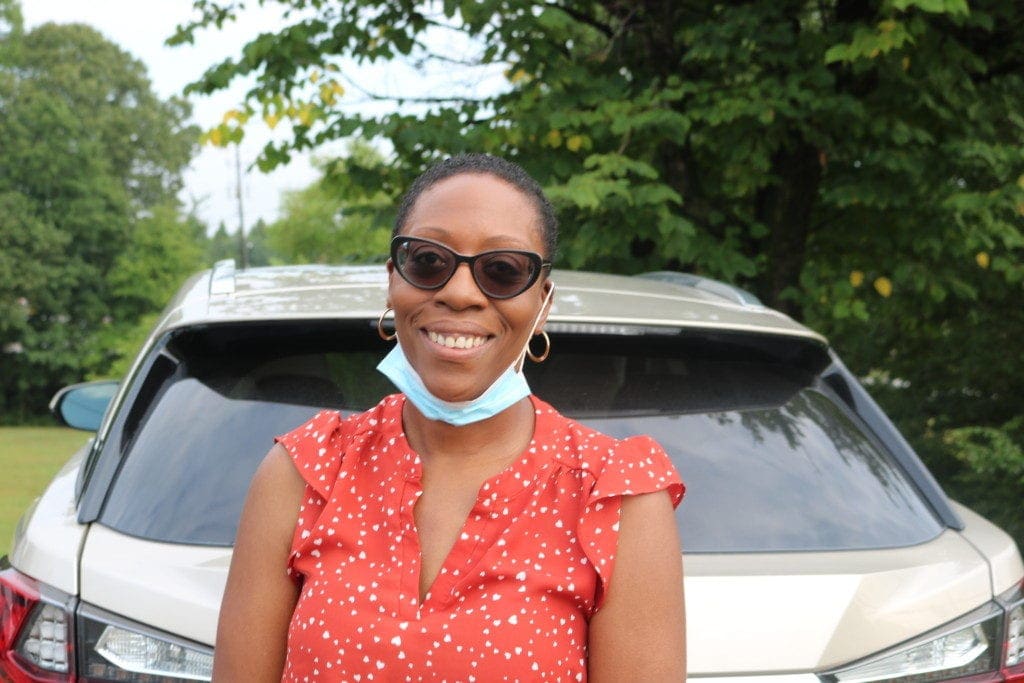 Mechelle Thomas told the Courier during the protest, "I've lived in Smyrna for twelve years. I live about four and a half miles north. My daughter goes to the Benjamin Preparatory School, and she's gone there since she was seven weeks old."
"I'm a cancer survivor," she said. "I was diagnosed in 2017 with stage 3 breast cancer, it was very serious. And it was unexplained."
"And now this at least gets me thinking about what's going on." she said. "I'm saddened that as a resident we weren't told that this was happening, giving us the opportunity to make decisions on where we live."
"I'm very thoughtful about the food I eat." she said. "And to have an environmental toxin in the air and not be aware of it really saddens me and angers me."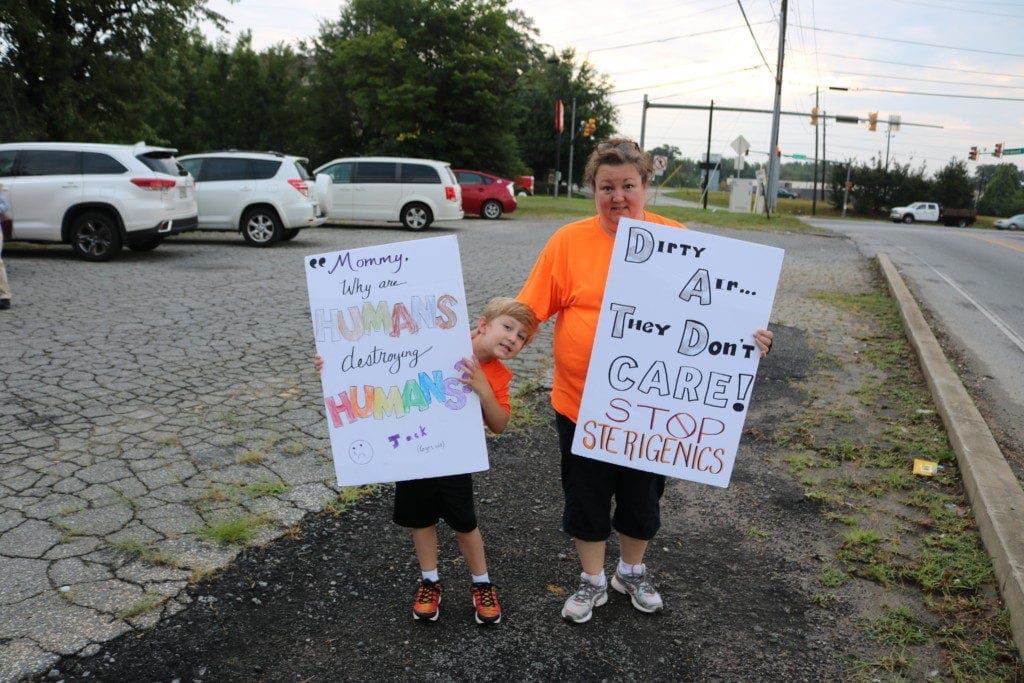 Judy Penfold said, "We attended last week's community meeting, and my son Jack, who is six, went with us. So during the meeting Mr. McNabb (the president of Sterigenics) was speaking and my son tugged on my arm, and said, 'Mommy, why are humans destroying humans?' and it hit me so hard that I had to make sure that that's what his sign said, because it's terrifying and true."
Resident Bridget Kurt told the Courier, "I live down the street, less than a mile away from the Sterigenics plant, and I work in hospice so every day I see the devastation and suffering that people go through when they have cancer."
"And so my main goal today is to raise awareness so people know where Sterigenics is, what Sterigenics is doing: they're poisoning our air with a carcinogen called ethylene oxide, and government agencies need to intervene as soon as possible to shut this plant down." she said. "Once they started to do the proper investigations in Illinois, they realized how many people had cancer, and they subsequently shut the plant down, and that's what we need to do here in Georgia."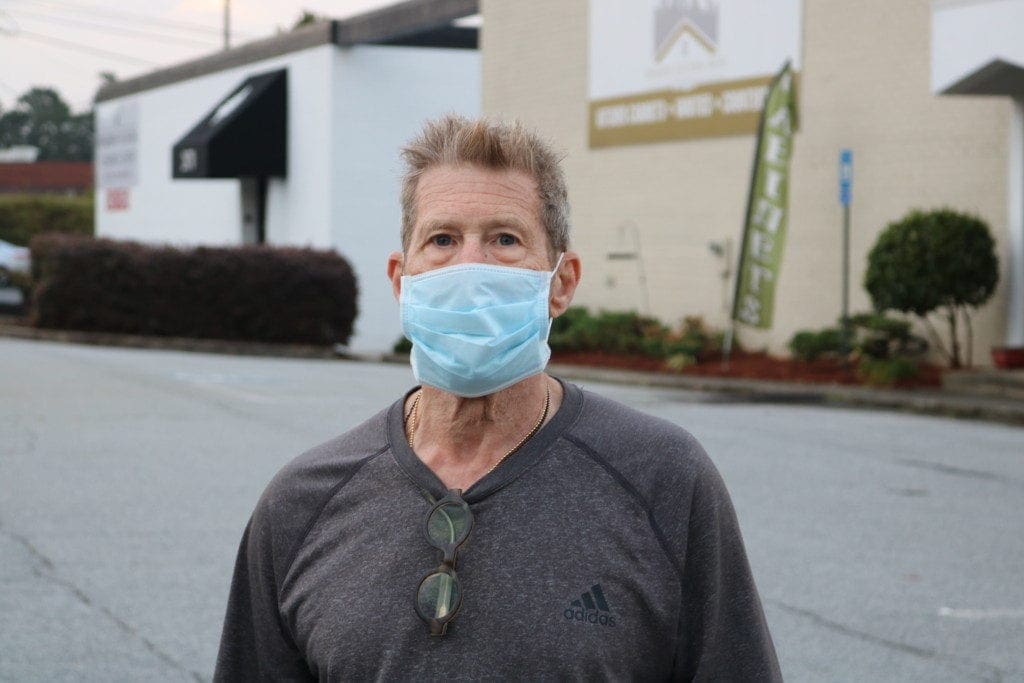 Barry Goppman, a Smyrna resident, told the Courier, "I've lived in the Smyrna area for twenty years. I've always been out and active, I'm a personal trainer and fitness instructor so I've got a very healthy lifestyle."
"Three years ago I was diagnosed with a form of lymphoma which is leukemia as well. I could not even fathom what could have caused it." he said. "Now, maybe I know, or at least what contributed to it. So it's a crime what they've done,and continue to do, and they don't seem to really have the desire to make it right or want to make it right."
Lynn Bixler said to the Courier, "I'm here basically because I have the time, and I feel strongly about it."
"People from the community need to come out and speak up," she said. "This company is emitting levels of poisonous gas that negatively affect the health of the people who live around the plant, and there's been talk about, 'Well, they shouldn't have built the houses so close, the plant was there first …' and that may be, but that's something to be discussed and dealt with later."
"The issue here is that poisonous gases that can cause cancer and other health issues are being admitted at a level that negatively affects people," she said. "And that needs to stop. And if the company needs to close the plant in order for that to happen, then that's what needs to happen."
Janet Rau, the President of Stop Sterigenics Georgia said, "We are beginning to mobilize this huge group of people that have joined our movement."
"We've got over 3,000 people now engaged with the (Facebook) discussion group." she said. "We're going to have a presence here. We're going to be here on a regular basis to make sure that Sterigenics knows that we are not going away. It may not always be a large group, but we're going to be present, and people are going to see us all over the place There's going to be a lot of orange (the color of the Stop Sterigenics tshirts)."
Another public meeting about Sterigenics has been scheduled for Monday August 19, 7 p.m. at the Cobb Civic Center, 548 South Marietta Pkwy SE, Marietta.