The City of Smyrna's move toward allowing open containers of alcohol in defined "restaurant districts" appears to be going well.
For the second time, the has city expanded its downtown restaurant district, and on Monday night created a new one serving the area west of Wade's Fine Eatery And Good Time Emporium on Concord Road.
"The expansions are intended to provide continuity and allow pedestrian traffic between the Smyrna Market Village and the Belmont Hills commercial area without leaving a restaurant district," said City Administrator Tammi Sadler Jones.
The original restaurant district was the city's downtown Market Village area, which launched the policy in February of 2018. Last November, the city expanded the original area to include the large roundabout in front of the city library, plus the Smyrna Community Center and a nearby pond.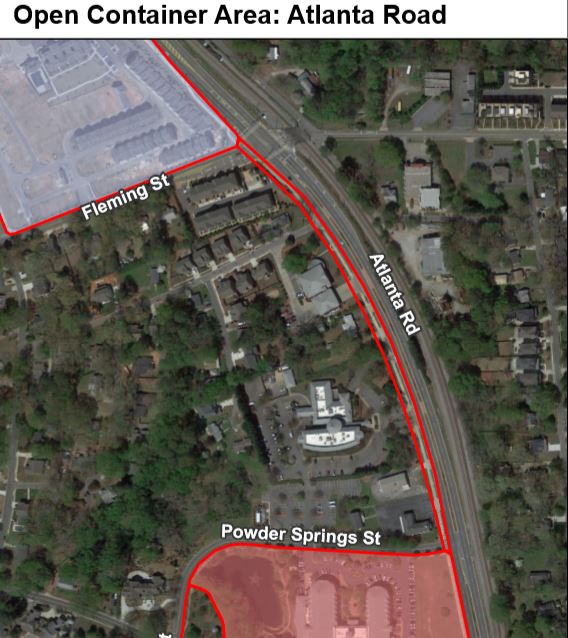 And this week, the zone expanded once again to include the gazebo area next to the city's arboretum, and along the mixed-use path on Atlanta Road to connect to the Belmont Hills restaurant district. Linking the two means a patron could buy a drink at Atkins Park Tavern downtown and walk with it to Creatwood Tavern, nearly a full mile to the north.
Though there was little discussion of the most recent expansion, city council members Andrea Blustein and Susan Wilkinson voted against it, leaving a 5-2 advantage.
Open container policies have become a big trend in metro Atlanta of late, seeing passage in a host of suburbs. Along with downtown, Belmont Hills and the new Concord linear park areas, Smyrna in November approved open container at Jonquil Village and Riverview Landing. In total, there are now five open container areas in Smyrna, with four of them in close proximity to the downtown area.
The idea is to let patrons walk easily between restaurants and enjoy a bit of the outdoors while sipping an alcoholic beverage. However, there are some stipulations on just what types of alcoholic drinks can be carried around in the designated areas. Drinks must be in paper or plastic cups, are restricted to one per person and can be no more than 16 ounces in size.