At her District 4 town hall meeting last week, Commissioner Lisa Cupid stressed the importance in raising the millage rate — something she said is essential to keep county services in line with the county's boom in population and development.
"Although there is development, there is new money coming in when the millage rate is flat," said Cupid. "Potholes are not being paved like they used to be because people are providing for today's needs with yesterday's dollars."
About 60 community members were in attendance for the meeting, which ran from 7-9 pm at Windy Hill Community Center in Smyrna. Cupid's emphasis on raising the millage rate comes as the county has proposed to keep the millage rate of 8.6 the same for 2020.
In addition to advocating a higher millage rate, Cupid also encouraged her constituents to rally for an increase in the budget for money to maintain capital infrastructure instead of requesting to pay for capital infrastructure from the Special Purpose Local Option Sales Tax (SPLOST) for 2022; this money is supposed to be put towards building new schools, parks, buildings, sidewalks and schools — investments where the community can see a clear return on investment.
"When you do not have a budget that has ongoing capital maintenance money to address deterioration, you start seeing the need creep up in our SPLOST request," said Cupid.
Proposed spending adjustments for the county's 2020 budget totaled up to over $21 million. Some highlights include more than $5 million in increased compensation for public safety personnel, continued improvements in capital maintenance, libraries and parks and a merit-based pay raise for county employees.
Several county departments were on hand to talk about the state of their departments and their upcoming plans for the funds. In both precincts 2 and 3, crime is down compared to this time last year. But Precinct 3 commander Major Barry Little said there was still a problem with car burglaries. Precinct 2 Commander Major C.D. Owens added that there was an issue with a runaway trash bandit who was littering in yards in his precinct.
Owens added that with more than 80 vacancies in the county's police department they are actively recruiting. The new budget proposal includes a recruitment bonus of $5000 per officer, along with the county contributing to a state pension plan and awarding a 7 percent merit increase for the police and sheriff. Still, Owens said that given the state of the department, more needs to be done.
"I think it's a start. Our commissioners are being as positive as they can be based on their budget — so I think that anything at this point is a start in the right direction," said Owens.
In addition to the Cobb County Police Department, the Department of Transportation's Planning Division Manager Eric Meyer also spoke about the future of his department. Meyer said that the department has been looking into the issue of congestion — and whether adding a new sales tax option on the 2020 ballot for transportation will mitigate the problem.
Meyer said he is also looking at developing alternative modes of transportation to offset congestion. The Department of Transportation has proposed 206 additional miles of bike lanes/pedestrian walkways. Also, the department is expanding service for public transportation — for the first time there will be bus service on Sundays.
In addition, Meyer added that his agency is looking at improving access to the county's waterfronts by connecting the Silver Comet trail to the beltline and Centennial Park.
Also, there was an update from the South Cobb County Regional Library Manager Jo Lahmon who highlighted the library's newly constructed teen room. Lahmon added that they also have a mobile unit to help people with finding jobs and creating resumes, along with free instructor-led classes.
Lastly Cobb County Park Director Jimmy Gisi spotlighted an upcoming playground located at Windy Hill Community Center in Smyrna that will be accessible to children with wheelchairs and will be the county's first all inclusive playground.
With all of this change on the horizon, along with a burgeoning population — the county is expected to have 1 million people by 2050, some community members voiced their concern about new landlords who were buying up property but not maintaining it.
"A lot of real estate investors are becoming slumlords," said Clarice Barber-Page a Cobb County community member. "What can we do to make the landlords more responsible for the house they own so it doesn't tear down the neighborhood?
Barber-Page suggested creating an ordinance where landlords pay a fee to obtain a license. She said that extra revenue could be used to keep up their property so neighbor's property value wouldn't be affected.
Cupid lauded community members who came out and participated in the meeting. She encouraged them to stay involved for the three upcoming budget hearings which will be held on July 9th at 9 am, July 16th at 6:30 pm and July 23rd at 7 pm.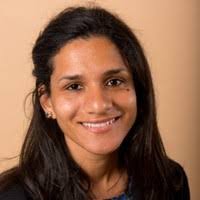 Victoria Edwards graduated from CUNY's Graduate School of Journalism in New York City. She is an English teacher at Stilwell School of the Arts. She is just starting to freelance again after giving birth to her first son Tommy.