by Alex Patton and Sierra Hubbard
In light of Kennesaw State's decision to shut down its Leven School of Culinary Sustainability and Hospitality, the fate of one of the university's most unique features came into question: What would happen to Hickory Grove Farm?
View the Slideshow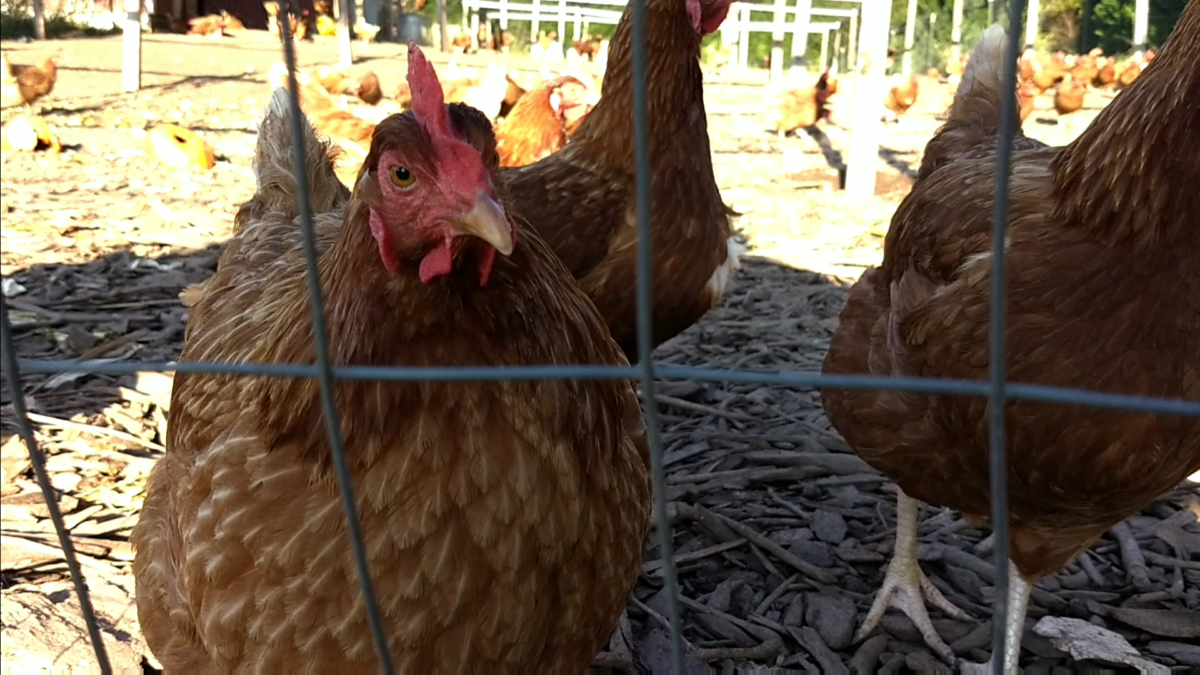 Hickory Grove Farm can supply KSU's dining facilities with up to 200 eggs per week at certain times during the year, thanks to the farm's free-range chickens.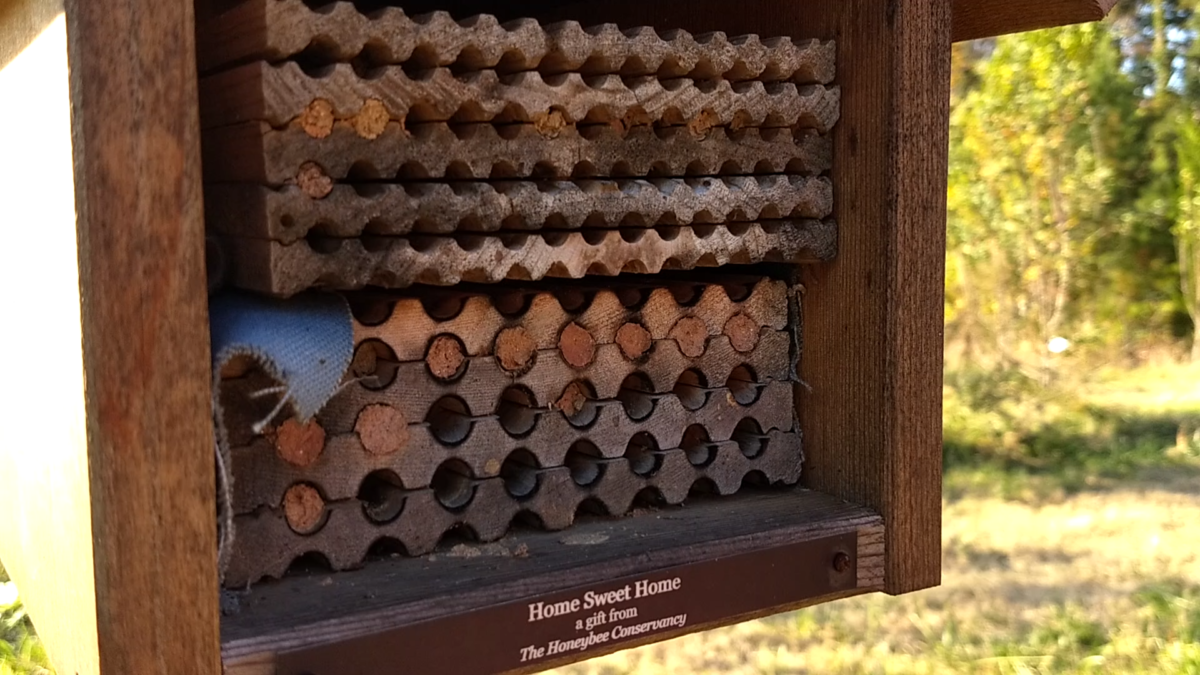 In this habitat, mason bees use mud to seal up reeds from cattails around the farm's pond, creating a home that is natural and sustainable.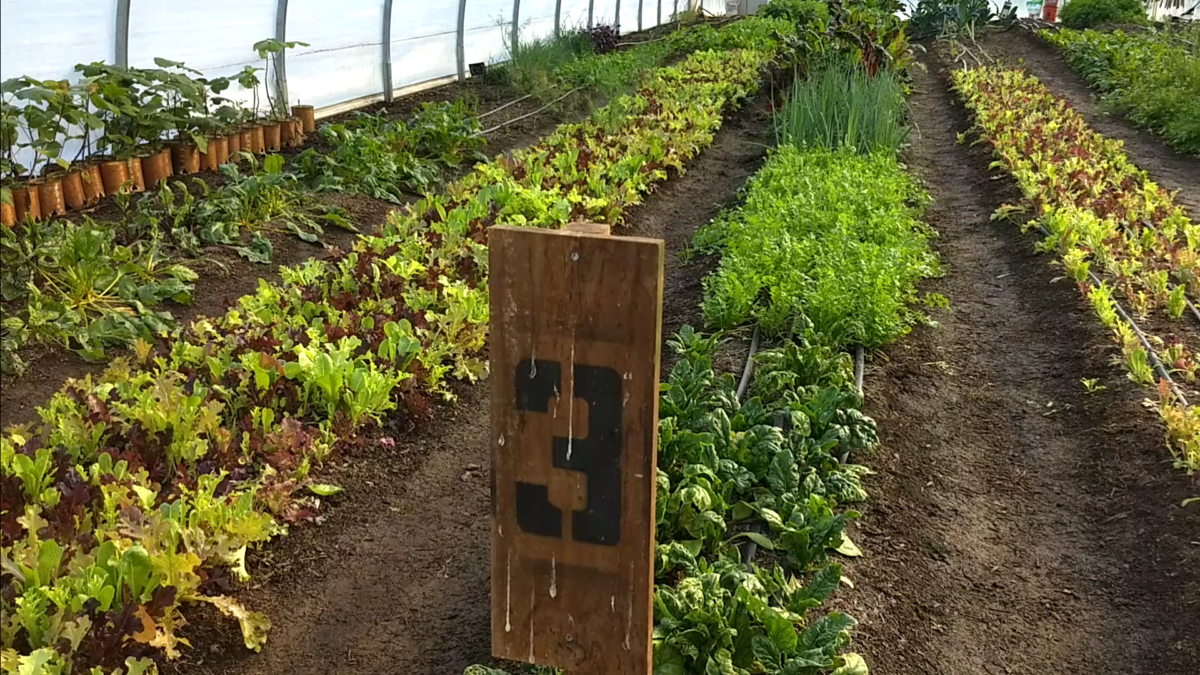 Rows of crops line the high-tunnel greenhouses at Hickory Grove Farm, all grown, harvested and tended to by KSU faculty and students.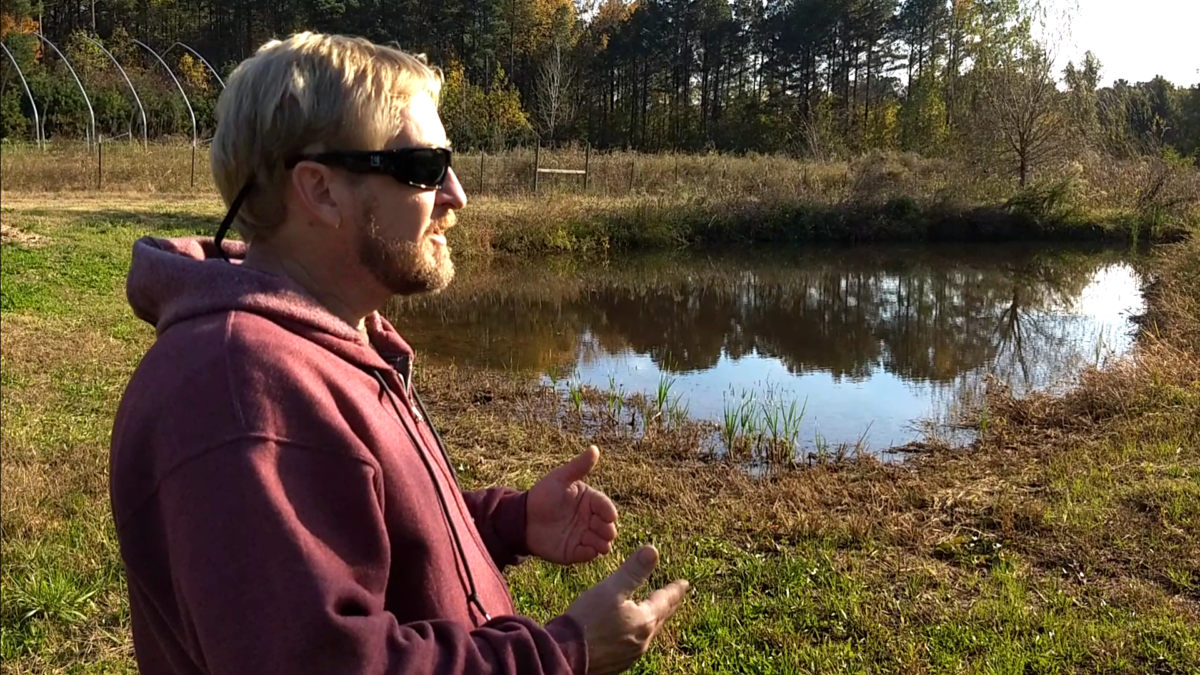 Michael Blackwell, operations manager at Hickory Grove Farm, stands in front of the natural pond that formed on the property, which has served as a lab for KSU's biology classes.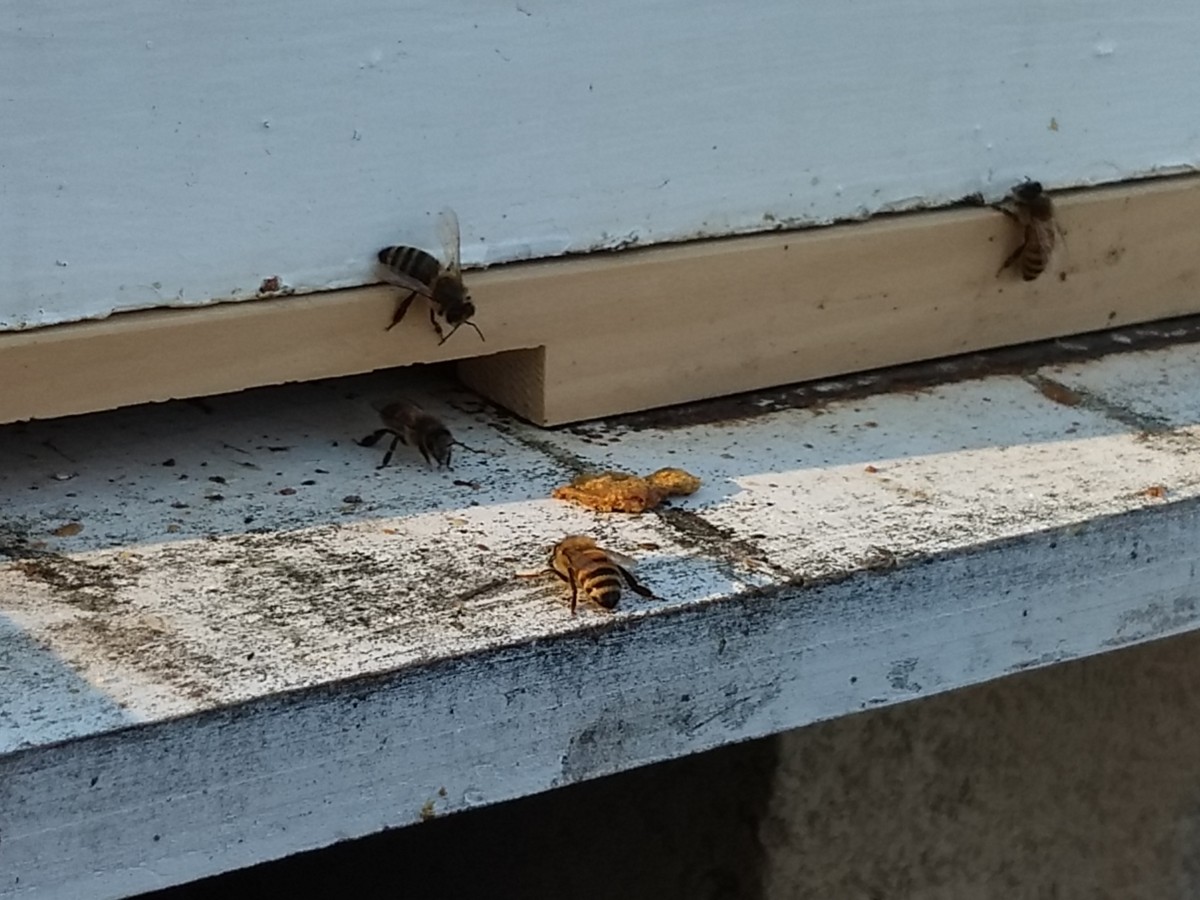 "Students learn that the bees aren't that dangerous, and, as long as you're not threatening the hive, they just fly right by you," said Michael Blackwell, farm operations manager.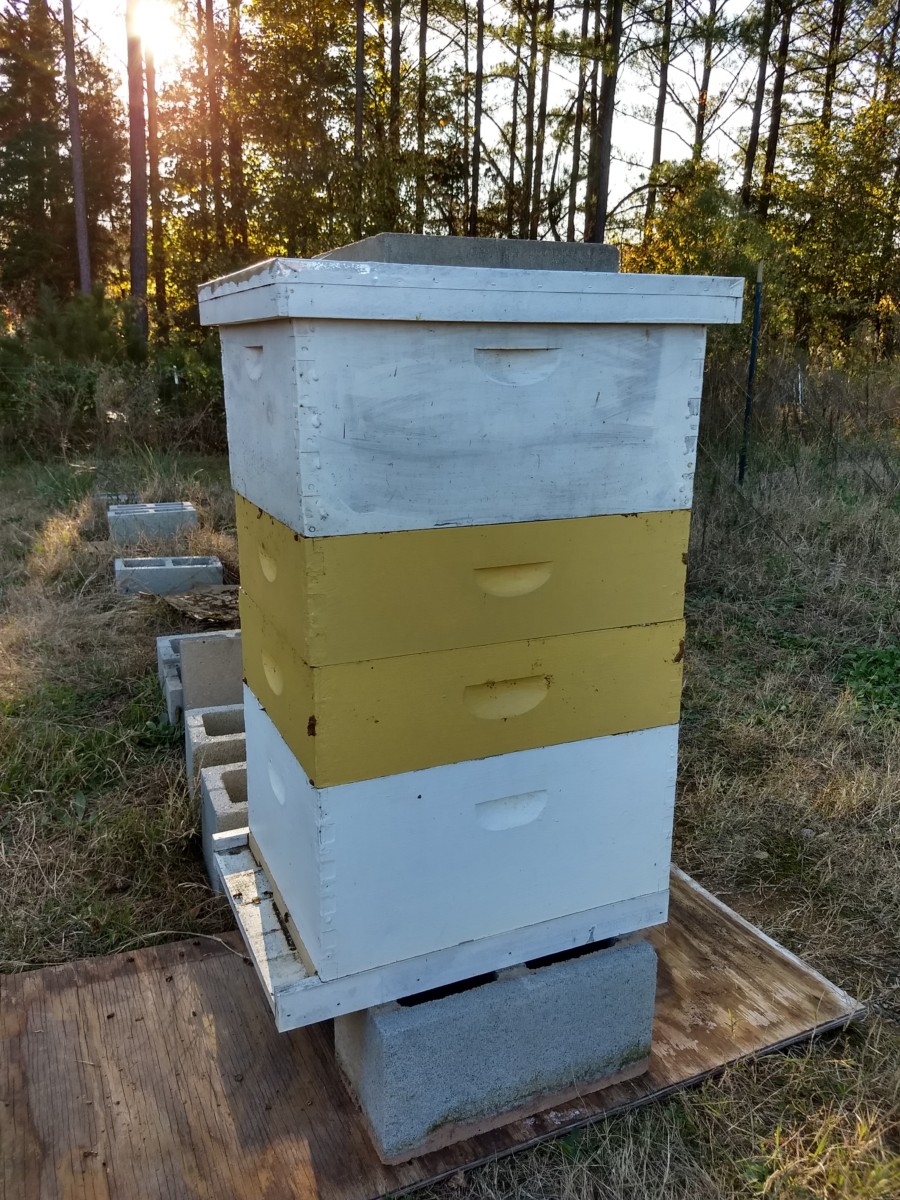 KSU's farm currently houses 15 apiaries like these, which can hold thousands and thousands of bees.
Since November 2016, the 26-acre property has been operating under the umbrella of the culinary and hospitality program. In addition to providing up to 20,000 pounds of produce annually and up to 200 eggs per week to the university's dining hall, the farm acts as a lab for several classes on agriculture, sustainability, mycology and more.
>>MORE COVERAGE: KSU shuts down culinary school after suggestions from donor
Almost a month after announcing that the CSH program would be terminated, KSU officials told the campus community that the farm would be allowed to continue operations.
"I am pleased to report that upon review, the farm will continue to operate as long as it remains financially viable," said Ken Harmon, provost and vice president for Academic Affairs. "It is our hope that with a modest investment, the farm will continue to serve as an important learning lab across many of our academic disciplines and programs."
Officials would not elaborate on the details of the decision, however, and the vagueness of the announcement — coupled with weeks of mixed signals from superiors — have left those working on the farm nervous about their jobs.
The decision to dissolve the current CSH school and move the hospitality program to KSU's Coles College of Business was initiated by Mike Leven, the program's namesake donor.
In late October, Leven said he had his doubts whether the farm would continue operations, though he clarified that he had no say in that decision.
"I like the farm, I think the farm is a good idea in the culinary program," Leven said. "But I didn't see that it could add enough value to the student going forward, that it could give them the kind of job opportunities they could possibly get by being affiliated with the business school."
>>MORE COVERAGE: Professor loses job after KSU decides to end culinary program
Fate of the farm fluctuates
When KSU officials first announced in late October that the CSH program was being phased out, a spokeswoman for the university said "discussions surrounding the future of the farm [were] ongoing."
But Michael Blackwell, operations manager at Hickory Grove Farm, said he was originally told the farm could be closing as early as July 2018.  
"Whenever you have a threat to your career and your chosen path, it's going to have an impact," Blackwell said. "And so morale was very low for a while."
Despite the recent announcement, Blackwell said he and his staff are still on edge.
"Just because we got news that we potentially might continue doesn't erase all that," he said. "We still have some anxiety about, well, what does 'financially viable' mean? And when will that be determined?"
While Blackwell has his own ideas on what it might mean to remain "financially viable," university officials have been silent on the exact definition.
Hickory Grove offers more than just food
Through classes held on-site and student volunteers, the farm sends several shipments of produce and eggs to KSU's dining facilities each month. Rows of crops are grown outdoors as well as housed in high-tunnel greenhouses on the property. The crops may change with the season, but the farm's output can supply the university with regular batches of lettuce for fresh salads and more than a ton of tomatoes.
Beyond what the farm has to offer in terms of food, though, it also provides a service to students across several disciplines and majors at KSU.
The land that is now Hickory Grove Farm was previously used as a cement mixing factory, which Blackwell said was definitely not ideal for farming. The land had to be converted for agricultural use, over years of physical and biological construction.
The finished product is an almost completely self-sustaining farm, which can be a great place for students to study agriculture and biology.
"There's potential for hundreds of types of labs here, exploring some of these ideas," Blackwell said. "Other universities are doing some of this, but we're very unique that ours is based in the culinary program. That program is toast, but there are a lot of ways other classes can be incorporated on the farm."
Small lake opens new doors for growth, study
After the land was converted for agricultural use, a huge ditch was left in the middle of the farm. Over time, the ditch filled with rainwater, naturally creating a lake habitat for microorganisms, aquatic plants and even small fish.
The natural lake's nutrient-rich water is used in the farm's greenhouse hydroponics system, an efficient production method used to grow plants with the minimal use of soil and pesticides. Ducks and other migratory birds have even visited the lake, bringing fish eggs stuck to their feet from other habitats.
Blackwell believes that if the lake habitat continues to develop with more fish and aquatic animals, the farm has the potential to develop an aquaponics system, utilizing animal waste to provide nutrients for plants while the plants naturally filter the water in the habitat.
"Hydroponics is a very high-efficiency way of growing food, but, to our knowledge today, aquaponics is the most efficient system" Blackwell said.
Besides providing an efficient method for growing food, the farm's lake habitat can be studied as a lab for KSU's biology courses, such as Methods in Aquatic Ecology.
Bees become 'living lab' for students
The efficiency of Hickory Grove Farm's production is reliant on its population of more than 100,000 bees. According to Blackwell, the pollination provided by Hickory Grove Farm's honey bees more than doubles the production of produce like squash, zucchini, strawberries and cucumbers, which all need insect pollination to thrive.
In early 2017, the Honeybee Conservancy provided a grant to KSU's Siegel Institute for Leadership, Ethics and Character to support the farm's bee population. Currently, the farm features 15 apiaries, which are small wooden structures built to house the beehives.
"No farm is complete without a good pollinator species, and in terms of colony size, nothing beats pollination by honey bees," Blackwell said. "Without the bees, we would still get pollination from wasps and yellowjackets, but because of the size of the colonies of honey bees, pretty much every flower gets pollinated by them."
Individually, honey bees are actually not as good at pollination when compared to the farm's mason and leafcutter species, but the honey bee's efficiency lies in the much larger size of its colonies. The problem, according to Blackwell, is that honey bees are not native to North America. Like many non-native species on the continent today, honey bees were introduced by European colonists.
Compared to native species like the mason and leafcutter bees, honey bees are not as resilient to American diseases and can quickly suffer from population decline and Colony Collapse Disorder if not properly cared for. Fortunately, students enrolled in KSU's Organic Agriculture and Beginning Apiary Study course can utilize the farm's bee population to learn just that.
"The farm's bees are a 'living lab' that can be studied, observed and interacted with," Blackwell said. "By the end of the semester, students learn that the bees aren't that dangerous and as long as you're not threatening the hive, they just fly right by you. The class helps students overcome their fear, and that is the most important thing when caring for bees."
Any honey produced by the honey bees is given to KSU's dining facilities and the CSH program. Blackwell said protection of the bee population of Hickory Grove Farm is necessary for the expansion of the farm's produce, so the help provided by students and volunteers at the farm is vital.
Fungi may offer medicinal benefits
Like any thriving agricultural property, Hickory Grove Farm is home to thousands of species of beneficial fungi living in the healthy soil and growing on trees. Some of the fungi, like the farm's stock of edible shiitake mushrooms, are purposefully grown for KSU's dining facilities and the CSH program. Other species are naturally-occurring and beneficial to the farm's produce, and some even provide medicinal benefits to humans.
Fungi tend to adapt and mutate to their environment, and Blackwell said consuming certain edible species can pass on that benefit.
"I grew up on a farm growing plants that everybody eats, but I've never seen anything quite like mushrooms," Blackwell said. "Now that we have the potential of doing genetic testing, there are people who say that mushrooms hold a lot of hope for different kinds of medicinal use. It's almost like the planet is providing you things in your specific region that would provide some immune boost to toxins that you would be exposed to."
Blackwell said, while no program at KSU has officially included medical study of fungi into its curriculum, several biology professors at the school have expressed interest in exploring the possibility.
KSU senior studies fungi at the farm
Steven Carpenter, a senior at KSU and an employee at the farm, believes Hickory Grove has potential as a lab for his spring 2018 course in Advanced Microbiology.
"My undergrad currently is in integrative biology using environmental science and construction management," Carpenter said. "I believe there is still hope for construction while still protecting the environment and utilizing some of the stuff that nature has for the betterment of construction."
Some beneficial species of fungi feed off of petrochemicals, products derived from petroleum and natural gas, which can harm soil. Carpenter hopes his master's thesis will be based on using fungi to remove harmful chemicals from the soil, which can make soil healthier and more efficient for growing produce. Other fungi, such as the wine cap mushrooms, can actively create healthy soil by breaking down leaf piles from the university into usable soil.
"We do like to encourage fungi to actually breed here," Carpenter said. "The soil is so dilapidated that we need to bring life to it. If you can get the fungi population up in the soil, other soil organisms that feed off of them will start to propagate and spread to make other things grow here besides grass."
Blackwell plans for the farm's future
With so many opportunities for study and exploration, Blackwell is eager to forge relationships with other departments at KSU.
"When people heard about the farm and the possibility that it could close, we've had a lot of other majors reach out to us and say, 'Don't know what yet, but we'd love to come out and do some projects at the farm,'" Blackwell said. "So we're excited about that."
Since receiving the news that the farm will not close, Blackwell said he and his team are pushing forward, expanding the farm's reach, and making plans to establish the farm as a staple at the university. In their effort, Blackwell noted everyone is, in his words, "cautiously upbeat.
Facebook Comments