UPDATE: It was originally announced that the meeting on August 19 would be at Benjamin Preparatory School. The location has been changed to the Cobb Civic Center.
A packed audience of Smyrna-area neighbors heard reports from public elected officials and Sterigenics representatives about the Sterigenics plant, which emits the carcinogen ethylene oxide.
The meeting at the Campbell Middle School auditorium reached capacity, and some people reported on social media they were turned away at the door.
The plant became a focus of the community after an article jointly published by Georgia Health News and WebMD reported that three census tracts, two in the Smyrna area and one in Covington had unacceptable levels of cancer risk by EPA standards, due to elevated amounts of ethylene oxide in the air.
Before the meeting began, Dustin Caldwell told the Courier, "I'm a resident. I live about a half mile from the plant. Our dog also frequents the little dog daycare next door, Bark Avenue, which is probably 100 yards or less next to the facility."
He said, "I'm digesting the information, but nothing we read is good. It's very scary. It's been a lot of research, ten plus years by the EPA, showing significant levels of cancer for people who've been exposed to this. The CDC's been involved. We're seeing negative effects in Illinois, and it's really, really scary, and it needs to be shut down. It's not appropriate to have that pollution in an area where the public is."
South Cobb resident Travis Klavohn said, "The community has to come together on this issue, because we all drink the same water, we all breathe the same air. And when it comes to environmental risk we have to take it very seriously as a community because it impacts each and every one of us."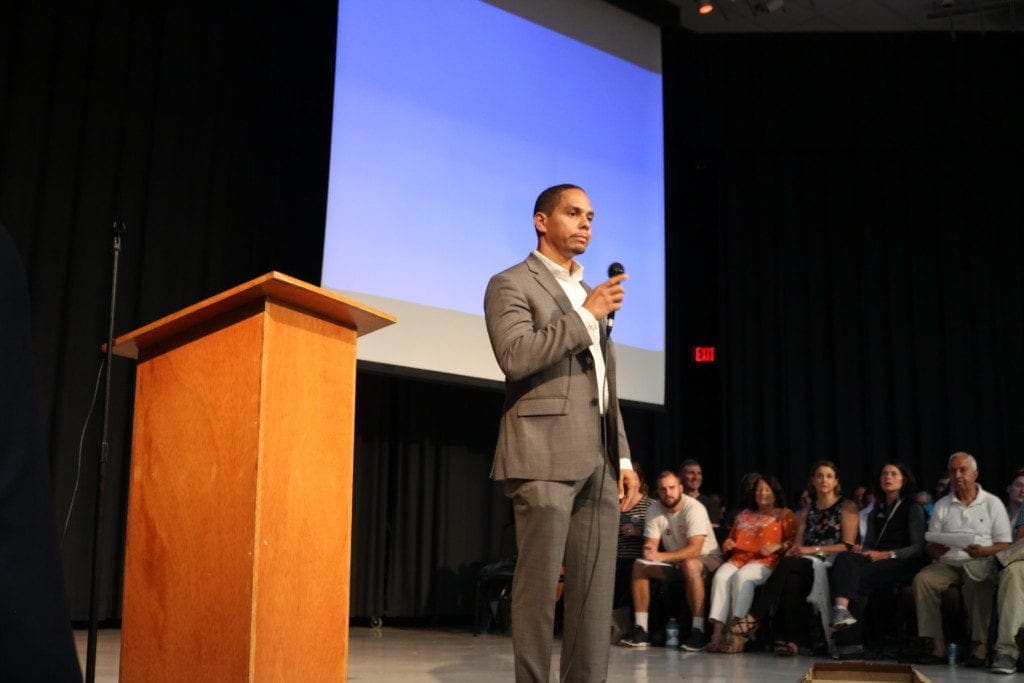 Opening the meeting, Cobb County School Board member Jaha Howard made an appeal for civility, and said, "I think it's very important that we're operating with a sense of urgency, which is why we are here, but we're also operating with a sense of listening. We want to listen, and also be heard. Those two things have to happen at the same time. We want to listen, and to be heard. Not one or the other."
State Representative Erick Allen introduced public officials at the meeting, who included Smyrna City Council members Susan Wilkerson, Andrea Blustein, and Tim Gould, Cobb County Commissioners Lisa Cupid and Bob Ott, State Representative Teri Anulewicz, and State Senator Jen Jordan. U.S. Congressman Barry Loudermilk sent his Field Director Claire Bartlett. Atlanta City Council member J.P. Matzigkeit was also at the community meeting.

"Since the article came out … there's been a lot of conversation around this issue and a lot of response from the community. So it's good to have all these elected officials in the room, it's more important to have you guys in the room," said Allen.
"As Senator Jordan and I really started to tackle looking into the issue, one of the things that was extremely important was that we provide a public forum for the people of Cobb County, Fulton County in various venues to come out and express themselves, ask questions, and hear directly from the Sterigenics group," Allen said.
He said he wanted to clarify things that had been reported in the media. He said representatives from the state's Environmental Protection Division and the federal Environmental Protection Agency had been invited to the Tuesday meeting, but were unable to attend.

However, he said, they will attend a meeting on August 19.
He also took issue with what he said was a media report about a "secret pre-meeting." He said that it was not secret, and not a pre-meeting, but a tour of the plant by some elected officials and members of the community.
He said another purpose of the meeting was to make sure the community had an opportunity to hear directly from Sterigenics and to ask them questions.
"And I do want to acknowledge the fact that Phil McNabb from Sterigenics was the person to reach out, it wasn't an outward reach from Jen or myself," he said. "We were actually in the office building together when the call came. So I appreciate that they reached out to us to find out how they can get in front of this and message with the community."
He said there would be several future meetings to figure out how to move forward.
Smyrna City Council member Tim Gould spoke, and pointed out a laptop computer on the edge of the stage featuring council member and mayoral candidate Derek Norton at the event via teleconference. Norton said "Hello everybody" to laughter from the audience.
Gould said that Mayor Max Bacon wanted the residents to know that the City of Smyrna was prepared to move forward with independent testing. He said he didn't know the time frame, but the city would work with other governments and agencies to get the details worked out.
Cobb County Commissioner Bob Ott took the podium and said, "I just want to give you kind of a quick update on what's going on in the county."

"Myself, Commissioner Cupid, and Representative Allen met for about two-and-a-half hours this morning with EPA, EPD, Cobb & Douglas Public Health and different agencies in the county to find out basically more information, and figure out what direction the county needs to go."

He said a town hall has been set up for 7 p.m. Monday August 19 (UPDATE: the location has been changed to the Cobb County Civic Center) , and EPA and EPD will be represented at the meeting.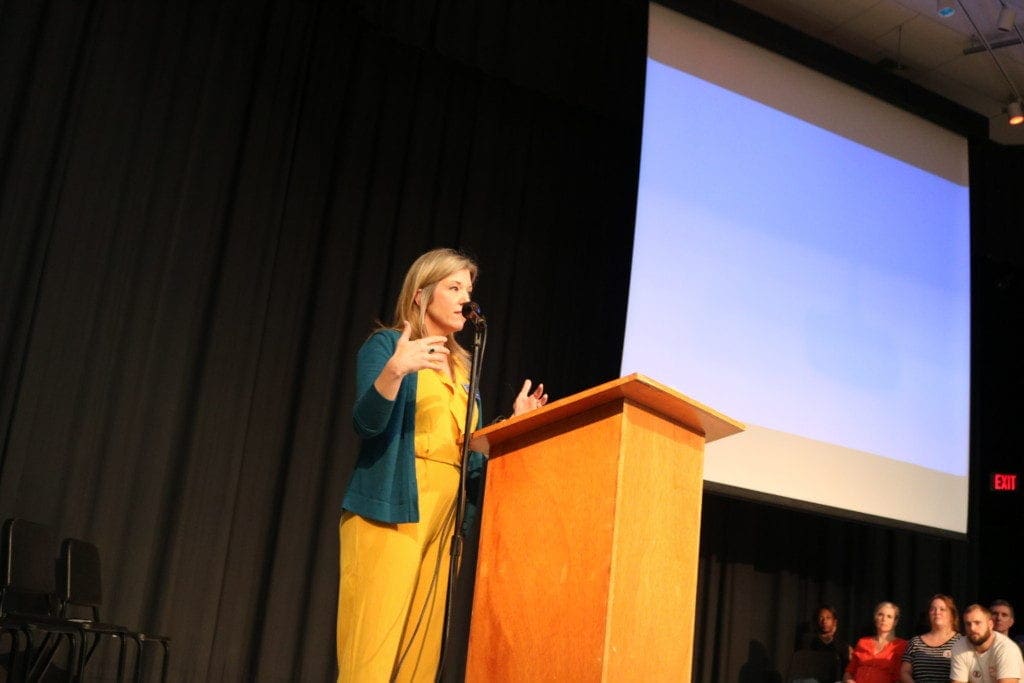 State Senator Jen Jordan said, "When I first got word of this, it was incredibly concerning.  I was born in Camp Lejeune North Carolina, where for decades and decades there were groundwater contaminations that soldiers and their spouses weren't told about that ended up hurting a lot of people."
"And so for me," she said, "the first thing I wanted to make sure is that we started to give the information out as soon as possible. And so that's why we tried to push it out."
"And to be quite frank, there are a lot of unanswered questions that I have, that I still haven't gotten a straight answer from anybody, to be quite frank." Jordan said. "So with respect to Mr. McNabb coming up there are certain things that I want to make sure that Sterigenics addresses."
"One is that they talk about the fact that they are able to report how much ethylene oxide they emit. But what they don't talk about, and tell me if I'm wrong, there are also fugitive emissions that come out, the emissions that aren't intentionally put out by the company. And really the only way to gauge that is with independent air monitoring."
Jordan said, "Also I think it's concerning for everybody that the only emissions that we know about are the ones that are actually self-reported by the company."
The audience burst into applause.
"While I absolutely appreciate the willingness of the company to install technology to reduce the emissions," she said, "what I want to know is if at a minimum the company has known since 2006 that EtO emissions are dangerous and are carcinogenic and cause cancer, why are we now just (finding out)."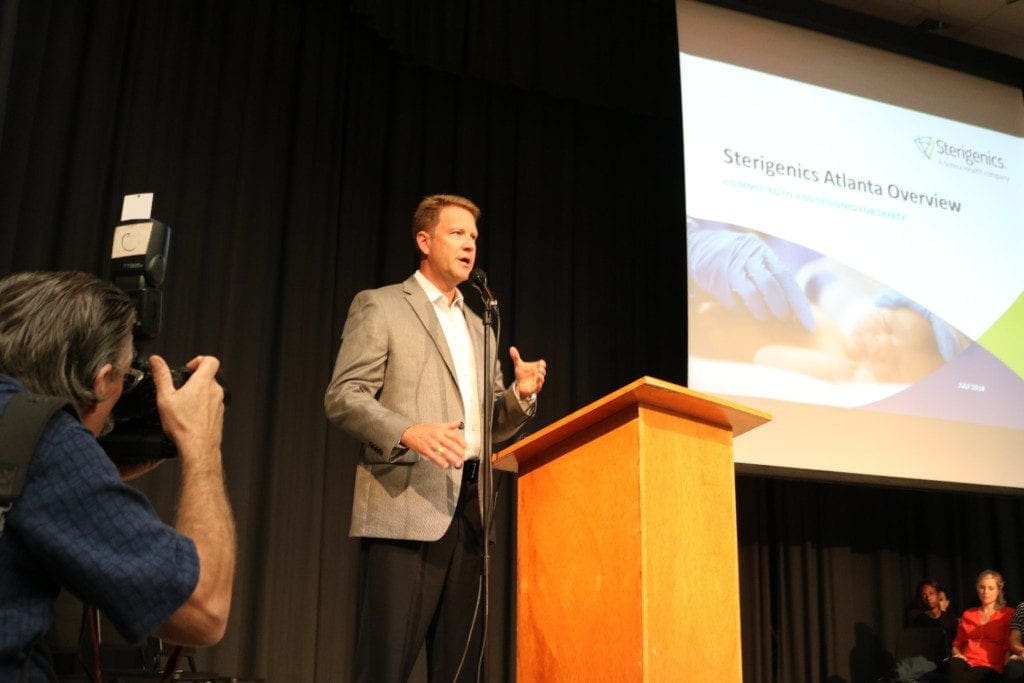 Sterigenics President Phil McNabb took the podium.
"I want to explain who Sterigenics is," he said, "because I think before couple of weeks ago most of you did not know this company existed. There's no secret about the company. I just want to explain what we do, why we do it, why we use ethylene oxide, and how we handle this material."
He said the facility handles the material safely, and is no threat to the community.
Sterigenics sterilizes medical devices, he said. "What we sterilize are single-use devices. They are used only once on the patient, and they are disposed of."
He said that while hospitals can use other technologies to sterilize equipment, Sterigenics sterilizes equipment made of plastics, polymers and fabrics are are disposed of.
"Ethylene oxide … we don't decide to use this chemical. The type of product determines what sterilization method can be used. So think about a syringe, and the facility here in Atlanta sterilizes syringes. Everyone can relate to what a syringe is and what it does. It can draw blood out of a patient, it can administer a drug to a patient."
"But a syringe that's made of plastic has lots of components," he said. "There's a stopper there where a needle goes in and there's a plunger and you can imagine in your mind."
"Surface sterilizations cannot get inside that syringe and sterilize it inside and out to make sure that whatever is administered into the patient doesn't have some contaminant in it that will make them sick, and also doesn't damage that plastic," McNabb said.
He said the Atlanta facility sterilizes over 1 million devices per day.
Ethylene oxide is a common building block of everyday things found in homes, he said, including bottles, carpeting, cleaning solutions, cosmetics, anti-freeze and deicing agents.
He said less than one percent of ethylene oxide was used in sterilizing medical devices.
McNabb said there are multiple sources of ethylene oxide in the environment, some natural, some man-made. When he mentioned that bananas emit ethylene which is converted by the human body into ethylene oxide, jeers and groans erupted from the crowd.

He said that the Smyrna facility emitted 200 pounds of ethylene oxide last year, compared to an estimated 3,400 pounds emitted by diesel trucks.
He described the sterilization process, and repeated the company's statement that emissions from the plant were within regulatory standards.
He then described the company's proposal for improving their emission control process. He said that the new methods will bring emissions from 200 pounds down to 40 pounds.
"And I know that there is a feeling of zero is the only answer, I know that and I hear that, but even at what exists out there in the air, zero is unattainable," he said. "There is ethylene oxide out there already."

He said once the application to the EPD is done, the new process can be put in place between 12 and 24 weeks.

Residents who signed up to ask questions and make comments were given two minutes each.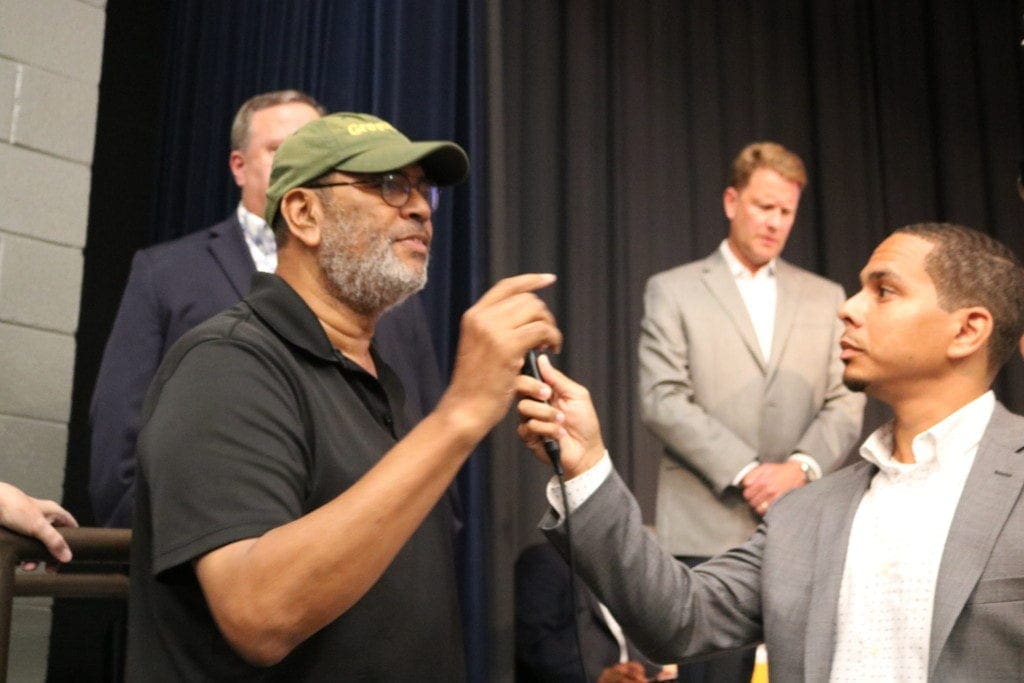 Leonard Robinson from the organization Sustainable Smyrna said, "I have a question, not so much for Sterigenics, but to the county. How do you get a facility here, and how many people knew when the facility was first sited, how many of you were at that meeting when they said, 'We're going to bring ethyl death in your community, is it ok?' How many people were at that meeting? Nobody. How the heck does this happen when there's laws that say the community has a right to know?"
He asked how long the plant had been in the county, and what process brought it here.
Ott took the podium and asked the audience, "How many people were here in 1972? Okay, that was when zoning started. This plant was under a different name. It was approved in 1972 prior to zoning. And it has been operating in this capacity since 1972."
"When I was on the Planning Commission I did not vote in favor of putting residential properties around the industrial properties on Plant Atkinson and North Church Lane," he said "because I said this is exactly what is going to happen. My predecessor approved the residential, and that's how you ended up with residential close by."
Commissioner Lisa Cupid said, "If you look in your communities, many of them have industrial sites around them. It's something we deal with and grapple with zoning about how we place residential around industrial sites."
"And unfortunately we're seeing that it's not just about the intensity of use from a visual operation or from a physical standpoint, but there could also be some other things that we have not taken into consideration from a zoning perspective." she said.
"As Commissioner Ott shared this plant has been here for several years. However one thing that wasn't shared in the presentation by the president today is that there have been changes about how ethylene oxide has been assessed. I think the dangerous qualities of that chemical have only started to come to light. And it's changing the ways that different regulatory bodies are looking at that."
One resident asked, to loud applause from the audience, whether Sterigenics would close their plant as a gesture of good until the new processes for reducing emissions have been installed and proven to be effective.
McNabb said, "We'll take that back, and that's something that I know has been suggested several times. And we will take that suggestion back. But there (are) a couple of things to keep in mind. If we stop production, the sterile medical supplies in inventory represent about two weeks of supply, because you do not leave this on a shelf, you don't want to recontaminate. So we'd have to find a place to sterilize all that product."
The next resident asked why the company was just now submitting a plan for reducing the emissions, when the National Air Toxics Assessment (NATA) report on census tracts affected by ethylene oxide came out a year ago.
"In August of 2018 when the NATA report was published by the EPA we in fact were talking to the Georgia EPD," McNabb said. "We didn't quite have the solution that we have today, we were working on different scenarios, understanding that the more that you can control this chemical the better."
The resident asked, "So why did we just find out about this a week ago, and why wasn't it released as a statement from the company in August on 2018?"
McNabb apologized for not issuing a press release at the time the NATA report was released.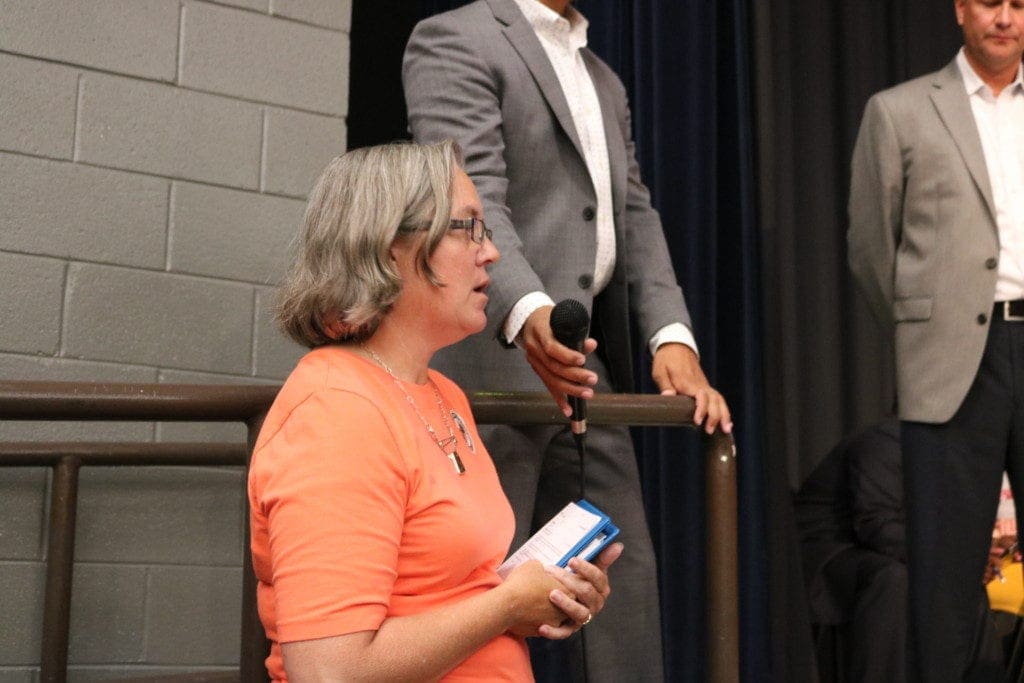 Janet Rau, president of the newly formed Stop Sterigenics Georgia Group asked the next question. When she introduced herself the crowd broke into loud applause and cheers.
She directed her question at the state-level elected officials present.
"Dr. Wheeler, who's the director of the agency for toxic substances and disease registry for Region 4 with the CDC … would oversee the collection of data for cancer occurrences, and other health impact issues for this area." she said.
"He said today that he had not been contacted by anyone at the state level to request a study, and he requires that to be able to move forward collection of that data … Do you intend to communicate with the CDC and Dr. Wheeler to initiate this study, which would enable a more accurate collection of real data that we can make decisions based on?" Rau asked.
Jen Jordan said that the answer is yes, and the request would be made by her Wednesday morning.
Erick Allen added that CDC and Cobb & Douglas Health will be at the meeting on August 19.
Janet Rau told the Courier after the meeting, "I'm certainly glad to see so many people come out tonight. I think this has been a real wake-up call for the community, and I think you see the demonstration of a community coming together to face a crisis. There's a lot of work to be done to make sure that our community is safe. And our community is not a four-block area. We're talking miles. So this is really important work, and it's the beginning of a pretty long marathon, unfortunately."
State Representative Teri Anulewicz told the Courier, "The direction from the community was clear. I knew before I came here, what we need is accuracy. We need independent, accurate facts. And I think that the air quality testing is going to be key, I think it's important in Smyrna, but air is not a jurisdictional thing … it impacts Fulton, it impacts Atlanta, it impacts the City of Smyrna, it impacts Vinings, it's unincorporated Cobb."
"And we really do need collaboration and steadfast unity from our local elected officials. One, so that we have the independent and accurate facts that we can give to our residents, and two because we need to make sure that we do keep the pressure on the EPD and the federal EPA."