The hanging poles and chains created to warn drivers of the clearance height of the historic Concord Covered Bridge were damaged over the weekend, causing the poles to hit passing vehicles at windshield level.
The Concord Road Covered Bridge is an important historic resource in Cobb County, but has the misfortune of placement on a road that is carrying much more traffic than it did when the bridge was built. It is the centerpiece in Cobb County's first designated historic area, officially declared in 1986.
The low clearance height of the single-lane bridge has made it the victim of frequent damage from vehicles, though, and the county has experimented with a number of methods to warn motorists and protect the bridge.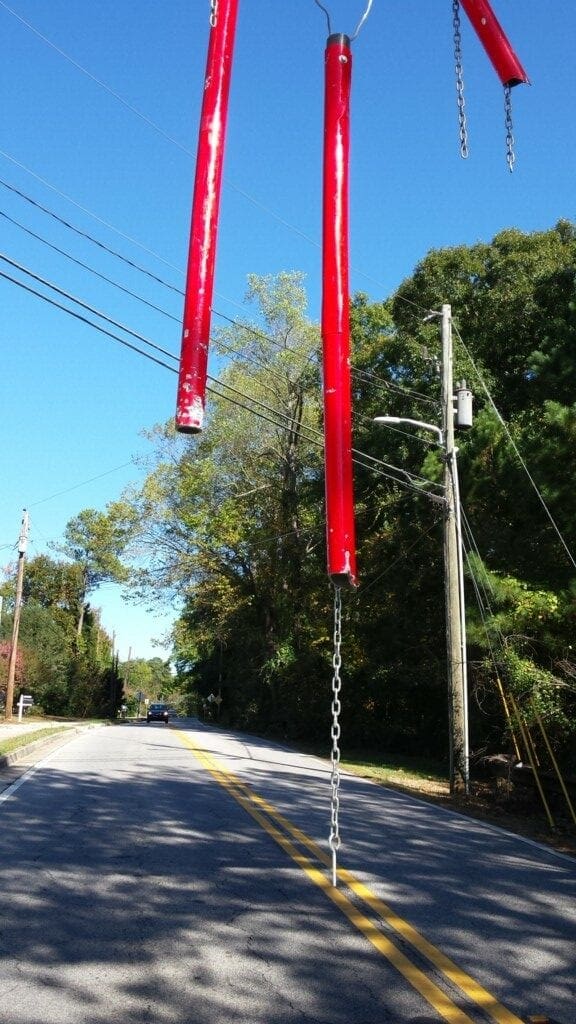 On Sunday, Roberta Cook, a longtime Cobb County community activist known for historic preservation and environmental issues, sent the following note in an email to Eric Meyer, the Cobb County DOT Planning Division Manager:
I volunteered for the Covered Bridge Tour of Homes today and my little Honda Fit got bashed by the bridge height warning poles. Evidently somebody hit the poles in a manner that jarred the pole downward along with a hanging chain …


It smashed a number of car windshields including one of our tour vans. You can see the impact in the letter "O" on the van window, which generated long cracks throughout the windshield. I pulled over my car and directed traffic for a few minutes until the police showed up.
"The chains and poles are dangerous because of their hard surfaces," Cook said. "How about replacing the chains with bungee cords and replacing the poles with orange tennis balls at the ends."
In a phone conversation with the Courier on Monday afternoon, Cobb County's Communications Director Ross Cavitt said "On Sunday some big vehicle, (we don't know what it was, they didn't stick around), smacked the safety device on the Smyrna side so hard that it shattered several of the pipes, and snapped a weld that held the chains and the steel plate."
"So that had several of the plates dangling low, so between three and six cars hit the pipes before we could get out there, and I think a couple of them are claiming some windshield damage because of the impact with those pipes," he said.
Cavitt said that a meeting was held Monday morning between the county's road maintenance staff and design engineers to work on design changes to refine the warning device.
He said that in general the county has been happy with the devices, because they prevent vehicles from striking the bridge, but that the speed with which vehicles were striking the pipes had not been anticipated, and that one design that had been considered was more "rubbery" in nature.