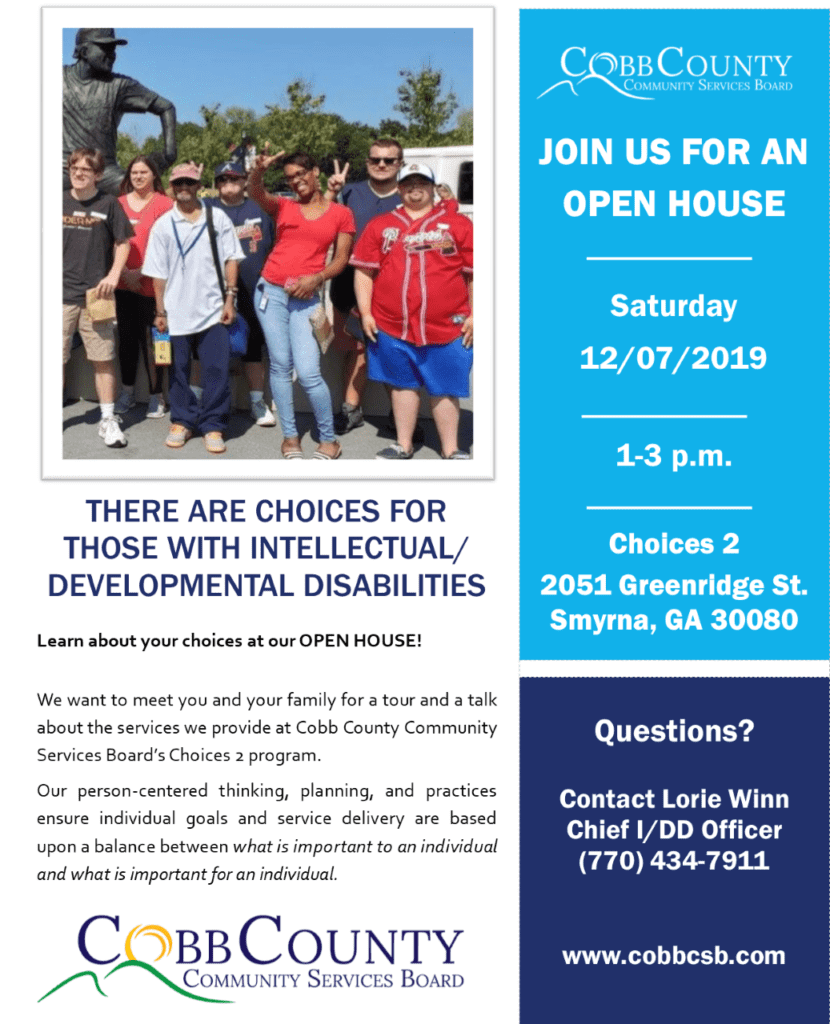 If you or someone you know has an intellectual or developmental disability, Choices 2, there's an event Saturday that would be useful for you to attend.
The Intellectual/Developmental Disabilities program of the Cobb County Community Services Board (CCCSB) will hold an open house in Smyrna to inform the public on the options available for support services.
The event will be held this Saturday, December 7 from 1-3 p.m. at 2051 Greenridge Street, Smyrna, GA. The public is invited to attend.
According to the press release for the event, "There are choices of services and programs for those with intellectual/developmental disabilities (I/DD), and the open house is designed to inform people of these options. "
Lorie Winn, the CCCSB's Chief Intellectual/Developmental Disability Officer, said, "Our person-centered thinking, planning, and practices ensure individual goals and service delivery are based upon a balance between what is important to an individual and what is important for an individual."
CCCSB explains the purpose of the Choices 2 program, and how the program works, as follows:
The team at Choices 2 works with individuals to improve activities of daily life (ADL's) and to enhance the quality of life through exercise, education, volunteerism, arts and crafts, and recreational/leisure activities. The agency's community access services are individually planned to meet individual needs and preferences for active community participation. The agency also offers supported employment services and assists with family support services to meet every day needs that are often critical in avoiding family crises.
For more information about Cobb County Community Services Board, please visit www.cobbcsb.com.
About the CCCSB
According to the CCCSB website:
The Cobb County Community Services Board (CCCSB) is here to help. We are the public safety net for those who facebehavioral health challenges and/or whohave intellectual/developmental disabilities and are uninsured and underinsured. We provide effective, innovative care and appropriate resources—offering children, adolescents and adults help, healing and hope.