[This article by David Shelles first appeared on the Kennesaw State University website, reprinted with permission]
In one moment, Heru Crooks' life trajectory changed when he was seriously injured in a car crash in 2016.
Crooks, who graduated from high school at age 16, had planned on taking a little time off, maybe a gap year or two to work and pursue some other passions, before going to college to study something in the sciences. But that all changed when the car he was riding in flipped over on Interstate 75 and the impact left him paralyzed from the navel down.
Crooks, now a Kennesaw State University sophomore, says it was that unfortunate turn of events that actually gave him the clarity to see his future as a scientist studying stem cell treatments — the same treatments that helped him recover sooner than his doctors expected after the accident.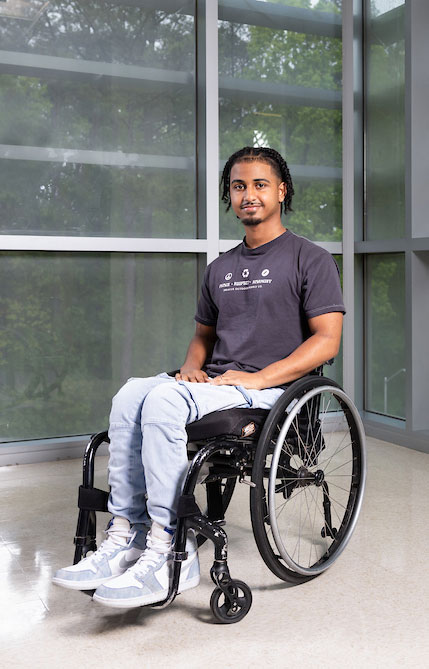 "I want to know things, in this case why those treatments worked for me," he said. "So I figure KSU is the best place for me to find out how they worked, and to discover even better treatments."
Crooks said he underwent eight surgeries in the three days immediately after the accident, and then endured several months of intense physical therapy at Atlanta's Shepherd Center, a world-renowned rehabilitation center. He was told that he was paralyzed and would spend the rest of his life using a wheelchair.
"I've always had an affinity toward science, life, the universe, but definitely my incident sparked supreme interest in the sciences," he said. "Of course, from having this particular injury, my interest in the human nervous system and neurology just expanded greatly. Everything that could offer any idea about the human nervous system just sparked my interest."
Crooks said his father was his biggest champion. Three months after the accident, the two went to Panama for one course of syncopal stem cell therapy, which incorporates stem cells from discarded umbilical cords as well as cells from the patient's own bone marrow. Crooks said he regained some ability to control parts of his body, as well as lessened dependence on medication, through these therapies.
Later, they traveled to India for a more aggressive course of stem cell treatments, this one focused on regenerating nerves in the spinal cord. That helped Crooks get back on his feet. He said he walked a short distance with a walker and leg braces within two years of the accident, which impressed his team of doctors.
All the while, Crooks said he read anything and everything on the various treatments and therapies he experienced. Four years after the accident, he had a greater desire to learn, and decided it was time to go to college. He chose Kennesaw State for its proximity to his family in Tucker, Ga. and its affordability, but he soon discovered a campus with myriad opportunities for a curious future scientist.
Perhaps the most important opportunity was the one he found with professor of biology Martin Hudson, whose research focuses on nervous system formation and disorders. Crooks said his interest in biotechnology best reflected Hudson's research into neurologic pathology.
"I want to be part of that new biotechnology wave and help cure myself and help cure others," Crooks said. "The classes I took initially were good, but I wanted something more in-depth. Dr. Hudson's lab caught my eye because his research focused on neuroscience that took in science and genetics, which were my two favorite things, so it just seemed like a match."
Hudson researches how the nervous system forms and the pathologies that take hold when the process goes awry, by studying a transparent microscopic worm called a nematode. He said bright, curious students join his laboratory group yearly, but few with the desire to research deep scientific topics on their own time as Crooks does.
"He's got a story, but the most important thing to me is he wants to be a scientist, and I can help train him inclusively," Hudson said. "Finding someone that is instantly engaged is uncommon, like he's taking notes and filing things away before you even prompt him to do so—an innate curiosity. He's been a major asset to our research team."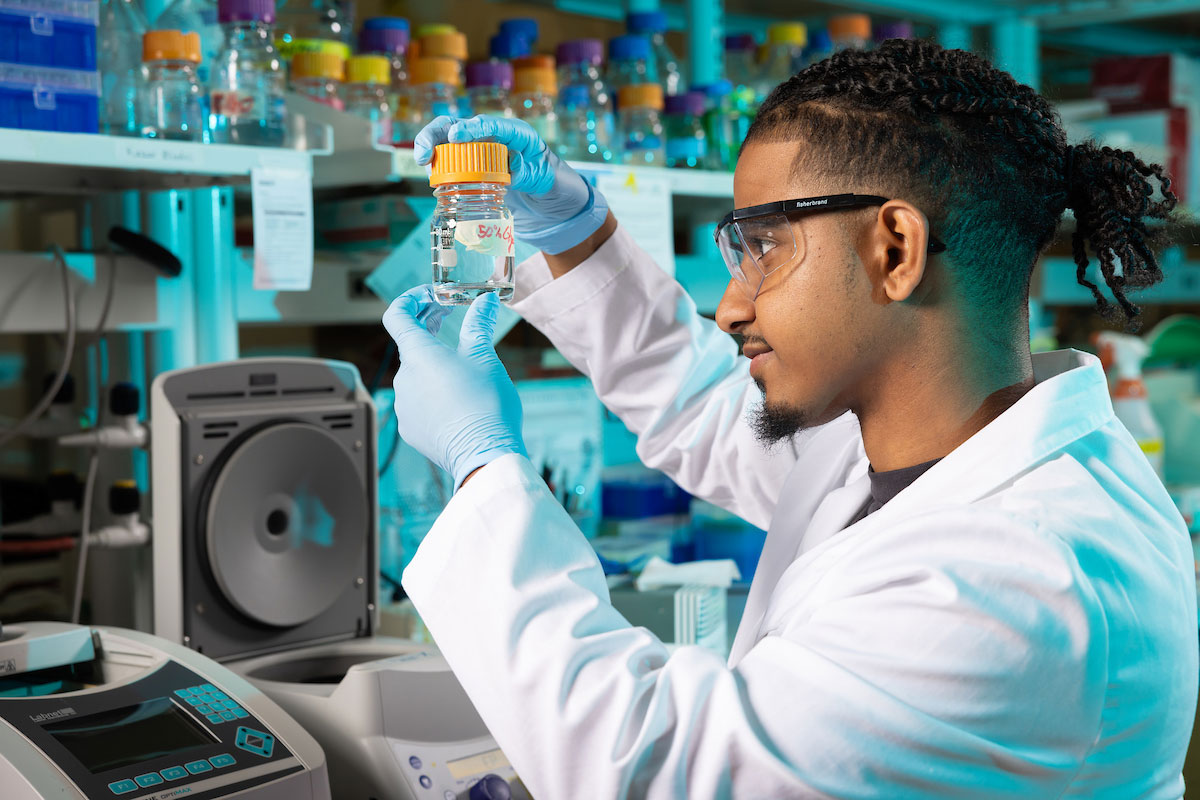 Hudson added a lower table to one of the lab stations and worked with his equipment supplier to adapt a microscope to Crooks' eye level. Crooks said he appreciated Hudson's efforts and has responded by diving headlong into undergraduate research.
Crooks will spend the summer doing research through the Undergraduate Research Training Initiative for Student Enhancement (U-RISE) program, funded through the National Institutes of Health and dedicated to uplifting undergraduate researchers from underserved communities interested in pursuing doctoral degrees in biomedical sciences. When he earns his bachelor's in biochemistry in 2025, Crooks plans to do just that. He said he wants to be an asset to the scientific world at large.
"There is increasing potential in regenerative biomedical science, and I want to advance this field in a transformative way," he said. "A crazy turn of events has turned into a blessing; my accident was a catalyst for my desire to learn and develop. I'm enthused and thankful that KSU is the place for me to explore my love for science."