By Rebecca Gaunt
Less than a week after the Cobb County Board of Education upheld the superintendent's decision to fire a teacher for reading an LGBTQ+-themed book to her class, letters went out from multiple high schools and middle schools stating that books had been removed from the school libraries for containing "highly inappropriate, sexually explicit content."
To read more about the firing of Katie Rinderle, click here.
The district did not share the title of the books in the parent communication, resulting in cries of censorship from the public. The district did not respond to the Courier's questions, but earlier today confirmed to other media that two books were removed: "Flamer" by Mike Curato and "Me and Earl and the Dying Girl" by Jesse Andrews.
"Flamer" is a graphic novel set in a summer camp in 1995. The main character is bullied for seeming gay. "Me and Earl and the Dying Girl" is about two boys who befriend a girl with leukemia.
Both books are on the American Library Association's list of most-challenged books for 2022.
The Courier reached out to Post 2 board member Becky Sayler, who said the district had not provided board members with any information beyond what was told to the public in the initial emails.
Parents have so far confirmed receiving the form letter from the following schools: Campbell, Kell, Osborne, Harrison, Sprayberry, Wheeler, Kennesaw Mountain, Allatoona, Hillgrove, Walton, North Cobb, Lassiter, Pebblebrook and McEachern High Schools, and Smitha, Hightower, and Griffin Middle Schools.
Social media exploded Monday night after the announcement went out.
Some parents commented that they are already ordering the books in protest [rumors of the titles circulated on social media prior to the district's confirmation] and are planning book groups, while others commended the district for being proactive in removing "sexual content.".
In accordance with Senate Bill 226 passed in 2022, the district approved a complaint resolution process for parents and guardians to follow if they deem a book or materials "harmful to minors."
The district did not disclose if and when there was a parent complaint and the email also states the district only became aware of the book "earlier this week," but removed it from circulation immediately.
The move has also raised questions for the public as books appear to have been removed simultaneously at multiple schools, though the policy guides the process on an individual school basis.
In a Facebook post, Democratic Post 5 school board candidate Laura Judge said she's concerned that the move appears to be censorship.
On her campaign page, Judge wrote, "While I know that as a district we have IFCB-R (https://sbcobbstor.blob.core.windows.net/…/ifbc-r…) to detail how to challenge media resources and recently SB 266 [sic] (https://www.legis.ga.gov/…/leg…/document/20212022/211263) passed, there is still a process that must be followed and documented. How is it decided that a book is highly inappropriate or sexually explicit? I believe that the process should be transparent and not secretive…Please continue to communicate with the community honestly and update them with the missing information."
The Courier reached out to all board members for comment.
Text of the Letter
The letter contained the following text:
Important Update from Campbell High School
Earlier this week, we learned our library contained a book with highly inappropriate, sexually explicit content. While we removed the book immediately, this is unacceptable, and an investigation is currently underway.
With thousands of books purchased over the decades, we are making every effort to ensure our library only includes materials that are aligned to Georgia standards, supported by law and CCSD policy, and contain content that is age appropriate for our students.
We hope and ask for you to work with us by communicating with your principals, teachers, and appropriate school staff whenever you have a concern about what your student is reading, hearing, or learning.
We apologize for this oversight and know that together, we will continue to support the success of our students.
Screenshot of letter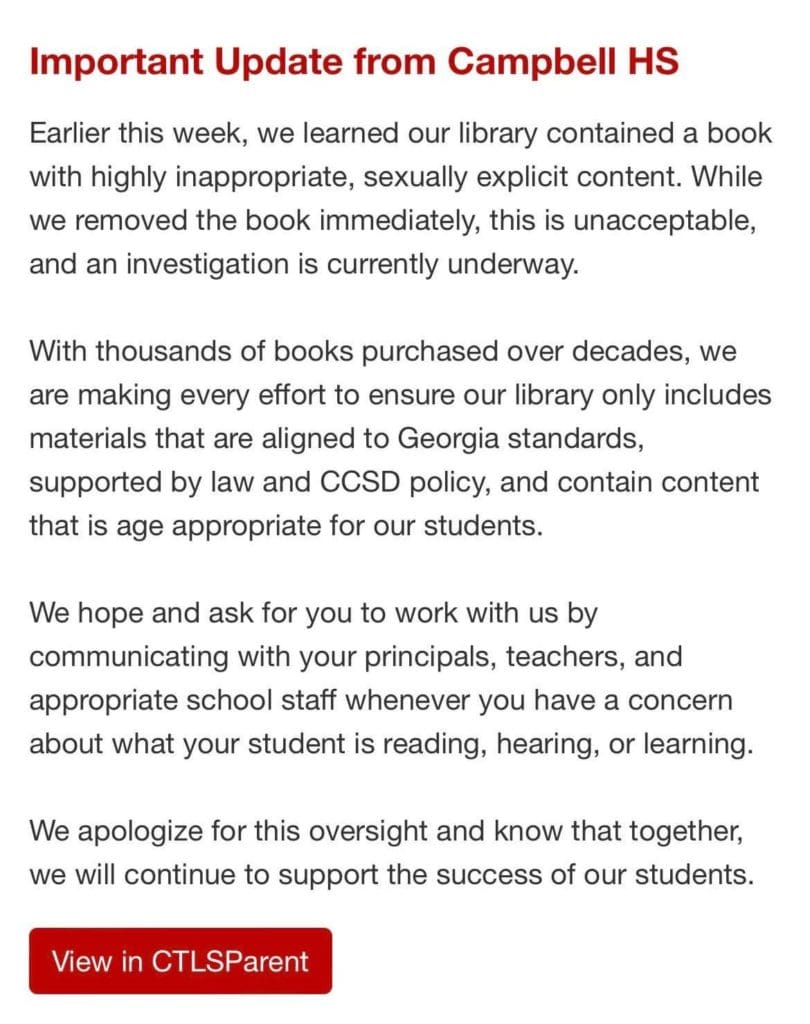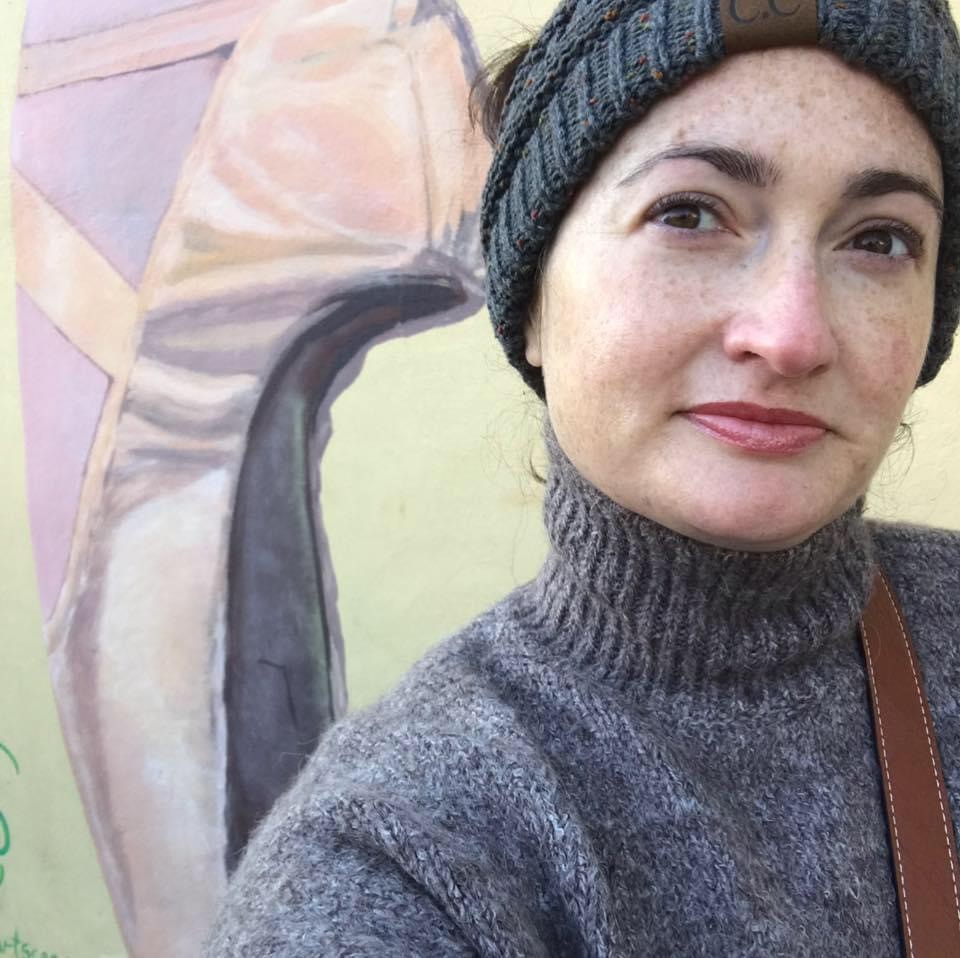 Rebecca Gaunt earned a degree in journalism from the University of Georgia and a master's degree in education from Oglethorpe University. After teaching elementary school for several years, she returned to writing. She lives in Marietta with her husband, son, two cats, and a dog. In her spare time, she loves to read, binge Netflix and travel.