Fifteen teams of Griffin Middle School students took part in a competition showcasing their mobile app design and development skills.
The event, held May 20, was organized by Tata Consultancy Services (TCS) as part of the corporation's GoIT program. According to a news release for the event, the program "exists to address the growing skills gap in STEM fields by providing students with exposure to innovative technology- all in the hopes of sparking excitement in potential STEM educations/careers down the line."
Christine Mackin, Corporate Social Responsibility Specialist for TCS, who emceed the competition, said the the founder of the Tata corporation believed in giving back to the community.
"Through that we developed our GoIT program," she said. "Think of it as a design thinking program … problem-seeking, problem-solving, critical thinking."
"And students work alongside their peers and with TCS industry mentors to be able to come up with their own original idea, and then solve it using technology."
"So for this particular program students were empowered to think of programs and acts that really leverage civic engagement, all about improving our communities and where we live, so they've come up with their original ideas around how technology might be able to solve the problems that they see within Cobb County," she said.
"And they were able to come up with their idea, prototype it first on pen and paper so they got a visual representation of what their app would look like, and they created it using drag-and-drop coding … Then they learned how to market it," she said.
"Today we're here celebrating the accomplishments of these students."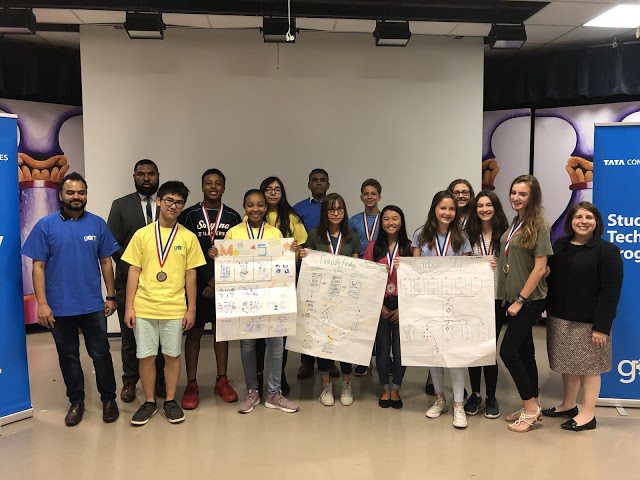 Fifteen teams presented apps that they had submitted for approval, then researched and designed.
The judges for the competition were Lakshmikant Sharma and K. Kumaranarayanan.
After each presentation, the student app developers fielded questions from the judges.
The apps covered a wide range, from a pet-training app, to apps supporting and encouraging environmental and social responsibility.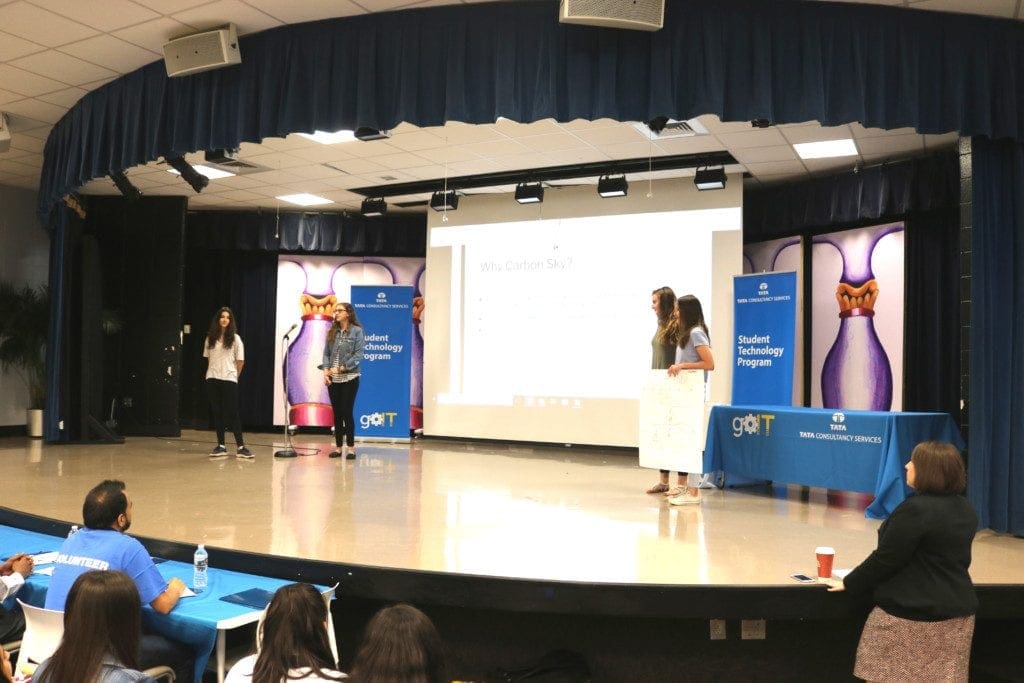 The first place winner was Carbon Sky, designed by Sophie Balzuweit, Elise Gildea, Mia Daxe, and Rory Gallagher. The app and its purpose was described as follows:
"Problem: Every day, the world becomes more polluted because of the increase of carbon in the environment. Why not try to help the earth while being rewarded? Carbon Sky tracks your carbon footprint, and it gives you rewards for your score."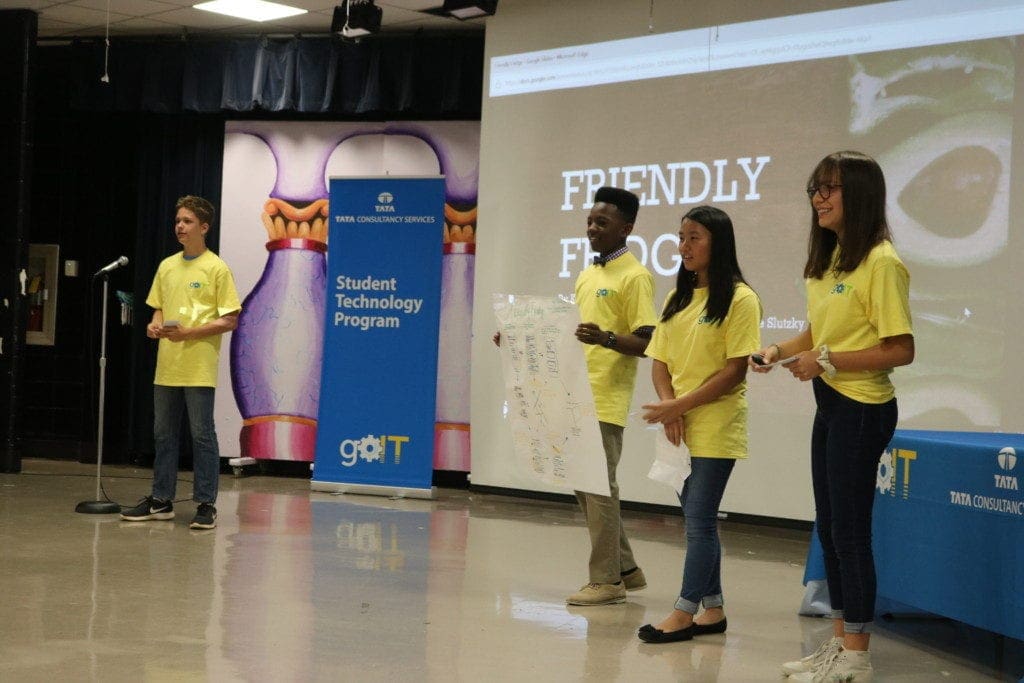 The Friendly Fridge app received the second place prize. It was designed by Kaitlyn Mayorga, Abbie Stapleton, and Gabe Slutzky, and was described as follows:
"Problem: 150,000 tons of food are thrown away by American households each day. This is equivalent to over 50,000,000 tons of food waste in just one year! In 2010, the cost of food wasted in the US was totaled at over 160 billion dollars.
"While many Americans are buying much more than they eat, over 41 million are facing hunger (which includes over 13 million children). Also, one in eight Americans struggle to put food on the table. Friendly Fridge is the answer – it reduces hunger, helps people in need and eliminates food waste by making donating and collection easier."
The third prize winner was Moment Sustained. designed by Khang Ton, Jeffrey James, Omari Thomas, Yajaira Rios.
Moment Sustained was described as follows:
"Problem: According to Universe Today, the human species and our ancestors have been living on Earth for about six million years! We have been evolving and developing ourselves on what seems to be a perfect planet that has clean water, fertile soils, and a perfect habitation environment."
" It is our job to protect and take care of our home, for we do not want it to be a wasteland or worse! Unfortunately, we are not performing our jobs very well, as the Earth is still filled with many environmental problems (deforestation, waste, etc.). But if every person out of 7.7 billion people take actions, there will be hope!"
"Moment Sustained – As the players go explore some of the common environmental issues, they will have the opportunities to learn more about each issues and sees how those issues can have an impact back to the people. Best of all, they will also be introduced at many ways to solve the issues easily and on their own! This is perfect for children, since they like when things are easy to solve."
About GoIT
According to the GoIT Challenge website:
The shortage of students studying Science Technology Engineering and Mathematics (STEM) is a national priority. We know students in year 8 form opinions about whether studying technology in future years is right for them.
GoIT Challenge is aimed at year 8 students. It aims to inspire students to think differently about technology. To learn technical aspects – but more importantly to apply technology to any educational discipline, to any industry or to any community problem.