By Arielle Robinson
The Courier spoke with well-known renters rights advocate and founder of We Thrive in Riverside Renters Association Monica DeLancy, who is running for Georgia's House of Representatives 39th District as a Democrat.
DeLancy is one of several candidates who seek incumbent Rep. Erica Thomas' seat in the Tuesday, May 24, primary. Thomas is not seeking reelection.
Talk about your background. Who are you and why did you decide to run for this seat once again?
DeLancy: "Well, it all comes down to timing, and basically just being very engaged with what's going on with housing. As you are aware, I'm a 15-year resident of Cobb County.
"[I'm] pretty much known for advocating for renters rights, family engagement, that sort of thing. And basically, with all the concerns that we're having with rent, nonrenewal of leases, evictions — everything that comes with trying to keep families stabilized — it points back to knowing about laws, and setting policies from state legislators.
"So that's why it's extremely important to take the role of state representative and be involved in the community on a different level. That's where we're needed."
You have said that your campaign is primarily focused on housing reform, health and wellness, and education empowerment. What do these three things tangibly look like to you? How do you go about advancing these issues in the legislature?
"Well, I'm no stranger to state legislation. The first step that was significant was when Rep. Sharon Cooper introduced House Bill 346. What that entailed was that when renters had complaints about their maintenance issues or keeping up the property, they felt that they could not speak up because of the fear of being retaliated against.
"Basically, by having House Bill 346 pass and having that in place — that's the first step in getting renters involved. Because if renters don't have a safe place to live, they can't do anything else.
"When we talk about other bills that need to be passed, we can work on making sure that there are ways for people to become homeowners with different levels of income, that there are different ways to keep people housed.
"Because when you have these businesses that are coming to Georgia, and then they're paying these workers less than $20 an hour, we're already saying that you come and we don't care where the workers are, where the people are living, where the people are trying to maintain — you just come. And so we got to be really intentional in having these discussions with businesses.
"When people are empowered and know they'll be stabilized, they can go back to the schools and say, 'now we can advocate for our kids.' Let me tell you something, Johnny is not going to be able to read, Johnny's not going to be able to write, if Johnny doesn't have a place to live.
"That's why we have to be intentional in making sure that we're trying to stabilize these communities, then we can get into the issue of education, then we can begin to take care of our health.
"Because again, we can go to the hospital, we can get treated for whatever we're going to get treated for, but if we don't have a place to live, then that gets taken away. We have to have those discussions with legislators and say, are we going to really invest in housing for our essential workers, our low-income workers, our senior citizens? Are we really going to do that?
"That's why we have to have somebody at the table so that we can have those conversations and those conversations then go into making sure we're building housing — I'm not going to say 'affordable,' I'm talking about housing that's compatible with these wages that they're offering."
What other issues in the district concern you outside of those three?
"In order to make sure that we can be elected to take care of business, we need to make sure our community is engaged and knowing, so civic engagement is one of the things that I do.

"Voting [is not only important] but also being engaged after the vote. You've seen my work taking people back and forth to the Cobb Board of Commissioners' office to talk about the rental assistance.
"The people that went with me to the meeting, they understood and learned more about the process. Those women that were going to those meetings, they had never been to a commission meeting. They've never been to a city hall meeting. They've never been to the statehouse. I showed them that route. I took time out of my schedule to show them that route. So I would definitely do more of [civic engagement].
"I'm hoping to get passed in the statehouse that every time someone goes to court they have a lawyer representing them. It's an intimidating process to know how to navigate the judicial system. And basically, in some states, it is a law that if a person believes they need a lawyer, they are afforded the opportunity to get a lawyer.
"Right now [in Georgia], it's a lottery-type system, meaning they will advise you, but if they can't represent you, they don't have to represent you. And they take the most serious cases. But in other states, they take all cases and all cases get afforded the opportunity to go to court with their lawyer.
"It's saddening when you go to eviction court — all you see is Black women, Latino families — that's not fair. And the only way that you can navigate this system is if you know how to go and learn the technicalities and learn all of the judicial vocabulary, if you will.
"My unlawful, wrongful eviction, whatever that was, it was an eye-opening experience, because I had the resources to let me go and find a lawyer. I had the resources to go, 'okay, we're going to go to another place to live for me and my children' — everybody does not have that opportunity. Everybody doesn't have those resources.
"So that's why I had to keep fighting and I had to keep showing to people, hey, it wasn't about me. I had to be what you call the sacrificial lamb to show that other things could be opened.
"Because I was not on drugs, I didn't have any illnesses, I was working and was unlawfully evicted. It was an educator, it had to be that way and I'm okay with that. And it made me stronger for me to go back out here and fight. It made me even stronger because it's wrong. But yes, that's what I'm hoping to get passed, that every time someone goes to court they are represented by an attorney."
You are a well-known advocate for renters' rights in the Cobb community and throughout the metro area. You have helped people who have been evicted and have even faced eviction yourself. You've spent much time going to BOC meetings and other local government meetings to advocate for housing moratoriums and more affordable housing. What made you get into work for tenants' rights and why are you so impassioned about it?
"When I first moved here 15 years ago, I would go to different meetings, different events in the community, and every time I would hear that renters are not involved, and renters are always moving, and renters don't come to the meetings in school. Then it dawned on me that the reason why they couldn't come to the meetings is because they were working three jobs, they were in eviction court.
"It dawned on me that when they did go to meetings, some people who might not have passed high school were embarrassed about going to meetings, so they didn't understand that going to meetings will help them. With that being said, I would be the voice [at meetings] saying they're not here because of XYZ — I'm here.
"And I would go back to the schools and say the same thing. But then I said, let me go and bring a person with me to the meetings. So once I started bringing more people into the meetings, we decided to have our own group. I started the group with my daughter, and I said hey, we are renters, we're involved, we are leaders.
"And that's what really empowered me, was looking at my daughter, looking at my son, and saying, 'okay, we've been living in this community, now this is your way to be involved in the community.' And then we've been stabilized. If we look at other people who are renters, there's really not that many renters who have the longevity like I've had.
"I also wanted to show the growth. When I say the growth, to show how you started a nonprofit from the ground up and then your nonprofit has been nationally recognized. When I say the growth, to see my daughter matriculate through elementary school, high school, and now she's about to graduate from college.
"When I say growth, they see how my son has been transitioning. All of this is because I kept them stabilized in the community that I knew was a thriving community. I did not want people coming and telling lies on the community, so therefore, that's what inspired me the most. I wanted all children to have the same opportunities my children had. That's what inspired me to do what I do and I'm grateful to have that opportunity."
How do you think your work with renters and seeing the impact of evictions on families has informed both your community work and political outlook?
"Well, knowing how both of them are related. The work we've done in the community helped us get House Bill 346 passed. When the tenants were having issues with the maintenance in one apartment complex, they knew to call my organization and get the help they needed. Once we got that win, they felt compelled to come and still be involved after that win because they felt somebody was trying to help them.
"They felt that we can go from being complainers to actually being people that get results, so that's what it's all about. And then knowing that we didn't stop, we didn't get those results and just go back home and say, 'okay, we did that let's not do anything else.' We kept going, and now we are able to provide rental assistance, we are able to provide light bill assistance.
"When you have a community like the South Cobb community where the state representative 39 boundaries are, the South Cobb community is 45 percent renter occupied. Therefore, I'm not just going to be for renters, no, I'm going to be for homeowners as well, because we have to show homeowners and renters how to work together, we're going to create partnerships.
"I'm not just going to be for parents of young children, I'm for senior citizens as well, because senior citizens are mentors, they are our surrogate grandparents, and we can learn from them. So definitely, because of my work, being able to connect those factors together is going to be significant. And it's all with timing.
"I'm a third-generation college graduate. Both my parents graduated from college, I graduated from college, and then my daughter is going to be a fourth-generation graduate. So having that in place, we can bring that skill set back to the community.
"The majority of the people I wish to represent will not have that skill set, to say that they have a person that's connected to four generations of college graduates. So when you talk about the education system, if we really want our children to go beyond high school, we have to have somebody in place that knows what that looks like. Again, that is me, Monica DeLancy.
"So therefore, as we compare, and we go out and say who we're going to cast our vote for, we're going to cast a vote for the person that we know is a hard-working individual. We know this is not a fashion show. We're going to cast a vote for somebody that's the hardest worker, somebody we know who can go and get the job done with limited resources. That's what matters the most. Just imagine what we could do once we get elected."
The incumbent for this seat sponsored a bill that would lead to Mableton becoming a city. Proponents of a Mableton cityhood say they would have more control over zoning and code enforcement. Do you support Mableton becoming a city and why or why not?
"I was on the discovery committee for the cityhood. I was asked to be on the discovery committee because the boundaries included the Six Flags area, so there needs to be a person that can be on the committee that resides in the Six Flags area. I felt that it was a great idea for me to be on that committee because when they drew those boundaries, 35 percent of the people that reside within the boundaries are renters. That's another reason why I was on the committee.
"I'm in agreement that cityhood needs to be discussed, it needs to be evaluated, and people need to understand what's a city and what's not. I come across people who think that they're still a part of Atlanta, so I'm all for civic engagement. What [cityhood] needs to entail is a healthy conversation. That means that the voters are engaged and when they go and vote in November, they will make the decision. But it needs to be a healthy conversation.
"Most of the tax revenue would come from the Six Flags area because of the amusement park, because of the apartment complexes. So I wanted to make sure that the Six Flags, Riverside, and unincorporated Austell communities be a part of that conversation.
"Mableton by itself, if you think about downtown Mableton, they don't have enough revenue to carry the cityhood. Most of the revenue would come from the Six Flags amusement park, and the second revenue is the apartment complexes because apartment complexes are commercial property. Those things and what impact they would have on the county need to be considered. So, I'm all for having healthy conversations to bring all of this to the forefront so people can make the best decision."
Would you like to talk about endorsements and/or awards you have won from the community?
"The only endorsement I have received so far is from my children, Brianne and Ernest Perkins. And believe me or not, that's the best endorsement that I believe that's out there.
"But if you want to talk about my community support and community recognition, we could talk about the 20 awards I've received from different organizations — Cobb NAACP, Martin Luther King Day Living the Dream Award, Omega Psi Phi Community Advocate, South Cobb Business Association Citizen of the Year, Georgia PTA Lifetime Achievement Award, Creating Community nominee presented by Cobb County government, Humanitarian of the Year Award from Cobb Collaborative, Community Advocate of the Year.
"But again, the only formal endorsement I've received is from Brianne Perkins and Ernest Perkins. And that's the best endorsement there's ever going to be."
How are you reaching out to voters to get your message heard? How can people find you?
"They could call me — 770-369-6531. And I also have a website, monicastaterep39.com. I'll answer that phone when you call me.
"We're doing door knocking, I do meet and greets at Marco's Pizza, but it is by invitation, so they have to email me for that. People can come and meet with me but they have to get an invitation."
Is there anything else important not mentioned here that you want to make sure voters know about you and/or your campaign?
"Yes, voters can always go on my website. I have a shoestring budget. I'm looking for donations and I'm looking for volunteers who want to participate in our community blitz opportunities. Again, I'm accessible, at 770-369-6531. Again, I'm Monica Evette DeLancy for State Representative District 39. When one community thrives we all thrive together."
To learn more about DeLancy, visit her website.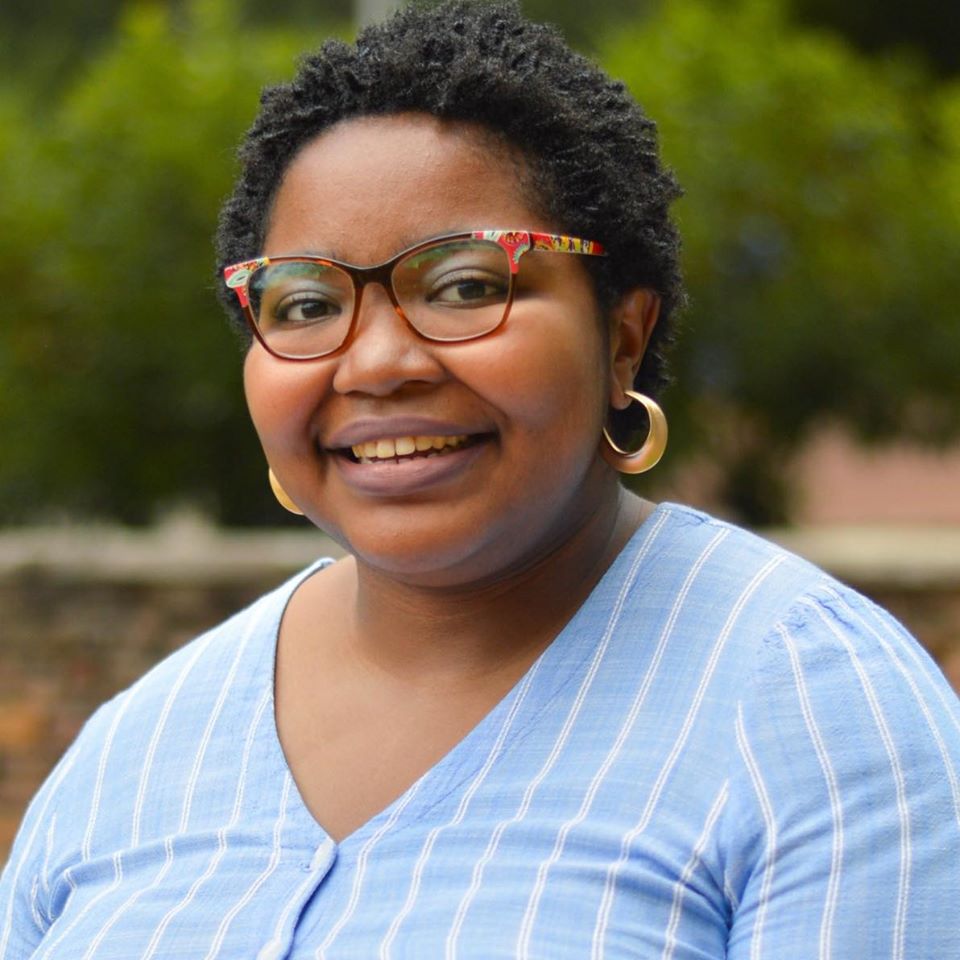 Arielle Robinson is a student at Kennesaw State University. She also freelances for the Atlanta-Journal Constitution and is the former president of KSU's chapter of the Society of Professional Journalists as well as a former CNN intern. She enjoys music, reading, and live shows.