Lexington Austell, the new owner of three Riverside Parkway apartment complexes, held tenant meetings Thursday, one in the morning, and one in the evening.
The three complexes: Hunter's Grove, Kingsley Village and Parkview, have been frequently in the news for tenant complaints and code violations.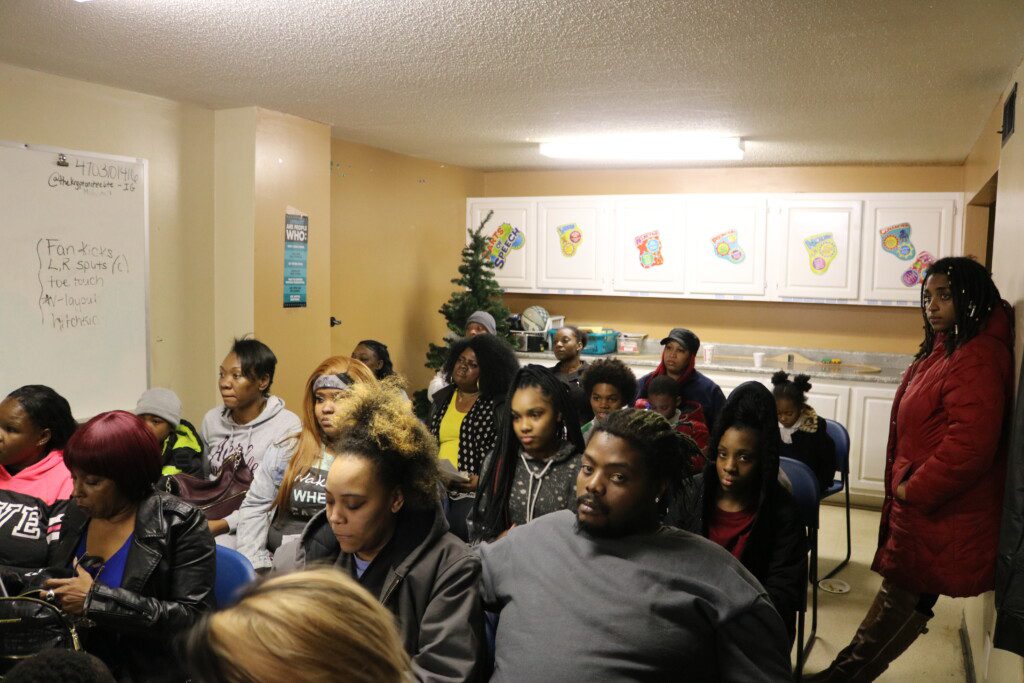 The meetings were facilitated by Monica DeLancy, the founder and director of We Thrive in Riverside Renters Association. DeLancy was involved in advocating for the tenants through several management changes.
The overflow crowd in the community room at Kingsley Village on Thursday evening listened to Christoper Reilly, the President of Lexington Partners' property management division, lay out the new owners' plans.
Then Reilly fielded questions from tenants.
He gave a report on what the company is doing now, and what their plans are moving forward covering several general topics along the way.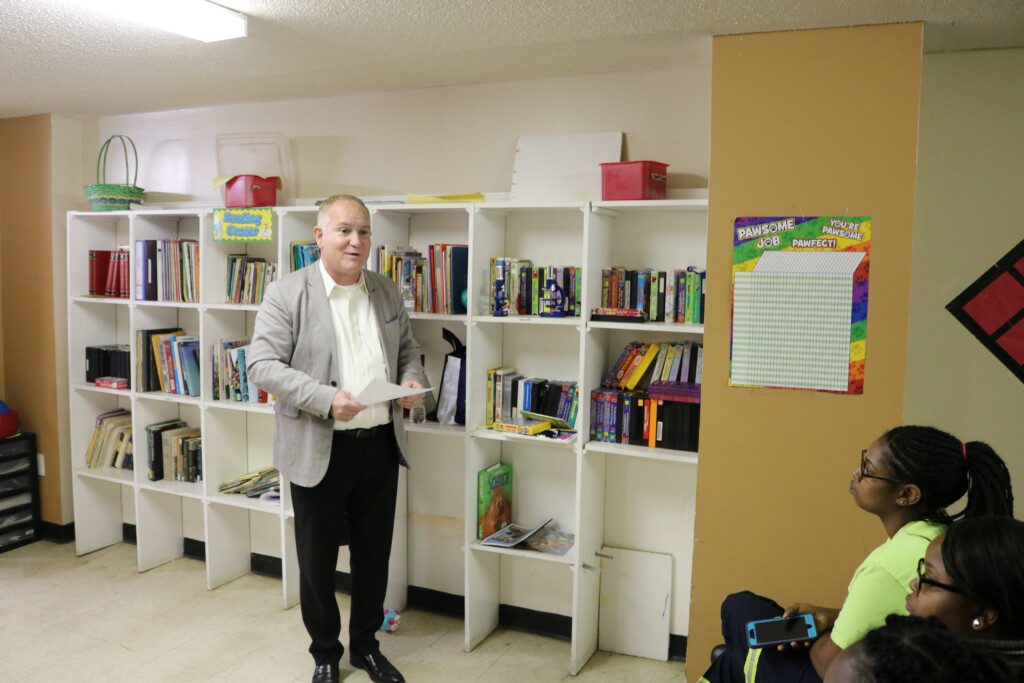 Security monitoring
"So first thing you've you've seen, if you're here at Kingsley (Village) and Hunters (Grove), there's guys working around and putting up cameras everywhere," Reilly said.
"So there'll be cameras at all the entrances and exits for license plate recognition for cars coming in and out of property. There'll be cameras in all the common areas, meaning the parking lots and places like that," he said.
"I believe very strongly that that … the cameras don't point towards your apartments because you're due privacy … So they're there to track activity as people come onto the property and as they leave the property," he said.
"We will be able to, with the help of the camera company, if somebody left like a bag of trash somewhere as an example, they'll be able to go back, find that person follow where they walk to, and we'll be able to figure out who left the bag of trash," he said. "Obviously the cameras aren't there necessarily for those types of activities."
"We actually did have an attempted break in the other night at the Kingsley village office here," he said. "The cameras weren't fully operational, but they did manage to catch the face of the gentleman that was trying to break in."
"We are paying to have the cameras and also a monitoring system installed in (the) Cobb County precinct. So they'll have Have 24-hour access to all of the cameras, their squad cars can take a feed from all of the cameras as well. So the patrol officers will have access to the cameras and the patrol officers will have access all the way down to their cell phones."
Purpose of the meeting
"This is not a meeting to go over the history of the property," said Reilly. "I don't like to live life driving and looking in my rear-view mirror. I look out the front of my car."
"To the extent that anything you want to tell me about the past helps us today and in the future I'm cool listening to it. I think I've heard most of the stories. Monica has been very good at letting me know about a lot of those things, as has the county."
"So, again, I'm happy to if you want to go (there), but history isn't going to help us. Let's make a fresh start and go forward," he said. "Because we intend to make this a place that you're proud to call home, that you're proud to bring your friends over and say, I live here. And then we are going to ask people to kind of take it up a notch."
Service issues
Reilly talked about the company's policy on requests for service from tenants.
"I've been doing this for 35 years running multi-family, different companies up and down the East Coast and as far west as Texas," he said. "Our commitments to you for service are very different than I think what you will have experienced recently. To the extent that we can we are building same day service."
"You call us, you have an issue, we want to resolve it that day. Not if you call at four o'clock in the afternoon, it might be solved the next day. We run very sophisticated computer system so I can see from my desk up in Hartford when a service request has passed 24 hours," he said.
"Then I started calling people going, 'What's going on?' Okay, so our commitment to you is deeper," said Reilly.
Fresh start on rental payments
"Now this is the hard of part of the speech," said Reilly.
"We don't buy these places to not make money. We need to get paid the rent and there's a lot of people that aren't paying the rent," he said. "That needs to stop in December."
"If that's the case and you owe money, we're not looking to collect the back balances from you, although I own the back balances as the landlord. What we want to do is give what we're calling a fresh start," Reilly said. "So you come in and talk to us. Let's figure out what you owe and make sure we both agree."
"But if you can stay even with us from December going forward, we will write off the prior balance dollar for dollar. And if you need to leave for whatever reason, we're not going to chase you for the back rent," he said.
Reilly later clarified in response to tenant questions that in order to get the fresh start, tenants would have to sign up for the program. He said that no credit checks would be required, but that a criminal background check, and verification that the tenant is able to pay rent, would be done.
Asked about increase in rent, he said that wouldn't happen right away, but when he said it might be in a few months, groans and murmurs came from the tenants.
"Zero tolerance on some things"
Reilly said that disrespect for neighbors or the company staff, unregistered vehicles, or vehicles parked with flat tires would not be tolerated.
"You're responsible for yourselves and you're responsible for all of your guests. And you're responsible for your children," he said. "As often as a father that that drives me nuts, this is what it is."
Responses from tenants
The issues tenants raised included mold, chaotic key management for the apartment doors, and the condition of empty apartments.
Reilly said the empty apartments that have out-of-control mold will be gutted and renovated, and that all the locks will be changed and a key control system implemented.
When one tenant emotionally praised the work Monica DeLancy had done to advocate for tenants at the complex, the tenants erupted into loud applause.
About the new owners
Lexington Austell is a Georgia LLC recently formed by parent company Lexington Partners LLC, which is headquartered in Hartford, Connecticut.
Rather than hiring an outside management firm, as previous owners have done, Lexington Austell intends to manage the apartments themselves.
Background
Tenants have complained of substandard conditions at Hunters Grove, Kingsley Village and Parkview Apartments since at least the fall of 2018, when residents told of rats, water damage, mold, and malfunctioning heating and air units during a renters town hall meeting held in November of that year.
We Thrive in Riverside Renters Association and the Cobb branch of the SCLC held a press conference in front of Parkview Apartments in February of this year to highlight the code citations at the complexes.
Cobb County District 4 Commissioner Lisa Cupid and BOC Chairman Mike Boyce met with residents and attended town hall meetings regarding living conditions at the apartments.
In March, at a magistrate court hearing on the code violations, the owners of the complexes requested a jury trial on the citations, to the frustration of renters who attended the hearing.