Magistrate Court Judge Sonja Brown and attorney James Luttrell will face each other in the June 21 runoff for the Cobb Superior Court seat opened by the retirement of Judge Robert E. Flournoy III.
Brown received 36,984 reflecting 29 percent of the total votes cast, and Luttrell got 27,794 votes for 21.8 percent of the votes.
Gerald Moore was in third place at 18.91 percent, Taneesha Marshall came in at 15.83 percent, and Daniele Johnson at 14.47 percent.
Superior Court elections are nonpartisan, but the breakdown of results by precinct between the top two candidates looks very similar to the typical breakdown of precincts in a partisan election, with Sonja Brown showing strength in the heavily Democratic southern part of the county, I-75 corridor, and the cities of Acworth, Marietta and Smyrna, and James Luttrell's precincts of strength concentrated in unicorporated West and East Cobb.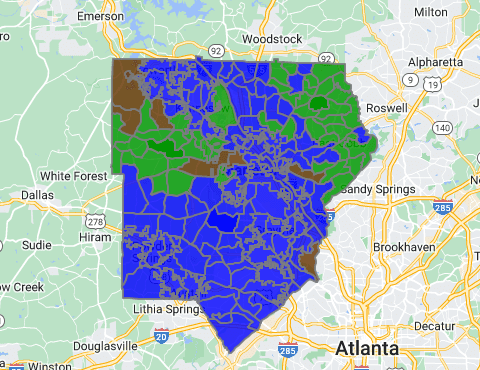 But the precinct map doesn't necessarily reflect judicial philosophy or practices on the bench. To learn more about the candidates' approach to judicial matters, read the following two Q&As the Courier's Arielle Robinson conducted with the candidates:
The interview with Sonja Brown
The interview with James Luttrell
Here is the breakdown by precinct between Brown and Luttrell:
| | | |
| --- | --- | --- |
| Precinct | Sonja Brown | James Luttrell |
| | | |
| Acworth 1A | 281 | 222 |
| Acworth 1B | 283 | 236 |
| Acworth 1C | 256 | 130 |
| Addison 01 | 188 | 172 |
| Austell 1A | 179 | 60 |
| Austell 1B | 201 | 18 |
| Baker 01 | 236 | 173 |
| Bells Ferry 02 | 165 | 164 |
| Bells Ferry 03 | 122 | 81 |
| Bells Ferry 04 | 223 | 214 |
| Big Shanty 01 | 104 | 127 |
| Big Shanty 02 | 220 | 177 |
| Birney 01 | 141 | 98 |
| Birney 02 | 331 | 123 |
| Bryant 01 | 255 | 27 |
| Bryant 02 | 275 | 30 |
| Blackwell 01 | 192 | 129 |
| Chattahoochee 01 | 198 | 77 |
| Cheatham Hill 02 | 241 | 254 |
| Cheatham Hill 03 | 326 | 324 |
| Chalker 01 | 234 | 137 |
| Clarkdale 01 | 149 | 69 |
| Clarkdale 02 | 429 | 146 |
| Cooper 01 | 354 | 98 |
| Chestnut Ridge 01 | 282 | 339 |
| Dickerson 01 | 265 | 268 |
| Dobbins 01 | 87 | 52 |
| Dobbins 02 | 123 | 47 |
| Dowell 01 | 230 | 205 |
| Dodgen 01 | 205 | 213 |
| Durham 01 | 267 | 372 |
| Davis 01 | 139 | 135 |
| Eastside 01 | 285 | 280 |
| Eastside 02 | 314 | 313 |
| Elizabeth 01 | 165 | 72 |
| Elizabeth 02 | 147 | 190 |
| Elizabeth 03 | 204 | 212 |
| Elizabeth 04 | 190 | 100 |
| Elizabeth 05 | 255 | 216 |
| East Piedmont 01 | 171 | 92 |
| Fair Oaks 02 | 299 | 128 |
| Fair Oaks 04 | 156 | 97 |
| Fullers Park 01 | 305 | 285 |
| Ford 01 | 209 | 309 |
| Frey 01 | 200 | 247 |
| Garrison Mill 01 | 246 | 250 |
| Gritters 01 | 259 | 254 |
| Harmony-Leland 01 | 232 | 33 |
| Harmony-Leland 02 | 442 | 62 |
| Harrison 01 | 257 | 298 |
| Hightower 01 | 321 | 409 |
| Hayes 01 | 248 | 333 |
| Kennesaw 1A | 144 | 134 |
| Kennesaw 2A | 262 | 175 |
| Kennesaw 3A | 314 | 179 |
| Kennesaw 4A | 217 | 154 |
| Kennesaw 5A | 367 | 253 |
| Kell 01 | 122 | 156 |
| Kemp 01 | 148 | 218 |
| Kemp 02 | 352 | 355 |
| Kemp 03 | 327 | 425 |
| Lassiter 01 | 261 | 272 |
| Lindley 01 | 511 | 103 |
| Lost Mountain 01 | 384 | 383 |
| Lost Mountain 02 | 309 | 424 |
| Lost Mountain 03 | 532 | 508 |
| Lost Mountain 04 | 218 | 269 |
| Mableton 01 | 473 | 155 |
| Mableton 02 | 219 | 67 |
| Mableton 03 | 205 | 146 |
| Mableton 04 | 147 | 95 |
| Mabry 01 | 100 | 160 |
| Macland 01 | 350 | 106 |
| Murdock 01 | 361 | 368 |
| McEachern 01 | 341 | 174 |
| McCleskey 01 | 142 | 150 |
| McClure 01 | 209 | 229 |
| Marietta 1A | 183 | 90 |
| Marietta 2A | 157 | 166 |
| Marietta 2B | 298 | 231 |
| Marietta 3A | 299 | 257 |
| Marietta 3B | 177 | 41 |
| Marietta 4A | 144 | 204 |
| Marietta 4B | 127 | 92 |
| Marietta 4C | 198 | 294 |
| Marietta 5A | 191 | 104 |
| Marietta 5B | 115 | 33 |
| Marietta 6A | 109 | 36 |
| Marietta 6B | 262 | 126 |
| Marietta 7A | 117 | 42 |
| Mars Hill 01 | 192 | 275 |
| Mars Hill 02 | 171 | 161 |
| Mt. Bethel 01 | 383 | 404 |
| Mt. Bethel 03 | 265 | 284 |
| Mt. Bethel 04 | 263 | 293 |
| North Cobb 01 | 162 | 114 |
| Nickajack 01 | 406 | 119 |
| Norton Park 01 | 271 | 163 |
| Nicholson 01 | 122 | 155 |
| Oakdale 01 | 281 | 163 |
| Oregon 01 | 168 | 171 |
| Oregon 02 | 433 | 133 |
| Oregon 03 | 286 | 102 |
| Oregon 04 | 354 | 129 |
| Oregon 05 | 412 | 232 |
| Pebblebrook 01 | 386 | 78 |
| Powers Ferry 01 | 208 | 165 |
| Pine Mountain 01 | 239 | 324 |
| Pine Mountain 02 | 205 | 321 |
| Post Oak 01 | 224 | 274 |
| Pope 01 | 251 | 285 |
| Palmer 01 | 157 | 154 |
| Powder Springs 1A | 405 | 160 |
| Powder Springs 2A | 245 | 62 |
| Powder Springs 3A | 367 | 109 |
| Pitner 01 | 181 | 169 |
| Rocky Mount 01 | 243 | 241 |
| Riverside 01 | 131 | 15 |
| Roswell 01 | 443 | 524 |
| Roswell 02 | 317 | 374 |
| Sandy Plains 01 | 194 | 214 |
| Shallowford Falls 01 | 263 | 281 |
| Simpson 01 | 130 | 155 |
| Sewell Mill 01 | 288 | 242 |
| Sewell Mill 03 | 267 | 177 |
| Smyrna 1A | 202 | 78 |
| Smyrna 2A | 343 | 136 |
| Smyrna 3A | 323 | 133 |
| Smyrna 3B | 162 | 100 |
| Smyrna 4A | 481 | 338 |
| Smyrna 5A | 299 | 112 |
| Smyrna 6A | 323 | 249 |
| Smyrna 7A | 466 | 114 |
| Sope Creek 01 | 242 | 254 |
| Sope Creek 02 | 318 | 286 |
| Sope Creek 03 | 205 | 262 |
| Sweetwater 01 | 217 | 146 |
| Sweetwater 02 | 166 | 44 |
| Terrell Mill 01 | 192 | 92 |
| Timber Ridge 01 | 225 | 215 |
| Vaughan 01 | 252 | 325 |
| Vinings 01 | 214 | 136 |
| Vinings 02 | 435 | 216 |
| Vinings 03 | 346 | 164 |
| Vinings 04 | 243 | 263 |
| Wade Green 02 | 317 | 211 |
| Willeo 01 | 222 | 227 |